Diana's Desserts - www.dianasdesserts.com
See more recipes in
Autumn - Winter
Chocolate Chip Quick Bread
in Diana's Recipe Book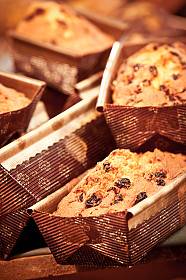 Average Rating:
(total ratings: 29)
[Read reviews]
[Post a review]
Servings: Makes 2 (9 x 5-inch) loaves
Comments:
This quick bread is great to have on hand on a cool autumn or winter's day to serve when friends drop by to visit. Delightful with a warm cup of coffee or tea!
Ingredients:

4 cups all-purpose flour
1 cup granulated sugar
1 teaspoon baking powder
1 tablespoon baking soda
1 teaspoon salt
2 large eggs
1 3/4 cups milk
2/3 cup vegetable oil
1 1/2 cups semi-sweet chocolate chips
1 1/2 cups chopped walnuts or pecans (optional)
Instructions:
Preheat oven to 350°F/180° C. Grease two 9 x 5-inch loaf pans.

Combine flour, sugar, baking powder, baking soda and salt in large bowl.

Combine eggs, milk and vegetable oil in medium bowl. Add to flour mixture; mix just until moistened. Stir in 1 1/2 cups chocolate chips and chopped nuts. Spoon into prepared loaf pans.

Bake for 55 to 60 minutes or until wooden pick inserted in center comes out clean. Cool in pans for 10 minutes; remove from pans. Cool on wire racks.

To store quick bread, place in a plastic bag, seal, and store at room temperature for up to 3 days.

To freeze quick bread loaves, wrap them tightly in heavy aluminum foil and then place them in plastic freezer bags, and freeze for up to 3 months. To thaw, remove loaf from plastic bag (leave in foil) and let thaw at room temperature.

To re-heat, leave loaf wrapped in foil. Re-heat in a preheated 350 degree F (180 degree C) oven for 15 to 20 minutes or until hot.

Makes 2 (9 x 5-inch) loaves.
Date: August 25, 2006
Reviews
Reviewer:
yumm yumm
Rating:
Review:
Yumm
Reviewer:
Rosemarie
Rating:
Review:
Maybe I did something wrong, but the bread that came out was very bland. It wasn't sweet at all. I thought the sugar amount was little, but I decided to trust the recipe (which I halved). also, I didn't add 1 TBSP of baking soda, just because to me it seemed a bit much. It would've left a bitter, salty taste. I used instead just 1 tsp. Other than that, I give the recipe four stars for the great texture. I also added some apple. the amount of sugar in the recipe boggles my mind though!
Reviewer:
Eva Chambera
Rating:
Review:
Halved the recipe and 48 minutes was actually far too long. The crust all around the bread was tough and overdone.
Reviewer:
haley
Rating:
Review:
excellent moisture.. added butterscotch chips and vanilla as well. no nuts, my son is allergic to them. my kids love it and my husband really enjoyed it as well... great recipe!!
Reviewer:
Carla
Rating:
Review:
I halved the recipe but kept 1 cup sugar and used 1 tsp. baking soda. I also added mashed bananas to the batter. Came out great.
Reviewer:
Corinne
Rating:
Review:
Excellent recipe!! I'm hosting a bake sale and have made at least a dozen loaves of this bread - easy (for kids to help with too) and it comes out delicious! I've made it with both semi-sweet and milk chocolate chips, with and without walnuts, and all have been great! We've sampled a few loaves as well, and it's super tasty!
Reviewer:
Karin
Rating:
Review:
I suggest using 1 1/2 cups sugar if you are not going to cut the recipe in half. 1 cup of sugar was not enough...hardly any sweetness. Moisture and texture is good, though.
Reviewer:
Neile Peralta
Rating:
Review:
Yummy! I added white chocolate chips too! My kids love it!
Reviewer:
unknown
Rating:
Reviewer:
Marla
Rating:
Review:
After reading the reviews I changed the recipe a little and it was a big hit. I use 1/2 white sugar and 1/2 cup brown sugar (instead of 1 cup of white sugar) and added a teaspoon of vanilla. It turned out great.
Reviewer:
Dan
Rating:
Review:
I added 2/3 cup cocoa and an extra god knows how much I just poured some in sugar (probably about a half a cup) and it came out great! Chocolate chocolate chip!
Reviewer:
Alan
Rating:
Review:
I added half a stick of butter to mine and it came out better.
Reviewer:
leslie
Rating:
Review:
I tried this and it was really good. Even my mother liked it and shes not a fan of bread and sweets. I only used half of what the recipe called for, but it still came out good. I also substituted baking powder for baking soda because I ran out. It worked the same. Over all I really do encourage you to try this, it's awesome.
Reviewer:
Stewart
Rating:
Review:
Wow, very good. Perfect texture, taste, and moistness. I like this VERY much.
Reviewer:
Christine
Rating:
Review:
Looked great smelled bad tasted bland. I followed the recipe exactly. Not enough sugar and too much baking soda!
Reviewer:
Maria R
Rating:
Review:
This bread is excellent! I followed the recipe exactly. This bread is not supposed to be sweet like a cake or have the texture like cake. It is a wonderful bread with just the right amount of chocolate, sweetness and crunch! My family and friends loved it!!
Reviewer:
Aubrey
Rating:
Review:
I feel that with adding some sugar and more chocolate chips the recipe could've been better. It was alright in my opinion.
Reviewer:
Marsha
Rating:
Review:
I used half whole wheat flour & half white. Milk chocolate & semi-sweet, half brown sugar & white sugar. Very good may make it with banana to see how that turns out. Thanks
Reviewer:
patty
Rating:
Review:
I added half a cup brown sugar and sprinkled the top with bakers sugar before baking and it was good, but I have surely had better.
Reviewer:
Vicky
Rating:
Review:
I only put in 1tsp of baking soda and added 1 box of vanilla pudding mix, 1/2 tsp vanilla, 2 tbs Penzys Cinnamon Sugar and 2 cups of marshmallows. I also put in 2 cups of chocolate chips instead of 1 1/2 cups. It turned out moist and very yummy.
Reviewer:
Cara
Rating:
Review:
Unfortunately this did not turn out that great for me though I guess it could have been worse. I agree with others, the cooking time is way too long. Both of my loaves have overcooked outer crusts and mildly dry insides. I don't think the recipe needs more sugar and just think it needs to be cooked less, like maybe 15 minutes less.
Reviewer:
lizzie
Rating:
Review:
Did not rise at all, too hard and it doesn't last for long.
Reviewer:
Becky
Rating:
Review:
I made it just as the recipe said and my family thought it was great! Ver yummy treat
Reviewer:
bob
Rating:
Review:
It is delicious!
Reviewer:
Renae
Rating:
Review:
I am now making this for the second time and Im having the same problem as the first. I am baking it on 350 but the middle is not getting done. Top and edges are very dark brown and the middle is doughy. I am NOT a baker so any help will be appreciated.
Reviewer:
Brittany
Rating:
Review:
Super disappointed. I should have read all of the reviews before making it. I followed the recipe exactly and, well, was disappointed. It did look amazing, but it smelled bad and tasted very bland.
Reviewer:
Crys
Rating:
Review:
I cut the recipe in half, and just kept 1 1/2 teaspoon of baking soda and 1/4 of salt. I used sweet chocolate chips and cinnamon, and it was amazing. My friend liked it so much that now I am going to try to used cranberries instead. Thanks
Reviewer:
Marvin
Rating:
Review:
I doubled the recipe. Both of my loaves came out perfect! I used dark chocolate chips instead of semisweet. The dessert was a hit!
Reviewer:
olivia
Rating:
Review:
Thought it came out great! Does kind of have a taste of baking soda. Everyone I fed it to seemed to have loved it. No complaints