Diana's Desserts - www.dianasdesserts.com
See more recipes in
Chinese New Year
Chinese New Year Cake
in Diana's Recipe Book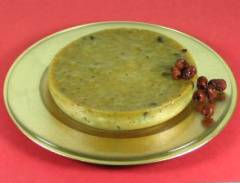 [Be the first to post a review!]
Comments:
Neen Gow Chinese New Year cake is nothing like western cakes. The use of glutinous rice flour results in a sweet, sticky cake and is a symbol of family cohesiveness. The cake is steamed, cooled and then sliced. The egg-dipped, pan-fried slices have a mellow sweetness and are slightly chewy from the glutinous rice flour.

Note:
Scraping the slab brown candy, peen tong, for this cake, is the traditional technique. Brown candy is a kind of sugar that is sold by the slab in 1-pound packages and is also available loose in bins in some Chinese markets. The slabs are about 5 inches long, 1 1/4 inches wide, and a scant 1/2 inch thick. The scraping of the sugar is extremely labor-intensive, so some cooks dissolve the slabs of sugar in water, which is less authentic but much easier to prepare.
Ingredients:

20 red chinese dates
500g (17 1/2 ounces) glutinous rice flour
5 slabs brown sugar, also called peen tong* (See Note Above)
400ml (13 1/2 ounces) water
1 tsp. vegetable oil
2 large eggs
Vegetable oil, for frying

Garnish:
Red chinese dates (optional)

Instructions:
1. Place dates in a bowl and cover with boiling water, allow to soak for 10 minutes and when dates are soft chop in a food processor.

2. Bring half the water to a boil and add the slab sugar, reduce heat and simmer gently to melt sugar.

3. Allow sugar syrup to cool and add cold water to make upto 400ml (13 1/2 ounces).

4. Place glutinous rice flour and chopped dates into a bowl, add sugar syrup and mix well.

5. Pour into an oiled 8 or 9-inch x 3 to 4 inches deep cake tin and cook in a steamer for 1 hour. Allow cake to cool completely and refrigerate overnight.

6. When ready to eat, cut the cake into quarters. Cut each quarter crosswise, not into wedges, but into two 2-inch-wide strips. Cut each strip crosswise into scant 1/4-inch-thick slices. This is the typical way of slicing a cake Chinese style. Beat the eggs in a small bowl, until frothy. Dip the slices in egg.

7. Heat a 14-inch flat-bottomed wok or skillet or a nonstick frying pan over medium heat until hot but not smoking. Add just enough vegetable oil to barely coat the wok, skillet or frying pan, add the egg-dipped slices in batches and cook 2 to 3 minutes per side, until golden brown. If desired, garnish each serving with red dates.
Source: Wingyipstore
Date: August 24, 2006