Diana's Desserts - www.dianasdesserts.com
See more recipes in
Cheesecakes
Classic Baked Cheesecake
in Diana's Recipe Book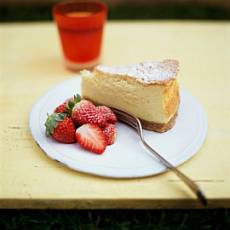 Average Rating:
(total ratings: 25)
[Read reviews]
[Post a review]
Servings: 10-12
Comments:
Although this cheesecake is baked it is easy to make and will please just about anyone's taste. The recipe is very basic and can be enjoyed anytime of the year. Great for a party or serve your family this very delectable dessert as a special treat any night of the week. Especially good served with fresh fruit such as strawberries, blueberries, sliced peaches or serve plain with just a dusting of confectioners' sugar.
Ingredients:

Crust:
2 cups (approxiamtely 250 grams) finely ground graham cracker crumbs
1/2 cup (1 stick/4 oz./113g) unsalted butter, melted

Filling
2 (8 oz./453g) packages cream cheese, at room temperature (16 ounces total)
1 cup granulated or superfine baker's sugar
Juice from 1/2 lemon, strained
Finely grated zest of 1/2 lemon
2 tsp. vanilla extract
4 eggs, separated
1/2 cup (4 oz./125ml) heavy cream

Garnish: (optional)
Confectioners' sugar
Fresh berries (such as strawberries or blueberries)
Instructions:
Preheat oven to 350 degrees F/180 degrees C. Lightly coat the bottom and sides of an 8-inch (20cm) springform pan with nonstick cooking spray.

To Make the Crust:
In a mixing bowl, combine the graham cracker crumbs and the melted butter with a fork until evenly moistened. Lightly coat the bottom and sides of an 8-inch (20cm) springform pan with non-stick cooking spray. Spoon the graham cracker mixture into the prepared springform pan and, using the bottom of a measuring cup or the smooth bottom of a glass, press the crumbs down into the base and 1-inch up the sides. Chill crust in refrigerator until ready to fill.

To Make the Filling:
Using an electric mixer, beat the cream cheese on low speed for 1 minute, until smooth and free of any lumps. Add the egg yolks, one at a time, and continue to beat slowly until combined, then beat in cream. Gradually add sugar and beat until creamy, for 1 to 2 minutes. Add the strained lemon juice, lemon zest, and vanilla. Periodically scrape down the sides of the bowl and the beaters. Beat until well combined and the mixture is light and fluffy (the batter should be well combined but not overmixed).

Using clean electric beaters or a balloon whisk, whisk the egg whites in a medium bowl until soft peaks form. Using a large metal spoon, fold beaten egg whites into cream cheese mixture until just combined.

Pour the mixture into the chilled crust. Bake in preheated oven for 40 minutes, or until just set in the center. Loosen the cheesecake from the sides of the pan by running a thin metal spatula around the inside rim. Let cool in the pan for 30 minutes. Chill in the refrigerator, loosely covered, for at least 4 hours to overnight to set. Remove 30 minutes before serving. Dust top of cheesecake with confectioners' sugar and garnish with fresh berries, if deisred. Slice the cheesecake with a thin, non-serrated knife that has been dipped in hot water and wiped dry after each cut.

Makes 10-12 servings.
Date: August 6, 2006
Reviews
Reviewer:
shan
Rating:
Review:
It's really very nice and easy to make, Just like those served in Cafes!!..... Give it a try!!
Reviewer:
Jessica
Rating:
Review:
I think it's almost the same as my grandmas recipe!
Reviewer:
liz
Rating:
Review:
i did not understand the egg part, in the cream cheese mixture do i only put the egg yolks?
Reviewer:
Diana, Diana's Desserts
Rating:
Review:
Hi Liz, Sorry that the recipe didn't say to place the egg yolks into the cream cheese mixture, then later in the recipe, beat the egg whites and then fold them into the mixture. I have changed the wording so it is easier understood.....Diana, Diana's Desserts
Reviewer:
Ron
Rating:
Review:
It could be better. Not thick enough and too airy. Has something to do with the folded beaten egg whites!
Reviewer:
elaine
Rating:
Review:
succeeded on my 1st attempt! butter was a bit too much for 8-inch size i think.
Reviewer:
linda
Rating:
Review:
the best cheesecake ever!
Reviewer:
Jane
Rating:
Review:
Succeeded on the first attempt. cant believe how extremely this was. thanks for sharing.
Reviewer:
Jovynne
Rating:
Review:
An easy recipe to follow. A very delicious cheesecake. Everyone loved it!
Reviewer:
angeles
Rating:
Review:
Nice recipe, loved it. Just a tiny mistake 8 oz./453 grams, is not the equivalent. 16 oz. is 453 grams, the total. Careful with those cooking on the kilo measures, as it should read 225 grams there, for a total of 453 grams, or HALF A KILO.
Reviewer:
paul
Rating:
Review:
Hi, If you try some sour cream mixed with vanilla and bake it on top of cheesecake for 5 minutes and then dust it with some nutmeg I think it might be nice Diana. Good cake!
Reviewer:
marina
Rating:
Review:
Succeeded on the first attempt! Thank you for sharing..
Reviewer:
Jeaniffer
Rating:
Review:
I found this about a month ago and I have made is six or seven times since. Everyone loves it and since I am not a very good cook anyways, it made it easy for me to pull off. Thank you.
Reviewer:
jenny
Rating:
Review:
yummy!
Reviewer:
Mary
Rating:
Review:
Its good, but can you give me an evaluation for your cheesecake?
Reviewer:
janel
Rating:
Reviewer:
Pinar
Rating:
Review:
Very good instructions for the ones who have never cooked a cheesecake in her life like me. Thanks a lot for sharing these delicious tastes.
Reviewer:
chante hayes
Rating:
Review:
DELICIOUS!!!!
Reviewer:
Kim
Rating:
Review:
I have yet to try this recipe and although it sounds good you don't state whether this cake should be in a water bath or not required. As I'm looking for a specific cheesecake recipe that has a water bath as the one we ate before; the recipe was lost in a move and now I would like to make it again but all I remember is that it was in a water bath and it was delicate and sooo very good, my family loved it and we have a special event coming and I'd love to make it again.
Reviewer:
Jane
Rating:
Review:
Hi everyone, I wonder what is cream? Is it thickened cream or whipping cream? Can somebody help? Thanks....
Reviewer:
Beverly
Rating:
Review:
This recipe is easy and the texture is light (like a no bake). I halfed the recipe and made it in a 6" springform pan - worked well. The cooking time was far too short (but I was using a hot water bath at 325). I ended up taking it out of the bath and baking it for another 20 min - the inside 1 1/2" - 2" was still jiggly and cooled it as directed. My family loved it!
Reviewer:
Shiv
Rating:
Review:
What should be the temperature of the oven when the cheese cake is baking.
Reviewer:
Juzer
Rating:
Review:
Is it okay if I do not use an electric mixer for making the mixture and use a normal balloon whisk? Also you haven't mentioned that do we have to bake it in a waterbath or not?
Reviewer:
Genny
Rating:
Review:
This has got to be the best cheesecake recipe. It's my go to recipe, the texture and sweetness is perfect!!
Reviewer:
Aasifa
Rating:
Review:
I tried this recipe with home made cottage cheese... Turned out to be very good..