Diana's Desserts - www.dianasdesserts.com
See more recipes in
Summertime Treats and Beverages
Fresh Cherry-Almond Cake
in Diana's Recipe Book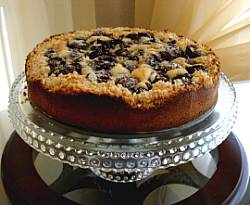 Average Rating:
(total ratings: 6)
[Read reviews]
[Post a review]
Servings: 8
Comments:
Cherries and almonds make a perfect marriage, especially for this scrumptious cake. The flavors work so well together, giving you a burst of summertime flavor in every bite.

Fresh sweet cherries, such as Bing, Lapin, Lambert, Rainier or Royal Ann work well in this recipe. Using the best sweet cherries you can find (maybe at your local farmer's market), at the height of their season will definitely make this cake special. Sweet cherries are usually available fresh from late May through early August. Any fresh cherries sold after August probably come from cold storage. Small quantities of sweet cherries are inported from New Zealand during the winter months.

This lovely cake keeps well but is best a little warm from the oven. The cherries will sink a little while baking so if you like, you can mix a tablespoon or two of flour with the cherries to keep them from sinking into the cake. This will keep them afloat on top, not at the bottom of the cake.

There are two ways that you can make this cake. One is to use whole blanched (skins removed) almonds, which you will chop in a food processor to make an almond flour that you will mix with regular all-purpose flour to use in this recipe or you may use instead purchased blanched almond flour or blanched almond meal. Do NOT use toasted almond flour or meal for this particular recipe. Blanched almond flour or almond meal is available to purchase at King Arthur Flour Company online at http://www.bakerscatalogue.com in 8 ounce (226 gram) bags (2 1/2 cups) and at Bob's Red Mill online at http://www.bobsredmill.com/ in a 1 pound (454 gram) package. You will only need 3/4 cup almond flour for this cake plus 1 cup all-purpose flour and other dry ingredients, etc. Unless you are going to use almond flour in a lot of recipes, you only need a small quantity to keep on hand. Nut flours don't keep well for an extended length of time, so what I do is freeze them and they will keep very well for up to one year.

If you are using purchased almond flour or almond meal (blanched not toasted), you will not need to use a food processor for chopping the almonds in the recipe. Although you will still need 1/4 cup coarsely chopped almonds for topping the edges of the cake. What I recommend is purchasing blanched whole or blanched chopped almonds from the supermarket, and for use in this recipe, I just chop them with a small or mini food or nut chopper.
Ingredients:

1 cup whole blanched almonds (OR 3/4 cup blanched almond flour or blanched almond meal PLUS 1/4 cup coarsely chopped blanched almonds for topping edges of cake)
1 cup all-purpose flour
1 tsp. baking powder
1/2 tsp. salt
1/2 cup (1 stick/4 oz./113g) unsalted butter, softened
3/4 cup granulated sugar
3 eggs, at room temperature
1/4 tsp. almond extract
1/2 tsp. vanilla extract
1 lb. fresh sweet cherries, pitted
1 - 2 tbsp. all-purpose flour
1 tsp. granulated sugar
Confectioners' sugar, for dusting

Serve with:
Whipped cream, crème fraîche or vanilla ice cream
Instructions:
1. Preheat oven to 350 degrees F/180 degrees C. Butter the sides and bottom of a 9-inch springform pan and line bottom of pan with parchment paper. Flour ONLY the SIDES of pan. Set aside.

2. Method If Using Whole Blanched Almonds:
In a food processor, coarsely chop almonds. Transfer 1/4 cup almonds to a bowl and reserve. Add flour, baking powder and salt to food processor. Process until remaining almonds are finely ground. Transfer to a medium size mixing bowl.

Alternate Method If Using Store-Bought Almond Flour or Almond Meal:
If using store-bought almond flour or almond meal for this recipe, place 3/4 cup almond flour (or meal) in a medium size mixing bowl and add the 1 cup all-purpose flour, the baking powder and salt to it and mix well.

3. In a food processor or in a mixing bowl with an electric mixer, cream butter with 3/4 cup granulated sugar. Add eggs one at a time, blending each one fully. Add almond and vanilla extracts.

4. Add half of flour mixture and pulse to blend (or if using an electric mixer, beat on medium speed to blend). Add remaining flour mixture. Pulse in food processor or beat with electric mixer until smooth. Scrape batter into prepared pan and place cherries (cherries can be tossed with 1 to 2 tablespoons all-purpose flour so they will stay on top of the batter and not sink to bottom of cake) on top in a single layer.

5. Mix the 1/4 cup coarsely chopped almonds with the 1 teaspoon granulated sugar and sprinkle around edges of cake. Bake in preheated oven until a tester inserted in center comes out clean, about 45 minutes.

6. Let cake cool in pan for 10 minutes then remove sides of springform pan and let cool completely on a wire rack. When completely cooled, transfer to a cake plate. Dust top of cake with confectioners' sugar. Cut into wedges and if desired serve each slice with a dollop of whipped cream, crème fraîche, or a scoop of vanilla ice cream.

Makes 8 servings.

Photograph taken by Diana Baker Woodall© 2006
Date: July 23, 2006
Reviews
Reviewer:
Carol
Rating:
Review:
I have made this cake 3 times now and each time the guests say "this cake is really good!!!" A definite crowd pleaser. The cherries sit on top w/ the flour coating and actually come out better when they do versus pushing them into the cake a bit because they cook more and are softer to eat.
Reviewer:
iris
Rating:
Reviewer:
Jude
Rating:
Review:
Finally i've found this great recipe again! I made this 3 times last year using gluten/egg/dairy-free alternatives & raspberries and it is superb! After berry picking this week (& not bookmarking the recipe!) I had to wade through google pages after google page, but oh, so worth it!
Reviewer:
Deirdre
Rating:
Review:
Divine! Mmmmm:-) great recipe when you live (as I do) in a cherry-growing region and have access to beautiful fresh cherries in season.
Reviewer:
Deirdre
Rating:
Review:
This cake is an absolute hit whenever I make it! I'm lucky to have easy access to local fresh cherries in season. I find it works a bit better in a tin one size smaller than recommended in the recipe. :-)
Reviewer:
Peggy
Rating:
Review:
I thought this was such an easy recipe. I used ground almond meal and instead of chopping the almonds for the top I used almond slivers and toasted them before I put them all over the cake. I found that it took a long time to get the center baked. Longer than 45 minutes. This is really good, easy for a dessert that brings lots of compliments. I served it with ice cream but next time I am going to heat up chocolate sauce and pour on it. Also think you could add chocolate chips to the batter if you wanted.