Diana's Desserts - www.dianasdesserts.com
See more recipes in
Miscellaneous Desserts, Etc.
Ice Cream Profiteroles with Chocolate Sauce
in Diana's Recipe Book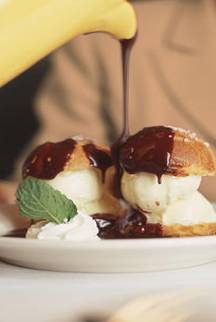 [Be the first to post a review!]
Servings: Makes 25-30 profiteroles
Comments:
What is a Profiterole?

Pronunciation:
(pruh-FIHT-uh-rohl)

A Profiterole is a cream puff made from a filled choux pastry (pâte à choux), a warm dough made with water, butter, flour and eggs. The filling is typically whipped cream or custard or ice cream. The eggs cause the pastry to puff up into a hollow ball which can be filled by injection or by slicing off the top of the pastry which is later replaced. Cream puffs can be topped with confectioners' sugar, frosting, fruit, or chocolate.

This elegant dessert is easy to assemble in stages. Bake the small puffs in advance, then fill them with ice cream at the last minute. Or fill them, arrange them in a single layer on a serving plate, slip the plate into a zippered plastic bag or wrap with plastic wrap, and freeze for up to 2 to 3 weeks. When ready to serve, thaw briefly if frozen and top with the warm chocolate sauce.
Ingredients:

For the Profiteroles:
1 1/2 cups water
1/4 teaspoon salt
1 1/2 tablespoons granulated sugar
12 tablespoons (1 1/2 sticks/6 oz./170g) unsalted butter, cut into 1/2-inch cubes
1 1/2 cups all-purpose flour
5 eggs

Chocolate Sauce:
12 ounces bittersweet or semisweet chocolate
3/4 cup water
3/4 cup heavy cream
2 teaspoons whiskey, rum, or cognac

For Filling:
1 quart ice cream, flavor of your choice

Garnish:
Confectioners' sugar or coarse white sugar
Mint sprigs
Instructions:
For the Profiteroles:
1. Position oven rack in the center of the oven and preheat oven to 425 degrees F/220 degrees C. Line two baking sheets with parchment paper.

2. Bring the water, salt, sugar, and butter to the boil in a large heavy saucepan over medium heat, stirring frequently.

3. When the mixture begins to boil, add the flour all at once and stir continuously with a wooden spoon until the paste forms a ball and comes away from the sides of the pan.

4. Remove from the heat. Wait a minute, then begin beating the mixture, either by hand, or in an electric mixer with a paddle attachment. Beat in the 5 eggs, one at a time, making sure each one is fully incorporated before adding the next (break the eggs into a bowl first to make sure no eggshell gets into the dough). The dough (called pâte à choux) should be stiff and shiny.

5. Fill a pastry bag fitted with a 1/2-inch plain tip with the dough. Pipe onto the prepared baking sheets (or drop by spoonfuls) in 1 1/2-inch high mounds, at 3-inch intervals. When piping out this dough, the action of lifting the pastry bag often leaves a little point on each unbaked puff. To prevent them from burning, flatten any points with a dampened finger. Put the baking sheets in the oven and lower the heat to 375 degrees F/190 degrees C.

6. Bake the profiteroles for 25 to 30 minutes, until they are golden brown, both on top and up the sides. (If they are not fully cooked, they will collapse as they cool.) Remove from oven and poke each one in the side with a knife to release steam, which will otherwise make them soggy. Cool. (Profiteroles are best stored at room temperature for no more than a few hours. They won't be as good, but they can be frozen (unfilled) for 2 to 3 weeks, defrosted, and warmed for a few minutes in a 350 degree F/180 degree C oven).

To Make the Chocolate Sauce and to Serve:
1. Chop the chocolate into 1/2-inch pieces. Put the chocolate pieces in a heatproof bowl. Add the water and cream.

2. Set the bowl over a saucepan of simmering water and melt, stirring gently until the chocolate is melted and the sauce is smooth. Remove from the heat and stir in the liquor (whiskey, rum or cognac). Keep warm.

3. Split the profiteroles in half and fill each with a scoop of ice cream, replace the tops, and if desired, garnish tops with confectioners' sugar or a little coarse white sugaar and mint sprigs. Spoon warm chocolate sauce over them.

Makes about 25 to 30 profiteroles.
Date: July 21, 2006