Diana's Desserts - www.dianasdesserts.com
See more recipes in
Summertime Treats and Beverages
Old-Fashioned Blackberry Peach Cobbler
in Diana's Recipe Book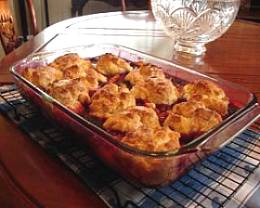 Average Rating:
(total ratings: 3)
[Read reviews]
[Post a review]
Servings: 12
Comments:
I made this cobbler to bring to our friend's 4th of July barbeque this year. Here are some of the comments I received, "THIS is REALLY GOOD"! and "Did you really use FRESH blackberries and FRESH peaches?" and "Wow, this is SO WONDERFUL". I brought along vanilla ice cream to serve with the cobbler (really added to the richness of this already "sweet" old-fashioned dessert). I must say it was the best cobbler I've made so far. We topped each serving with a scoop of ice cream and served it in little red, white and blue bowls. Looked really pretty and patriotic for the Independence Day holiday. The biscuit topping was so light and buttery (I guess it was all that milk and butter in the batter, yummy!). If possible, use fresh fruit as it really makes a big difference in the taste and texture of the cobbler.....Diana, Diana's Desserts
Ingredients:

2 tablespoons cornstarch
1 1/2 cups granulated sugar
1 1/4 pounds (about 5 cups or approximately 567grams) fresh blackberries
2 pounds fresh peaches (6 medium or 4 large peaches or approximately 907 grams), peeled, pitted, and cut into 1/2-inch-thick wedges
3 cups all-purpose flour
1 tablespoon baking powder
1 teaspoon salt
1 cup (2 sticks/8 oz./226g) cold unsalted butter, cut into 1/2-inch cubes
1 1/4 cups milk

Topping:
1 tablespoon granulated sugar (for sprinkling on top of the dough)

Serve with:
Vanilla ice cream, whipped cream or frozen non-dairy whipped topping, thawed
Instructions:
Preheat oven to 425°F/220°C. Spray a 9 x 13-inch (22cm x 33cm) glass or ceramic baking dish with non-stick cooking spray. Set aside.

In a large mixing bowl, combine cornstarch and the 1 1/2 cups sugar. Add blackberries and peaches and toss to combine well. Transfer to baking dish and bake until just bubbling, 10 to 15 minutes. Leave oven set to 425°F/220°C.

While fruit is baking in oven, in another large mixing bowl, whisk together flour, baking powder, and salt; then blend in butter with a pastry blender until mixture resembles coarse meal. Add milk and stir just until a dough forms.

Drop 12 mounds of dough (about 1/3 cup each) onto hot fruit mixture, then sprinkle dough with the 1 tablespoon of sugar. Bake cobbler in preheated 425°F/220°C oven until top is golden, 25 to 35 minutes. Serve warm or at room temperature with vanilla ice cream, whipped cream or non-dairy whipped topping.

Tip:
If necessary, cobbler may be made a day ahead, cooled completely uncovered, then placed in the refrigerator, covered. Before serving, let stand at room temperature 1 hour, then cover with aluminum foil and reheat in a preheated 350°F/180°C oven until warm, about 20 minutes.

Makes 12 servings.

Photograph taken by Diana Baker Woodall© 2006
Date: July 3, 2006
Reviews
Reviewer:
Luisa
Rating:
Review:
I woke up early this morning to pick blackberries from my backyard. I had enough to make this wonderful dessert for dinner tonight with the peaches I had bought from the Farmer's Market. This dessert is the epitome of Summer delight. Makes me want to go pick more blackberries next week-end. The family loved it!
Reviewer:
Anjana
Rating:
Review:
This was such a light and refreshing cobbler. It was a big hit with everyone who tried it. I will be making it everytime I pick fresh blackberries.
Reviewer:
Javvie
Rating:
Review:
This cobbler was phenomenal. I had picked fresh peaches and blackberries from a nearby farm and this cobbler showcased them perfectly. The balance of sweetness was also excellent, as was the topping!