Diana's Desserts - www.dianasdesserts.com
See more recipes in
Pastry
Classic French Napoleon
in Diana's Recipe Book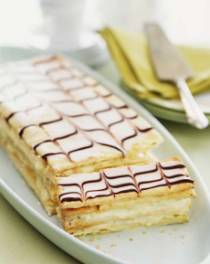 Average Rating:
(total ratings: 43)
[Read reviews]
[Post a review]
Servings: 9
Comments:
The Napoleon is a pastry made of many layers of puff pastry with filling alternating the layers. It can be eaten as a dessert, or even as a decadent meal.

As a French pastry it is called mille-feuilles, or thousand leaves, and it is usually filled with whipped cream, pastry cream, and fruit preserves - most often raspberry jam. The topping may be simply powdered sugar, or a layer of fondant, often with strings of chocolate drawn into a chevron design.

In Italy, where the pastry is thought to have originated in Naples, it is called mille foglie (again, thousand leaves), and contains a similar layering like the mille-feuilles of cream, pastry cream, and fruit preserves.

A traditional napoleon is filled with plain pastry cream but if desired you may add a thin layer of fruit preserves such as seedless raspberry or strawberry jam or preserves to the filling.
Ingredients:

For Puff Pastry:
1/2 of a 17 1/4-ounce package (1 sheet) frozen puff pastry, thawed

For Cream Filling:
1/4 cup granulated or superfine sugar
2 tablespoons all-purpose flour
1/8 teaspoon salt
1 cup half and half or light cream
2 slightly beaten egg yolks
1/2 teaspoon vanilla extract
1/4 cup whipping cream

For Glaze:
2 cups sifted confectioners' sugar
1/4 teaspoon vanilla extract
2-3 tablespoons boiling water

Fruit Preserve or Jam Filling: (optional)
1/3 cup seedless raspberry or strawberry jam or preserves

Chocolate Drizzle Topping:
1 1/2 tablespoons melted semisweet chocolate
Instructions:
For Puff Pastry:
Preheat oven to 425°F/220°C. Line 2 baking sheets with parchment paper or plain brown paper; set aside.

Unfold puff pastry sheet and trim edges to a 9-inch square. Cut pastry into nine 3-inch squares. Transfer pastry squares to the prepared baking sheets; prick pastry. Bake in a preheated oven for 18-23 minutes, or until golden. (Or bake according to package directions.) Carefully remove pastries from baking sheet. Cool on a rack.

For Cream Filling:
In a heavy, medium saucepan stir together sugar, flour, and salt. Slowly stir in half-and-half or light cream. Cook and stir over medium heat until mixture is thickened and bubbly. Cook and stir for 1 minute more. Slowly stir about half of the hot mixture into beaten egg yolks. Return all to saucepan. Cook and stir for 2 minutes more. Remove from heat. Stir in vanilla. Transfer mixture to a bowl. Cover surface with plastic wrap and cool just until warm without stirring. In a small mixing bowl beat whipping cream until soft peaks form. Fold whipped cream into warm pastry cream.

For Glaze:
In a medium mixing bowl combine confectioners' sugar and vanilla. Stir in enough boiling water to make a glaze of spreading consistency; set aside.

To Assemble:
Use the tines of a fork to separate each pastry square horizontally into 3 layers.

Note:
If Using Fruit Jam or Preserves:
Spread about 1 teaspoon of the raspberry or strawberry jam or preserves on each bottom layer. Spread about 1 1/2 tablespoons of the pastry cream over raspberry preserves or if not using a layer of fruit jam or preserves, spread about 1 1/2 tablespoons of the pastry cream on the bottom layer and preceed as follows:

Top with middle pastry layers. Spread another 1 1/2 tablespoons of the pastry cream on each middle layer. Finally, top with remaining pastry layers. Spread glaze over top of napoleons, then drizzle with melted chocolate. Chill up to 1 hour.

Makes 9 napoleons.
Date: June 18, 2006
Reviews
Reviewer:
chris
Rating:
Review:
Excellent recipe for napoleans. My family loved them. I can't wait to make them for the holidays. Recipe was easy and better than bakery bought.
Reviewer:
Sadia
Rating:
Review:
Mine didn't turn out like the french napolean's I've had previously (that look just like the one in the picture). My cream was also a bit liquidy. Not sure why.
Reviewer:
Nick
Rating:
Review:
My pastry was scrumptious, but make sure that you watch it while it cooks
Reviewer:
armenak
Rating:
Reviewer:
pherron
Rating:
Review:
they came out very nice. very great taste! i just need to work on my plate presentation (lol), but a very nice recipe!
Reviewer:
Lisa
Rating:
Review:
Tastes good but does not look like the picture. I think it needs more cream filling. Also, would love to know how long to let mixture cool before assembling. Also, cool at room temp or in fridge?
Reviewer:
Jezzie
Rating:
Review:
The best cream filling recipe I've found so far, though I make twice as much as it says.
Also, I always cool in the refrigerator (occasionally even the freezer) until it doesn't feel warm to touch, and put another pan on top of crust for half the baking time to keep it from rising too much.
Reviewer:
Luzma
Rating:
Review:
Very great taste, but the cream was liquid.
Reviewer:
nebia
Rating:
Review:
i don't get the pastry part, do you put in the filling then bake it, or should you bake it then put the filling?
Reviewer:
Sal
Rating:
Review:
Have made these four times now and everyone really enjoys them, including my relatives from Italy. The first time the cream was a little runny and ozzed out the sides and the overall height was much less than those I buy from the pastry shop. I now use three pastry sheets and cut them into 9 by 3 inch strips, don't separate the pastry into layers and double the cream so I get three tall, 9 by 3 inch rectangles when finished. When serving we just cut off pieces using a serated knife. I do admit that the crust is a bit thick and tough to cut with a fork while eating without smashing it so we pick it up and eat the piece that way. That happens with the bakery versions too sometimes. I may try splitting the pastry in half but I don't think the proportion to cream will taste as good. As soon as I take the pastry out of the oven I do put another baking sheet on top and press the height down to about 1/2 inch. To make the cream a bit thicker I add one tablespoon of corn starch. I cook the cream for quite a long time until it is really thick, almost like a loose putty that sticks to itself, then add the eggs and cook to get it just as thick. After the first time I realized that the goal was a thick custard that would hold its own shape after adding the whipped cream which loosens the mixture up a bit. I feel like I am almost overcooking it, and maybe, but in the end they hold their shape and I do spread the cream when it is still warm and they taste great.
Reviewer:
Mui
Rating:
Review:
Tasted great! A few things to change though -- cut the phyllo to 3x9 rectangles. The cream filling was perfect and the perfect amount (a shame, because I could eat the cream filling on its own). And not sure why the amount of glaze was so much! I used less than a quarter and found it overpoweringly sweet. Lastly, this recipe is too yummy. If you're going to make it, definitely double or triple it!
Reviewer:
amie(friend)
Rating:
Review:
It tasted beautiful! I could taste and feel the creamy filling wonderful. Here in France it is the most best dessert I have yet to have. I learned if you side it with a strawberry or raspberry it looks and tastes great! It takes me about 60 minutes to make/bake my home made classic vanilla napoleon.
Reviewer:
chausdd
Rating:
Review:
It came out so good. It looked just like the one in the picture. I think the only reason why it came out that way because my mom helped in, but over all it turned out really really good...I want more!!
Reviewer:
sharon
Rating:
Review:
The dough squares were too small, the cream became liquid in spite of adding the cornstarch as suggested by one person when I added the whipped cream. My glaze was yucky - the taste was strange from the confectioners' sugar- even tried adding a bit more vanilla - no good. Last but not least, I do not know how to melt the chocolate chips so they drizzle - I had chunks not drizzles. All in all a very sad day.
Reviewer:
Linda
Rating:
Review:
This recipe was amazing - with a few modifications. I doubled the cream filling (added 1 tablespoon corn starch in addition to the flour) and halved the glaze (1.5 would have been best). I was only able to separate the puff pastry (which I cut into 6 pieces to bake) into two layers, but that worked fine. This is so delicious! Can't wait to make it again.
Reviewer:
Stephanie
Rating:
Review:
The final product tasted great but the filling was far too liquidy.
Reviewer:
saundra burns
Rating:
Review:
I haven't made these in years but I'm going to...when I did make them, there was a recipe for the crust as well...wish I could find that recipe. I may have a solution for the people who said their filling was runny...you shouldn't make custard fillings on humid days...it will never thicken...even if it appears to, it will go thin when cooled.
Reviewer:
Debbie
Rating:
Review:
I had my first Napoleon at my wedding 14 years ago and never found one quite like that one. My husband asked if I would be willing to try making one. What a great recipe!! I didn't make little squares. Instead I cut the pastry into 9"x4" rectangles and made three long desserts.
Reviewer:
Gretchen Mason
Rating:
Review:
These are wonderful.
Reviewer:
Lauren
Rating:
Review:
Turned out pretty well although definitely did not look like the picture. My best description of the result is a large square- like cream puff. Definitely double the cream filling recipe though! Otherwise, wonderful and relatively easy recipe.
Reviewer:
Christina
Rating:
Review:
The glaze was a little too sweet and made too much! The custard was so yummy I am going to triple the recipe and bake two puff pastry to make a cake for my nana's birthday. I am hoping to make it with 5-6 layers so its more like a cake!
Reviewer:
Katelynn
Rating:
Review:
This was great!! I decided to try it out because it is my husband's FAVORITE dessert and there is no where to buy it around here. I think that everything came out as it should have. If people had liquidy cream then it was because they did not cook it long enough or whip the heavy cream long enough. Overall, it looked great and tasted better :)
Reviewer:
Diana
Rating:
Review:
The cream was excellent!!! I let it set during the night in the fridge and it was just like a bakeries cream... Maybe better!!!! Surely try the recipe.
Reviewer:
Franca
Rating:
Review:
Can I make these ahead to save some time?
Reviewer:
B Forbes
Rating:
Review:
This is an incredible recipe as they turn out almost the same as one of our bakeries in town which cannot keep them in stock.
Reviewer:
Christie
Rating:
Review:
Yummy! I ran out of whipped cream but the cream filling was so thick I really didn't need it. I assembled the Napoleons with hazelnut spread plus a layer of cream filling on the bottom puff, and just a layer of cream filling on the middle puff. Glaze on the top as described. Tasted just like the bakery.
Reviewer:
julio jinez
Rating:
Review:
nice
Reviewer:
Alexis
Rating:
Review:
The pastry cream turned out great and was very easy to make. The only part that didn't work out as well was baking the puff pastry. On another recipe I'd read that you can initially start baking it with another pan (with weights) on top of it, then finish baking for the remaining time uncovered, so that the puff pastry rises more evenly. Mine puffed somewhat unevenly and was difficult to separate. Other than that the recipe was very good.
Reviewer:
Mui
Rating:
Review:
I've made this numerous times and it's always a rave! My party guests actually set as many aside as possible to enjoy at a later time. For anyone who finds their cream filling too runny, it means you didn't cook it long enough for the flour to develop properly. And I agree about the glaze -- way too much sweetness. Use just a drizzle for decor.
Reviewer:
Mike Smith
Rating:
Review:
After letting the frozen puff pastry thaw, it was all stuck together and I couldn't unfold it. Ended up throwing everything away.
Reviewer:
jorgen hindrup
Rating:
Review:
retired pastry chef hotel del coronado.Lauren the reason they dont look like picture is that the two pans are rolled out to fill the pans then when baked you cut them into the size.so this is only another picture put in. if you cut 3x3 they will not look the picture jorgen
Reviewer:
Patricia Busutil
Rating:
Review:
This recipe is AMAZING! I have made it 4 times in just a few weeks, Everyone loves them, and I am having request for more to be made for partys and friends and family too, The only thing I did different was add more flour to thicken it, because it will tend to be runny if you use the 2 tablespoons of flour that the recipie recommends.
Reviewer:
Mariana
Rating:
Review:
Also for the semi sweet chocolate, if you find that your chocolate is burning while you try to melt it, because it's not runny enough; add a little heavy cream to it.
Reviewer:
Kathleen
Rating:
Review:
I tried a technique from another recipe and rolled the puff pastry thin--not worth it, and it overcooked too easily. The pastry cream is wonderful, though I didn't use the whipped cream; I added about 1.5 T butter (most other recipes called for it, and I didn't have whipping cream). I also did equal parts 1/2 and 1/2 and 1% milk and it worked, so next attempt will be all 1%! Like Sal said, the idea is to get a thick custard, so cooking it a little longer seemed to take care of any thinness.
Reviewer:
Mariana
Rating:
Review:
This is a great recipe. As an alternative you can purchase pastry cream at your local cake supply store ready to whip at home and use. It is a much faster way to get through the cooling process.
Reviewer:
Darnell Hollingsworth
Rating:
Review:
This is a great recipe. I did omit the whipped cream because it made the filling turn to liquid and did not hold its shape inside the pastry. It did not change the taste of the cream either. I also, baked the pastry with another baking sheet on top to prevent the pastry from being too high. I then cut the pastry pieces into two layers each.
Reviewer:
Angie
Rating:
Review:
Love the texture of the of the filling without the whpped cream. This is a delicious dessert.
Reviewer:
Angie
Rating:
Review:
Fabulous! Easy to make and delicious, thanks!!
Reviewer:
That Cake Guy - Brisbane
Rating:
Review:
Fantastic, the whole family loved them. Fully recommend this recipe, can't wait to try more!
Reviewer:
Erin C
Rating:
Review:
Haven't had one of these in over 20 yrs since I moved from Brooklyn, NY to northern Maine. This came out just like I remember from the Italian bakeries back in Brooklyn. I followed the directions to a "T" and had no problem with runniness - if you are getting it runny, it's possible you aren't whipping your cream long enough. I will be making this over and over - a definite keeper of a recipe. Also, for those who don't know how to melt the chocolate chips - I put them in a mug with a teaspoon of veggie oil and microwave them 15 seconds at a time - stir - then another 10-15 seconds - stir and keep doing that till they are melted. Keep a close eye on it so it doesn't burn and become hard.
Reviewer:
Leslie TAYLOR
Rating:
Review:
Getting ready to make this for my father for fathers day! The reviews were fabulous!! I now know this will turn out as if he ordered while in Paris! Thx everyone.
Reviewer:
carolyn
Rating:
Review:
You can prepare Birds custard using the pudding recipe on the container.It is a good texture when fully cooled and you can fold whipped cream into it for a lighter texture.
Reviewer:
mary
Rating:
Review:
How many days can we keep it and should we put it in fridge to stay fresh? Thank you.