Diana's Desserts - www.dianasdesserts.com
See more recipes in
Coffee Cakes - Sweet Rolls - Doughnuts
Chocolate-Cinnamon Babka
in Diana's Recipe Book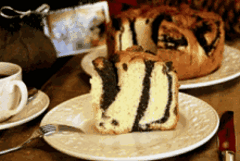 Average Rating:
(total ratings: 2)
[Read reviews]
[Post a review]
Servings: 16
Comments:
The highlight of the Polish Easter dinner is a dessert called Babka (which means "old woman" in Polish), a sweet bread flavored with raisins and rum. Babka is baked in almost every Polish home at Easter Time. Although families jealously guard their Babka recipes, there are a number of recipes for this Polish specialty in cookbooks, etc.

This recipe is for Chocolate and Cinnamon Babka, a real treat!!



Ingredients:

For The Babka Dough:
3 3/4 cups all-purpose flour
1/3 cup granulated sugar
1 teaspoon salt
1/4 cup vegetable oil
1 cup milk
2 large eggs
2 teaspoons active dry yeast

For The Cinnamon Filling:
1/2 stick (2oz.) unsalted butter or margarine, melted
3/4 cup dark brown sugar, firmly packed
1 tablespoon ground cinnamon

For The Chocolate Filling:
2 oz. bittersweet chocolat
1/4 cup granulated sugar
1/2 stick (2 oz.) unsalted butter, or margarine
1/4 cup milk
1 teaspoon vanilla extract
2 teaspoons rum, or rum extract/flavoring (optional)

For Meringue:
2 egg whites
1/4 cup granulated sugar

For Garnish: (optional)
Confectioners' sugar

For Egg Wash: (optional)
1 egg yolk, or egg white, beaten
1/4 cup milk, or water



Instructions:
For The Dough:
Combine the flour, the sugar, the salt, and the yeast in a large mixing bowl, set aside.

Heat the oil and milk in a small pan until very warm, and pour over mixed dry ingredients.

With an electric mixer, blend at low speed until moistened. Add eggs, and beat on medium speed for 3 minutes.

Transfer dough to a floured surface. Knead dough until smooth and elastic, about 10 to 15 minutes.

Place dough in a greased bowl, turn greased side up, cover with plastic wrap and let rise in a warm place until light and doubled in size, about 1 1/2 hours.

*See tip below for optional overnight dough refrigeration.

After The Dough Has Doubled In Size:
Place dough on a floured surface, divide in half, and roll out each half to a 10 by 18 inch rectangle, and 1/4 inch in thickness.

For The Cinnamon Filling:
Spread each dough section with half of the melted butter or margarine. Combine sugar and cinnamon and sprinkle over each dough section.

For The Chocolate Filling:
On a low simmer, melt chocolate in top of a double boiler, stir in sugar, butter or margarine, and milk. Cook over very low
heat, stirring constantly for 15 minutes.
Stir in vanilla extract and rum, chill in refrigerator.

For the Meringue:
Beat egg whites with the 1/4 cup sugar until stiff but not dry. Spread each dough section with 1/4 of the meringue, and 1/2 of the chilled chocolate filling, top with the remaining half of the meringue.

Roll up rolls of filled dough, jelly-roll style, starting at the long end. Braid rolls together to form a twist and place in a greased 9 or 10-inch bundt or tube pan, seal edges together and cover with plastic wrap. Let rise until almost doubled in size, about 1 hour or so.


Preheat oven to 350 degrees F (180 C), or 325 degrees F (170 C) if you are using bakeware with a dark, nonstick or colored exterior.

Brush dough with egg wash (optional), and place the bundt or tube pan with babka in it in pre-heated oven and bake it for about 50 minutes or until the aroma becomes irresistible and the babka is golden brown.

After baking, remove the babka from the oven and let it cool for a few minutes. Take it out of the pan and place it on a wire rack. Let it cool completely before serving. Dust top of babka with confectioner's sugar, if desired.

Egg Wash
Egg yolk or egg white mixed with a small amount of water or milk.

Use egg wash for brushing over breads, pastry and other baked goods before baking to give them color and gloss. The egg wash is an optional step in this recipe, but I recommend it, as it tends to finish off the babka nicely.

Wrap leftovers tightly with plastic wrap for storage at room temperature.

TIPS:
For longer storage, you can freeze the babka, tightly sealed in a plastic bag.

If needed, you can cover and refrigerate dough overnight. After removing dough from refrigerator, bring to room temperature. Depending on room temperature conditions, this could take up to 4 1/2 hours.

Makes: One 10-inch chocolate babka, or 16 servings.







Source: DianasDesserts.com
Date: April 15, 2002
Reviews
Reviewer:
Andrew kiser
Rating:
Reviewer:
Audrey Crane
Rating:
Review:
I tried this and between the meringue and the chocolate, which is very syrupy, I rolled the dough up to end up with a huge puddle on my counter, soggy dough and no filling. I guess I'll cook it anyway but I'm thinking there must be some mistake in the recipe. I didn't even use all the chocolate!