Diana's Desserts - www.dianasdesserts.com
See more recipes in
Cheesecakes
Classic Cheesecake
in Diana's Recipe Book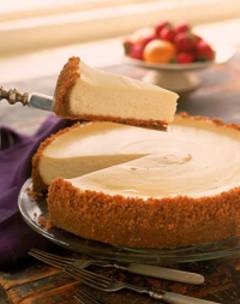 Average Rating:
(total ratings: 14)
[Read reviews]
[Post a review]
Servings: 10
Comments:
A very traditional cheesecake. One that all cheesecake lover's will adore. Simple and delicious and quite easy to make. A classic cheesecake with a graham cracker crust. For those of you who can't get graham crackers in your country, they may be substituted with crushed digestive biscuits or wholemeal biscuits, or crushed plain sweet biscuits.
Ingredients:

For The Crust:
2 cups graham cracker crumbs (approximately 30 graham cracker squares) or 2 cups store-bought boxed graham cracker crumbs
1/2 cup (1 stick/4 oz./113gm) unsalted butter, melted

For The Filling:
12 oz. cream cheese, softened
12 oz. ricotta cheese
1 cup granulated sugar
3 large eggs
2 tablespoons all-purpose flour
1 1/2 cups sour cream
1 tablespoon lemon juice
1 tablespoon grated lemon zest
Instructions:
Preheat oven to 300°F/150°C. Spray an 8-inch springform pan with non-stick cooking spray.

For The Crust:
Grind the graham crackers (approximately 30 squares) in a food processor to fine crumbs, or use 2 cups store-bought graham cracker crumbs. Place in a mixing bowl. Pour the melted butter over the crumbs, and stir to combine. Press mixture onto bottom and 1-inch up the sides of prepared pan. Wrap aluminum foil around bottom and 2 inches up the sides of springform pan (to prevent leakage).

For The Filling:
Place the softened cream cheese, ricotta cheese and sugar in a food processor and process until smooth. (Alternatively you can use an electric mixer.) Add the eggs, 1 at a time, mixing well after each addition. Transfer to a bowl (if using a processor) and fold in the flour, sour cream, lemon juice and lemon zest. Pour into the crust-lined springform pan.

To Bake:
Place the springform pan with cheesecake batter inside a larger baking pan, and fill the larger pan carefully with one inch of water and place pan in 300°F/150°C oven. (This method is called a "WATER BATH" which helps your cheesecake bake evenly and to prevent cracking.) Bake for 1 hour, or until the cheesecake is set in the middle. Turn off the heat and leave in the oven for another one hour, with the door ajar. Remove from the oven, take cheesecake pan out of water bath, and set aside on cooling rack to cool completely. Remove aluminum foil. Release sides of springform pan and refrigerate for at least 4 hours to overnight before serving.

Makes 10 servings.
Source: DianasDesserts.com
Date: April 15, 2002
Reviews
Reviewer:
jalpa
Rating:
Review:
I'm in the process of making it and so far it's good!!!
Reviewer:
Jessica
Rating:
Review:
My brother wants to go to cooking school, and my grandmother always bakes, so it runs in my blood:). I also think you should replace ricotta with cream cheese. Thats what my grandma does. It's a very good recipe!
Reviewer:
sanaz
Rating:
Review:
It's taste was good but it contains too much butter. Thanks Dear Diana
Reviewer:
Diana
Rating:
Review:
Hi, To all who mentioned that there was too much butter used when making the crust for this cheesecake, I have reduced the amount of butter in the recipe to 1/2 cup. Hope this helps you out.....Diana, Diana's Desserts
Reviewer:
Ruth
Rating:
Review:
This recipe was good, but almost too lemony. I would reduce the amount of lemon zest by half next time. The texture is fluffy, not as heavy as other cheesecakes. The crust is a good foil for the tartness of the filling (but it's still too lemony in my opinion). Very rich and very easy to make.
Reviewer:
Kimbely
Rating:
Review:
I just want to thank Dianas Desserts because her recipes have gotten me further in my cooking career. My dream is to become a chef, and have my own recipe in paris. I am a sixth grade female and i am 12 years old. Thank you very much, Kimberly
Reviewer:
vivi
Rating:
Review:
It was so good and my family likes it so much. Thank you!!!!
Reviewer:
Suzie Q
Rating:
Review:
This cheesecake tasted lovely and didn't crack on cooling, although next time I make it I will try reducing the amount of butter as the crust did seem a bit excessively oily. The lemon works very well in the filling, as without it's tartness I think it may have tasted a bit cloying overall.
Reviewer:
evi
Rating:
Review:
a never-failing recipe that everyone loves... for a creamier texture, replace the ricotta cheese with cream cheese; it's divine!
Reviewer:
lillian
Rating:
Review:
thank you for the recipe of the cheese cake i have not yet tried it but i hope its really good
Reviewer:
alice
Rating:
Review:
i thought the cheesecake was really nice and the recipe was easy to follow . i will definately try another recipe from DianasDesserts.com again.
Reviewer:
zipi
Rating:
Review:
i made this cheesecake w/o the lemon and it was fantastic. i also made an organic blueberry sauce to top it with. the cake was easy and delicious! no cracking thanks to the hot water bath.
Reviewer:
Robin
Rating:
Review:
Based on all of your other recipes I've tried, I gave this a high rating though I haven't made this yet - everything Diana has is good! However, this is not what many people will think of as a "traditional" cheesecake depending on where you're from. The addition of ricotta cheese is more like the Italian version. For a more creamy, dense, New York style cheesecake, see Diana's recipe for Classic Baked Cheesecake. Haven't made it either but based on the ingredients and pic, it's probably New York style. Enjoy and thanks Diana for your website and hard work. Waiting for my first Hummingbird Cake to cool as I write...looks just like they make it in the South and smells delicious!
Reviewer:
virginia tomon
Rating:
Review:
this is the second time I am baking this, I followed the recipe that asked for 1 1/2 sticks of butter for the crust and 2 cups crumbs, WAY WAY TOO MUCH of both the cake was a greasy mess!! the second time the 300* temp was way to low, after an hour the cake was not even warm. I had to boost the temp up to 325* I am still baking it 2 hrs later. I certainly hope it turns out after two attempts. I see you corrected the amount since I copied the recipe. this makes me not to trust the site.