Diana's Desserts - www.dianasdesserts.com
See more recipes in
Miscellaneous Desserts, Etc.
Apple Charlottes
in Diana's Recipe Book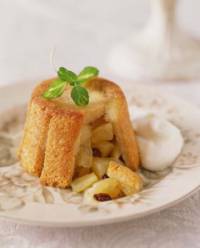 [Be the first to post a review!]
Servings: 6
Ingredients:

5 cooking apples, peeled, cored and sliced
2 tablespoons brown sugar
1/4 teaspoon ground cinnamon
1/4 cup raisins
1 loaf day-old white bread, crusts removed
1/2 cup (1 stick/4 oz./113g) butter, melted
Instructions:
Preheat oven to 350 degrees F/180 degrees C. Brush six 1-cup ovenproof ramekins with oil or melted butter.

Place apples in a large saucepan with sugar, cinnamon and raisins and enough water to cover. Cook until tender; drain and cool.

Using a cookie or biscuit cutter, cut 12 rounds from bread slices to fit top and base of each ramekin. Cut remaining slices into fingers (3/4 inch) wide; trim to fit height of ramekin. Dip 6 rounds into melted butter and place in base of ramekins. Dip each finger of bread into melted butter and press around sides of ramekins vertically, overlapping a little.

Fill each bread-lined ramekin with cooked apple mixture and top with last rounds of butter-dipped bread.

Place on baking pan, bake for 20 minutes. Turn onto plates. If desired, dust tops with confectioners' sugar. Serve immediately.

Makes 6 servings.
Date: April 11, 2002-Recipe revised Sept. 15, 2006