Diana's Desserts - www.dianasdesserts.com
See more recipes in
Frostings -Toppings - Sauces - Fillings
Homemade Dulce de Leche
in Diana's Recipe Book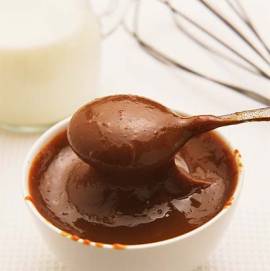 [Be the first to post a review!]
Servings: Makes about 1 3/4 cups
Comments:
Dulce de leche, also known as arequipe in Colombia, or manjar blanco or cajeta thoughout Latin America is gathering new fans in the United States. This silky-smooth caramel has been gracing cookies, cakes, and all kinds of tasty treats for many years in Latin America, long before Haagen Dazs introduced it's Dulce de Leche ice cream. Dulce de leche is a key ingredient in alfajores (a Latin american dulce de leche filled sandwich cookie), as well as in many other dessert recipes. But you will also enjoy it slightly warmed and served over vanilla ice cream or even fresh fruits. You can make dulce de leche at home from scratch, or a less-labor-intensive version using a can of sweetened condensed milk. The recipe below is for the "from scratch" version. You may also view the version using sweetened condensed milk on this website in My Recipe Book in the International Desserts and Treats recipe category called "Easy Dulce de Leche".
Ingredients:

1 quart (32 oz/1 liter) whole milk
2 cups granulated sugar
1/4 teaspoon baking soda
Pinch of ground cinnamon
Instructions:
In a large saucepan, combine all ingredients and cook over medium heat, without stirring, for 15 to 20 minutes. Reduce heat to low and cook, stirring constantly with a wooden spoon, for 25 to 30 minutes, or until it thickens so much that you can see the bottom of the pan as you stir. Remove from heat and let cool. Cover and refrigerate for up to 2 weeks. You may need to heat it slightly in order to soften it before using.

Makes 1 3/4 cups.
Date: January 11, 2006