Diana's Desserts - www.dianasdesserts.com
See more recipes in
Diabetic and Lower Carb Treats
Cheese Blintzes with Berries
in Diana's Recipe Book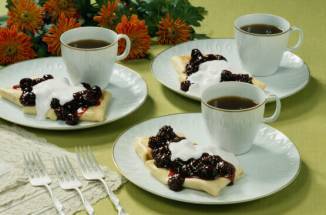 Average Rating:
(total ratings: 2)
[Read reviews]
[Post a review]
Servings: 8
Comments:
A lovely dish for a Mother's Day Breakfast or Brunch. Serve the Cheese Blintzes and berries with coffee, tea, or a Mimosa, with or without the champagne. You can make a great low-sugar Mimosa with orange juice and diet 7-Up, or diet gingerale. Serve the Mimosa in a pretty champagne flute to top off the occasion..........Dianas's Desserts
Ingredients:

1 cup Fat-Free Cottage Cheese, or Farmers Cheese
4 ounces tub-style light cream cheese (about 1/2 cup)
1/4 cup granulated sugar
1 teaspoon vanilla extract
1/2 teaspoon finely grated orange zest
1 cup all-purpose flour
1 1/2 cups skim milk
1 1/2 tablespoons vegetable oil
1 1/2 teaspoons vanilla extract
1/4 teaspoon salt
3 large eggs
Cooking spray
2 cups blueberries or other fresh berries
2 teaspoons powdered sugar

Instructions:
Place cottage cheese (or farmers cheese, if using) in a blender or food processor, and process until smooth, scraping sides of processor bowl once. Add cream cheese, sugar, orange zest and 1 teaspoon vanilla; process until smooth. Pour mixture into a bowl; cover and chill.

Place flour in a medium bowl. Combine milk, oil, 1 1/2 teaspoons vanilla, salt, and eggs, and add to flour, stirring with a whisk until almost smooth. Cover and chill 2 hours.

Place a 10-inch crepe pan or nonstick skillet coated with cooking spray over medium-high heat until hot. Remove skillet from heat. Pour 3 tablespoons batter into pan; quickly tilt pan in all directions so batter covers skillet with a thin film. Cook about 1 minute.

Carefully lift edge of crepe with a spatula to test for doneness. The crepe is ready to turn when it can be shaken loose from the pan and the underside is lightly browned. Turn crepe over; cook 30 seconds on other side.

Place crepe on a towel; cool. Repeat procedure with remaining batter. Stack crepes between single sheets of wax paper or paper towels to prevent sticking.

Spoon 3 tablespoons cottage cheese mixture (or farmers cheese mixture) in center of each crepe; fold sides and ends of crepe over filling to form a rectangle. Place filled crepes, seam sides down, on a baking sheet lined with plastic wrap. (Blintzes may be covered and chilled at this point).

Place a large nonstick skillet coated with cooking spray over medium heat until hot. Place 4 blintzes, seam sides down, in skillet; cook 2 minutes or until lightly browned. Turn blintzes over; cook for 2 minutes. Repeat procedure with remaining blintzes. Serve warm with blueberries, and sprinkle with powdered sugar, and a dollop of low-fat sour cream.

Makes 8 servings.

Serving size: 1 blintz and 1/4 cup blueberries

Nutrition Facts:
8 servings
Facts per serving:
Calories: 17
Fat: 6 grams
Carbohydrates: 22 grams
Cholesterol: 63 mg
Sodium: 256 mg
Protein: 9 gram
Fiber: 2grams

Mimosa Cocktail:

Comments:
Blood oranges, with their sweet-tart taste and bright red flesh, make these mimosas a refreshing drink for Mother's Day, or any special occasion.

Ingredients:
1 cup fresh blood orange juice (from about 6 blood oranges), or 1 cup fresh juice from regular juice oranges
1 bottle Champagne, or large bottle of regular or Diet 7-Up, Diet Sprite or Diet Gingerale, chilled
Orange slices, and Mint sprigs for garnish (optional)

To Prepare Mimosas:
Pour 1/4 cup orange juice into each of 4 champagne glasses. Slowly add champagne (or regular or Diet 7-up, Diet Sprite or Diet gingerale, if using). Garnish each champagne glass with orange slice and a mint sprig (optional). Serve immediately.

Makes 4 servings.

Source: DianasDesserts.com
Date: March 24, 2003
Reviews
Reviewer:
Frankieee.
Rating:
Reviewer:
Des
Rating:
Review:
These blintzes were wonderful. I made the filling in the food processor and it took less than 30 seconds. My crepe batter was a bit thin so I added more flour, just over 1/4 cup, and they turned out perfect. I only let my batter sit for 1/2 hour and it turned out great! These blintzes are traditional, quick, and terrific!