Diana's Desserts - www.dianasdesserts.com
See more recipes in
Diabetic and Lower Carb Treats
Double Orange Bundt Cake with Cream Cheese Glaze
in Diana's Recipe Book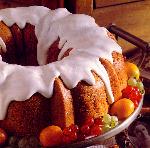 [Be the first to post a review!]
Servings: 16
Ingredients:

2 1/4 cups all-purpose flour
7 1/4 teaspoons Equal® Measure or 24 packets Equal®
3 teaspoons baking powder
1/2 teaspoon salt
3/4 cup cold water
1/3 cup vegetable oil
4 egg yolks
1 teaspoon vanilla
1 teaspoon orange extract
2 teaspoons grated orange zest
8 egg whites
1/2 teaspoon cream of tartar
5 cups assorted fresh fruit (optional)
Equal® Measure or Equal® sweetener
Orange Cream Cheese Glaze (recipe follows)

Instructions:
Combine flour, 7 1/4 teaspoons Equal® Measure, baking powder, and salt in large bowl, beat in water, oil, egg yolks, vanilla, orange extract and orange zest.
Beat egg whites in large bowl until foamy, add cream of tartar and beat to stiff peaks. Stir in about 1/3 of the egg whites into flour mixture; fold flour mixture into remaining egg whites. Pour batter into ungreased 12-cup bundt cake pan.
Bake cake in preheated 325-degree F oven until top springs back when touched, 60 to 70 minutes. Cool cake in pan on wire rack for 10 minutes, invert cake onto wire rack and cool.
Place cake on serving plate, spoon Orange Cream Cheese Glaze over cake. Sprinkle fruit with Equal® Measure to taste, serve over cake slices.

Serving size: One slice, Yield: 16, Exchanges: 1 Bread, 1 Fat, Nutrition: 127 Calories, 4g Protein, 14g Carbohydrates, 6g Fat

Orange Cream Cheese Glaze
1/2 package (8 ounce-size) reduced-fat cream cheese, softened
1/2 to 1 teaspoon orange extract
1 teaspoon Equal® Measure or 3 packets Equal®
Skim milk
Directions
Mix cream cheese, extract, Equal® Measure, and enough milk to make medium glaze consistency. Spoon glaze over cake.
Nutritional Information: Serving size: 1 1/2 teaspoons, Yield: 1/2 cup, Exchanges: Free Food, Calories: 18, 1g Protein, 1g Carbohydrates, 1g Fat.

Source: The Nutrasweet Company
Date: March 24, 2002