Diana's Desserts - www.dianasdesserts.com
See more recipes in
Pastry
Paris-Brest
in Diana's Recipe Book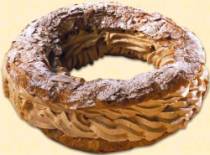 Average Rating:
(total ratings: 1)
[Read reviews]
[Post a review]
Servings: 8
Comments:
Paris-Brest

A cream filled pastry in the shape of a bicycle wheel.

Paris-Brest is a ring-shaped pastry, filled with cream and sprinkled with almonds and powdered sugar. It was created in 1891 by a Parisian pastry cook whose pâtisserie was situated along the route of the bicycle race from Paris to Brest. His idea was to bake his éclairs in the shape of bicycle wheels in honor of all the cyclists. This race was a precursor to the Tour de France which was started in 1903.

Paris-Brest can be made as one large ring or as individual pastries. Although the recipe looks daunting at first, most of the ingredients can be made ahead. You could start with the crème pâtissière and the praline (pastry cream). The next day make the choux pastry and the next day bake and assemble it. It's a delicious and impressive dessert and a great way to kick off the Tour de France race. Make it for your racing fans and get ready to follow the tour through France.

Ingredients:

Ingredients for Puff Pastry:
1 cup water
1/2 cup (1 stick) butter
1 tsp. sugar
Pinch of salt
1 cup un-sifted all-purpose flour
4 eggs
2 tbsp. sliced, blanched almonds
1 cup heavy cream
1 tbsp. confectioners' sugar
1 tsp. vanilla extract
Confectioners' sugar (for dusting top)

Chocolate Pastry Cream (see ingredients and recipe below)


Instructions:
Butter and flour a large cookie sheet and trace a 9-inch circle, using a plate as a guide.

In small saucepan, heat water, butter, sugar and salt to a full rolling boil. Add flour all at once, lift saucepan a few inches over heat and stir rapidly with wooden spoon until paste comes cleanly away from side and forms a ball in the center. Cook, stirring, for 1 minute. Remove from heat. Beat in 2 of the eggs with electric mixer or by hand. Add third egg and beat until paste becomes smooth and shiny. Paste must be thick enough to hold its shape. If eggs are large, it may not be necessary to add all of the last egg, so separate yolk and white.

Beat in yolk and a little of the white if needed, but reserve enough of it to brush over surface of crown.

Fit pastry bag with large plain tip, fill with paste and press out a 1-inch high, 1 1/2-inch wide circle inside the outline, using all the paste. (Or spoon heaping tablespoonfuls of the paste close together inside the outline.) Brush with reserved egg white; sprinkle with almonds.

Bake in a moderate oven (375 degrees F.) for 45 minutes or until puffed and golden brown. Remove from oven; cool on wire rack.

When cool, split in half; scoop out any bits of soft dough. Beat cream with confectioners' sugar and vanilla in a small bowl until stiff. Alternate heaping spoonfuls of chocolate pastry cream and whipped cream in bottom half of shell. Replace top; refrigerate. Sprinkle to lightly with confectioners' sugar.

Makes 8 servings.

Chocolate Pastry Cream
3 tbsp. superfine sugar
3 tbsp. all-purpose flour
1 envelope unflavored gelatin
2 egg yolks
1/3 cup strong brewed coffee
6 oz. semisweet chocolate chips
3/4 cup milk
1 tsp. rum or cognac flavoring
2 egg whites, stiffly beaten
1 cup heavy cream, whipped

To Prepare Chocolate Pastry Cream:
Combine sugar, flour, gelatin and egg yolks in a medium-size saucepan. Stir in coffee until blended. Heat semisweet chocolate and milk in a small saucepan over low heat, stirring constantly, until chocolate melts.

Stir chocolate mixture into egg mixture until smooth. Heat, stirring constantly, until sauce is thickened. Remove from heat; set pan in pan of ice and water, stirring until cool. Stir in rum flavoring. Stir in part of the egg whites; fold in the remainder along with the heavy cream (whipped), until no streaks of white remain.

Refrigerate until ready to fill ring.

Makes about 3 1/2 cups chocolate pastry cream.




Source: DianasDesserts.com
Date: March 19, 2002
Reviews
Reviewer:
valedina
Rating:
Review:
Thank you Diana for this delicious creation, post another master piece recipe please.