Diana's Desserts - www.dianasdesserts.com
See more recipes in
Easter
Gubana-Italain Easter Bread with Nuts and Fruit
in Diana's Recipe Book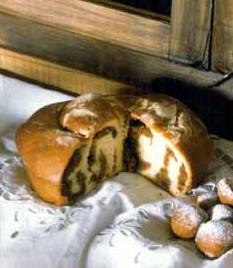 Average Rating:
(total ratings: 2)
[Read reviews]
[Post a review]
Servings: Makes 2 Loaves
Comments:
Although the Tuscan panforte and the Milanese Christmas panettone are familiar sights in this country, few Americans have ever tasted gubana, the traditional Easter bread of Friuli, a region northeast of Venice near the Austrian and Croatian borders. Gubana is a buttery brioche dough filled with a mixture of several nuts, raisins, apricot jam, candied orange peel, cocoa, marsala, grappa, and rum. The result is a dense, sweet bread with a swirl of rich filling, usually served as a dessert. The technique for making a gubana is actually quite simple, but has a slight twist that may be unfamiliar to many American bakers. After the dough has been formed and is put in a bowl to rise, softened butter is placed on top of it. This is common practice with Italian sweet breads; it causes the dough to rise more quickly than if the butter were worked into the dough before the rise. In addition, it gives the butter time to soften even further, which makes it easier to incorporate into the dough just prior to the second rise.
Ingredients:

Sponge:
3/4 cup milk, warmed to 75 to 80 degrees F (23-26 degrees C)
2 tablespoons plus 2 teaspoons active dry yeast
1 cup plus 1 tablespoon unbleached all-purpose flour

Dough:
2 large eggs plus 2 yolks
1/2 cup plus 2 tablespoons sugar
3–4 tablespoons milk
3 3/4 cups unbleached all-purpose flour
1 1/4 teaspoons salt
Grated zest of 2 lemons (about 1/4 cup)
2 1/2 teaspoons vanilla extract
1/4 pound unsalted butter, at room temperature, cut into 8 pieces

Filling:
2 3/4 cups hazelnuts, toasted, skinned, and chopped
3/4 cup walnuts, toasted and chopped
1/3 cup pine nuts, lightly toasted
2 tablespoons blanched almonds, chopped
1 1/2 cups crumbs from vanilla or nut cookies
1 cup raisins
1/2 cup plus 1 tablespoon apricot jam
1/2 cup candied orange peel, chopped, or grated zest of 4 oranges, or 1 teaspoon pure orange oil
Grated zest of 1 lemon (about 2 tablespoons)
1 1/2 tablespoons unsweetened cocoa powder
1 teaspoon ground cinnamon
3 tablespoons marsala
3 tablespoons grappa
3 tablespoons plus 1 teaspoon rum
1 egg white, beaten
2 tablespoons turbinado sugar

Instructions:
1. For the sponge, pour milk into large bowl of electric mixer; stir in yeast. Let stand until creamy, about 10 minutes. Stir in flour with wooden spoon until smooth. Cover with plastic wrap; let rise 30 minutes to 1 hour.

2. For the dough, using paddle attachment, mix eggs, yolks, sugar, and 3 tablespoons milk into sponge until smooth. Mix in flour and salt until smooth. Mix in lemon zest, vanilla, and 1 tablespoon milk if needed to form a rough dough. Change to dough hook; knead until dough is velvety, supple, and blistered, 3 to 4 minutes.

3. Place dough in lightly buttered bowl. Place butter pieces on top of dough. Cover bowl with plastic wrap and let dough rise until doubled in size, 2 to 3 hours.

4. For the filling, meanwhile, mix together all filling ingredients; set aside.

5. Work butter into dough; turn dough onto well-floured surface and cut in half; set aside one half. Roll other half into an 18 x 12-inch rectangle, long side facing you. Spread half of filling evenly over dough rectangle, leaving a 2-inch border on all sides. Use a dough scraper to square dough edges. Brush border with beaten egg white, reserve remaining egg white. Starting from long side, use dough scraper to lift and roll dough. Finish rolling dough by hand into a log. Fold ends under and pinch to enclose filling. Twist log into a spiral. Repeat process with remaining dough and filling. Use dough scraper to lift each dough spiral into a buttered 2-quart soufflé dish or 8-inch round cake pan, 3 inches deep. Cover with plastic wrap or towel and let rise until well puffed and very tender but not yet doubled in size, 2 to 2 1/2 hours.

6. Heat oven to 375 degrees F/190 degrees C. Brush dough tops with remaining egg white; sprinkle with turbinado sugar. Poke 8 to 10 (1-inch-deep) holes in dough tops with a thin skewer or cake tester to release trapped air. Bake 25 minutes; reduce heat to 325 degrees F/160 degrees C. Bake until breads are golden brown and an instant-read thermometer inserted into center of bread registers 190 to 200 degrees F, about 20 minutes longer. Unmold and cool bread completely on wire rack. Cut into slices and serve.

Makes 2 loaves.

Storing:
Loaves can be wrapped in a towel or brown bag and stored at room temperature for 2 days, or wrapped in foil, placed in a zipper-lock plastic bag, and frozen for several weeks. Heat frozen foil-wrapped bread in a 200 degree F/96 degree C oven until defrosted, 30 to 35 minutes.

Makes 2 loaves.
Date: March 14, 2002
Reviews
Reviewer:
Mickii Dole
Rating:
Review:
I have made this before using a different recipe that had more dried fruit variations, and much fewer nuts, but since I lost that recipe, I'll use this. It's a nice way to rise it with the butter on top. I think it will be less dense than my other one.
Reviewer:
roseann
Rating:
Review:
Made this yesterday but did not make 2 loaves but one big one! The filling was terrific even though I only used 1/2 of what I had made. The dough unfortunately did not come out 100% even though I followed every step of the way it did not taste like a brioche - perhaps I overworked the dough? I do not own a bread mixer so I did it by hand - hard work. Next time I intend to roll the dough instead of making a twisted log. The filling stayed at the bottom and too much bread at the top -- but the smell --- DELICIOUS !