Diana's Desserts - www.dianasdesserts.com
See more recipes in
Easter
Italian Easter Dove-Colomba Pasquale
in Diana's Recipe Book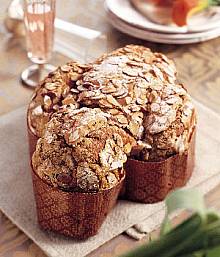 [Be the first to post a review!]
Servings: Makes 1 dove shaped cake
Comments:
Colomba Pasquale ("easter dove") is a yeast cake served all over Italy at Easter time. It's flavored with diced, candied orange and lemon rinds, decorated with sliced almonds and baked in a dove-shaped mold.
Ingredients:

1 oz. baker's yeast
1 1/3 lb. flour
6 egg yolks
5 oz. confectioners' sugar
1 tsp. grated lemon zest
1 tsp. granulated sugar
salt
3 oz. milk
4 oz. candied lemon and orange rinds (diced)
8 oz. peeled almonds
7 oz. butter
Instructions:
Dissolve the crumbled yeast in some warm water and mix it with 2 oz. of flour. Make a rather solid dough and cut a cross on the top. Roll the dough in flour and put it into a bowl with 1 cup warm water for half an hour. Turn the dough occasionally when it floats to the surface. Knead the remaining flour separately with 5 egg yolks, 4 oz. softened butter, the sugar, the lemon zest, a pinch of salt and 3 oz. warm milk. Add the yeasted dough and knead for 20 mins until the dough is smooth and rather compact. Let the dough rise in a warm place until increased by a third in volume. Knead the dough once again, adding half of the remaining softened butter in pieces. Put the dough back in the bowl to rise until doubled in volume. Put the dough on the pastry board once again and knead in the remaining butter and the candied peel. Shape the dough into the form of a dove, or put it in a dove shaped mold, and let rise for half an hour. Brush the dough with the remaining egg yolk, distribute the almonds over the surface, pressing them in slightly, and then sprinkle with the granulated sugar crystals. Bake for 15 minutes in preheated 375 degree F/190 degree C oven then lower the heat to 325 degrees F/160 degrees C and bake for another 20 minutes.

Makes 1 dove shaped cake (bread).
Date: March 14, 2002