Diana's Desserts - www.dianasdesserts.com
See more recipes in
Easter
Easter Cookies
in Diana's Recipe Book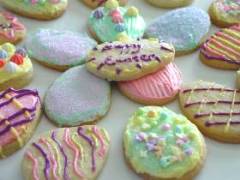 Average Rating:
(total ratings: 1)
[Read reviews]
[Post a review]
Servings: Makes 5 dozen cookies
Ingredients:

1 1/2 cups granulated sugar
1 cup (2 sticks/8 oz./226g) unsalted butter, softened, at room temperature
1 teaspoon vanilla extract, or flavoring
1 teaspoon lemon extract, or flavoring
2 cups all-purpose flour
2 eggs
1 teaspoon baking powder
Pinch of salt

For Decorating Cookies:
1 recipe buttercream or royal icing, (see recipes below) (optional)
Pastel colored sugars
Decorative pastel colored candies
Instructions:
Allow the butter to reach room temperature.

Mix flour, salt, and baking powder in medium size bowl. Set aside.

Cream butter with sugar with an electric mixer. Add vanilla extract, eggs, and lemon extract, mix well. Stir in flour mixture, small amounts at a time, blend well. Form dough into a ball, cover with plastic wrap, and place in bowl, refrigerate for 2 hours.

Heat oven to 350 degrees F/180 degrees C. Remove half the dough from the refrigerator, keeping the other half chilled until ready to use. Roll 1/4 inch thick on floured board. The thinner the roll, the crispier the cookie. Thicker cookies will have a softer texture.

To cut, dip cookie cutter or top of drinking glass into flour. Shake off excess and cut with steady pressure. Cut as many cookies from each rolling as possible because too much handling toughens dough. Place each cookie on lightly greased cookie sheet. Repeat with remaining refrigerated cookie dough.

Bake for 7-8 minutes or until lightly browned. Immediately take from oven and remove cookies to wire rack. When cool, ice or decorate as desired.

Makes about 5 dozen cookies.

BUTTERCREAM ICING:

Makes 2 1/2 cups
Ingredients:
1/2 cup shortening
1/2 cup (1 stick/4 oz./113g) butter, softened
1 teaspoon vanilla extract
4 cups confectioners' sugar
2 tablespoons milk

Instructions:
In a large bowl, cream together the butter, shortening, and vanilla. Blend in the sugar, one cup at a time, beating well after each addition. Beat in the milk, and continue mixing until light and fluffy. Keep icing covered until ready to decorate.

BUTTERCREAM ICING VARIATIONS

FOR COLORED ICING:
Add a very small amount (a few drops) of color paste or liquid food coloring to the buttercream icing. With liquid food coloring, use a clean eye dropper to add color to white icing.

FOR PURE WHITE ICING or TO MAKE A THINNER OR STIFFER CONSISITENCY:

For pure white frosting and a stiffer consistency, omit butter and add 1/2 cup all-vegetable shortening and 1/2 teaspoon butter extract, use CLEAR vanilla extract or flavoring for white icing. To thin icing, use 2 tablespoons more milk, or corn syrup per recipe. To stiffen icing, chill, or add more confectioners sugar to achieve desired consistency.

FOR CHOCOLATE ICING:
Add 3/4 cup unsweetened chocolate, or 3 (1 ounce) squares melted unsweetened chocolate, and 2 tablespoons milk. Mix well.

TO FLAVOR ICING:
Add a few drops of liquid flavoring of your choice, such as almond, lemon, rum, cherry, etc. If you don't want to add color to the icing, make sure to buy the clear flavorings.

ROYAL ICING

Makes 5-6 cups icing

Ideal for decorating cookies, royal icing dries quickly and can be tinted with food coloring. You can use the icing to attach
decorative candies, colored sugars and small ornaments to the cookies. It's a good idea to flavor the icing with a few drops of vanilla extract or fresh lemon juice.

Ingredients:
3 egg whites, at room temperature
4 1/2 cups confectioners' sugar
1/2 tsp. cream of tartar
Pinch of salt
A few drops of vanilla extract or fresh lemon juice (optional)

Instructions:
Using an electric mixer fitted with the whisk attachment, beat the egg whites, sugar, cream of tartar and salt on medium-low speed until blended. If adding
vanilla or lemon juice, add it now. Increase the speed to medium-high and continue beating until stiff peaks form and the mixture is nearly triple in volume, 7 to 8 minutes.

Remove the bowl from the mixer, cover tightly with plastic wrap and store at room temperature until ready to use. Icing will stay fresh for 4 to 6 hours.

Photograph taken by Diana Baker Woodall© 2002
Source: DianasDesserts.com
Date: March 31, 2002
Reviews
Reviewer:
raylee
Rating:
Review:
i think these cookies are a great idea, and you can have family time with the kids making these!!