Diana's Desserts - www.dianasdesserts.com
See more recipes in
Cheesecakes
Mango Cheesecake
in Diana's Recipe Book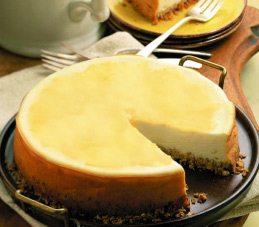 Average Rating:
(total ratings: 40)
[Read reviews]
[Post a review]
Servings: 12-16
Comments:
Pureed fresh mango gives this cheesecake a light and soft texture and a subtle tropical fruit flavor.

Ingredients:

Crust:
1 1/2 cups graham cracker crumbs
1/2 cup granulated sugar
6 tablespoons (3/4 stick/3 oz/85g) unsalted butter, melted

Filling:
3 large very ripe mangoes (each about 13 ounces), peeled, pitted, coarsely chopped
3 (8-ounce) packages cream cheese, at room temperature
1 1/4 cups granulated sugar
2 teaspoons vanilla extract
4 large eggs

Serve with:
Sliced, peeled and pitted mangoes

Instructions:
For Crust:
Preheat oven to 325°F/160°C. Lightly butter a 9-inch-diameter springform pan with 2 3/4-inch-high sides.

Stir cracker crumbs and sugar in medium bowl to blend. Add melted butter and stir until evenly moistened. Press crumb mixture firmly onto bottom (not sides) of prepared pan. Bake until crust is set, about 12 minutes. Cool completely. Maintain oven temperature.

For Filling:
Puree mangoes in processor until smooth. Set aside 2 cups mango puree (reserve any remaining puree for another use or use to spread over top of cheesecake). Beat cream cheese, sugar, and vanilla in large bowl until smooth. Add eggs one at a time, beating well after each addition. Add the reserved 2 cups mango puree and beat until well blended. Pour filling over crust in pan.

Bake cake until set and puffed and golden around edges (center may move very slightly when pan is gently shaken), about 1 hour 25 minutes. Cool cake 1 hour. Refrigerate uncovered overnight. Run small knife between cake and sides of pan to loosen. Remove pan sides. Transfer cake to platter. Cut into wedges and serve with sliced mangoes.

Makes 12 servings.
Source: Bon Appétit, September 2001
Date: April 8, 2005
Reviews
Reviewer:
Anne
Rating:
Review:
I pureed 4 mangos just because I had that many that were ripe. Then I made the recipe as described, but added the extra mango as a swirl throughout the cheesecake. This was a definite hit!
Reviewer:
Marlena
Rating:
Review:
yummy!
Reviewer:
Nitu
Rating:
Review:
I am crazy about mango and my hubby is a cheesecake lover, so it is great treat for us. I tried this recipe and I just added a little cardamom powder. This dessert was really a big hit with my family. Thanks for sharing this great recipe with us.
Reviewer:
val
Rating:
Review:
i tried this cheesecake a couple of days back and it turned out delicious..yummy!!
Reviewer:
Alec
Rating:
Review:
I made this using canned mango and reduced the sugar. The cheesecake has a mild mango flavor so i added lime juice and some orange extract to boost the citrus flavors! Then i made a mango glaze using some of the leftover juice from the cans. This made it a bit more "mango-y". Very good though!
Reviewer:
Sadie
Rating:
Review:
I found this cheesecake a bit bland, even though I added 2 Tbsp. Grand Marnier to boost the flavour. It's very creamy and light. There just seemed to be something missing in the flavour. I used fresh mangoes, but would try canned puree the next time. Made a gingersnap crust instead of the crust in the recipe. I reduced the sugar in the filling to 1 cup and that was plenty. The cheesecake tested done after 1 hour. I turned the oven off and left it in for another hour with the door open. Served it with a berry sauce made with blackberries, raspberries and blueberries. The tart sauce was perfect with the sweet cheesecake.
Reviewer:
Marlyn
Rating:
Review:
I'm a mango lover and this cheesecake was the best one I've ever tasted. I replaced the sugar with sweetened condensed milk and WOW it was good.
Reviewer:
eileen
Rating:
Review:
Magic can't say anymore than that.
Reviewer:
salomon
Rating:
Review:
very good taste
Reviewer:
Dwiana Porter
Rating:
Review:
I am very crazy about mango and my husband loves cheesecake. I thought I might try to make one. I believe we will love it. Just found your blog here, I love your blog and if you don't mind I want to link on my blog (www.dwianakitchen.blogspot.com)
Reviewer:
Opal
Rating:
Review:
I made about 5 for the holidays this year, but I tweaked it a little bit. Instead of using mangoes I used premade mango pulp and only 1 cup of sugar. It was amazing, everyone loved it. Thanks so much for the recipe.
Reviewer:
Shimul
Rating:
Review:
One of the best cheesecakes I have tried...I have made it many times for parties and I have always received rave reviews!!
Reviewer:
Cheryl
Rating:
Reviewer:
Cheryl
Rating:
Review:
I don't know whether it's me or the cake but it turned out very very wet and a bit weird. hmmm....
Reviewer:
anjali mathew
Rating:
Review:
Tried it out, it tasted sooooo good.. thank u. best cheescake ever!!!
Reviewer:
Lee Johnson
Rating:
Review:
i thought it was a tad dry, maybe not so long in the oven next time
Reviewer:
Jessica
Rating:
Review:
I made cheesecake for the very first time and this recipe was easy to follow and it tasted great! Everyone loved it.
Reviewer:
Celia Burnett
Rating:
Review:
I did not like it.
Reviewer:
Jon Giles
Rating:
Review:
Fantastic! I love both cheesecake and mangos so I really didn't think I was going to be disappointed. I did however make a little addition to the cheesecake and added a mango glaze making it that much better!
Reviewer:
Geetha Munnangi
Rating:
Review:
I made this cheesecake last night and it is delicious! I used mango puree that I bought from an Indian grocer. The cake had a perfect blend of mango and cheesecake flavor. It had a great creamy consistency. I followed the recipe exactly and it's wonderful. Thank you for the recipe!
Reviewer:
John Hires
Rating:
Review:
One review says it turned out wet and another says it was a tad too dry. Like most cheese cakes you need to check it with a tooth pick during the last minutes to ensure you remove it at the correct time. I thought it was a very good recipe and only added Amaretto to give it some more flavor.
Reviewer:
Nadia
Rating:
Review:
It is an easy to follow recipe and yummy too.
Reviewer:
Sue
Rating:
Review:
The first time I made it, I had the same problem as Cheryl - wet and uncooked. I made it a second time using mango nectar and used a small amount of puree to swirl through. Then I made a compote of diced mangoes, crushed pineapple with the juice, and sugar. With whipped cream and toasted coconut on top, this cheesecake was to die for!I used coconut cookies for the crust instead, also. Mmmmmm!
Reviewer:
Alice
Rating:
Review:
Wish I knew how to make the mango glaze. The mango flavor was a little vague, but it was well received. I used a chocolate cookie crust instead which tasted great and was a nice contrast of color to the mango.
Reviewer:
mandy
Rating:
Review:
I love cheesecake and mango, my family and boyfriend loves it. They say this is the only cheesecake that I made they actually enjoy the most. I did do a little cutting and add more of this or that to the recipes.
Reviewer:
Maddy
Rating:
Review:
I was wondering if Cheryl refrigerated her cheesecake for the required time after letting it cool. She may have cut into it too soon. Also, you don't test your cheesecake with a toothpick. If the edges of the cheesecake are puffed and the middle is still a little jiggly, it's done. If you let it cook past that point it comes out dry. As the cheesecake cools, the center solidifies and the result is a very creamy cheesecake. I will make this cheesecake as soon as I buy the ingredients. I can't wait. It sounds wonderful
Reviewer:
daisy
Rating:
Review:
It turned out wonderful and everyone in my family loved it!
Reviewer:
Jenny
Rating:
Review:
My husband liked it just fine, my best freind and I did not like it. It was easy to make.
Reviewer:
Jasmine
Rating:
Review:
I think it's too sweet, so I just put less sugar. I love to cover the top with pureed mango, adds tons of mango flavour. Happy Baking!
Reviewer:
Kay
Rating:
Review:
I am interested in reviewer Sue's adjustments to this recipe where she used mango nectar. If possible, please forward my email address onto her. Thanks
Reviewer:
Gurpreet
Rating:
Review:
omg!! this was really great i made it for my parents anniversary and they loved it!!
Reviewer:
Tonie
Rating:
Review:
Looks yummy! Can't wait to try it. Do you think you can use pureed frozen mango in this recipe instead of fresh?
Reviewer:
Far
Rating:
Review:
Easy recipe! But I reduced the sugar for the crust. Too sweet.
Reviewer:
sana
Rating:
Review:
Sounds awesome!!! Just waiting to get the ingredients....and would love to try it..just a request can you send me more baking recipes. I have provided my id....Thanks.
Reviewer:
Ranjeetha
Rating:
Review:
This is my first cheesecake and it the cake turned out Yummy. As above said, the cake was very tasty the next day. Only problem I had was, the crust became a little hard and was difficult to remove from the Springform pan. Any suggestions which might help the next time?
Reviewer:
Jody
Rating:
Review:
This is the first time I have made a Mango Cheese cake and everyone loved it.
Reviewer:
Disappointed
Rating:
Review:
I was quite disappointed with this recipe. The cheesecake ended up tasting very much like a custard. I followed the recipe to the "T". I used fresh mango puree but wonder if using canned would have made for a better cake. Anyways, won't be using this recipe again.
Reviewer:
Noreen
Rating:
Review:
This was a cinch to assemble- I used ginger crackers for the crust=butter and sugar- and I added pineapple into the mango- pureed both together. Delicious- big hit with my family- Sure to be a future favorite at gatherings in the future.
Reviewer:
Diora
Rating:
Review:
I was disappointed. It turned out very very wet and tasted like a custard. I will not make it again.
Reviewer:
Diageo
Rating:
Review:
My fav dessert