Diana's Desserts - www.dianasdesserts.com
See more recipes in
Miscellaneous Desserts, Etc.
Caramel Souffle
in Diana's Recipe Book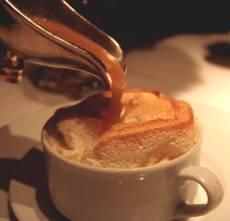 [Be the first to post a review!]
Servings: 1 large or 8 small souffle's
Comments:
Souffles are elegant and easy. As soon as you have made one flavor, you'll be ready to try another. Don't be intimidated by their mystique. Just be sure to serve them when they come out of the oven. Traditionally, the waiter brings the souffle to the table, splits it open magically with two spoons held on one hand, and fills it with the sauce. I often serve sauce on the side of the souffle in a small cream pitcher. With this caramel souffle, I serve fresh peaches and more caramel sauce.

Ingredients:

For the Souffle dish or for the ramekins:
2 tablespoons (1/4 stick/1 oz/28g) unsalted butter, melted
1/4 cup granulated sugar

Souffle:
1 cup Creamy Caramel sauce (recipe follows) at room temperature
3 large egg yolks, at room temperature
9 large egg whites, at room temperature
Pinch of cream of tartar (less than 1/8 teaspoon)
1/3 cup granulated sugar

Special tools:
1 large souffle dish or 8 (8-ounce) ramekins
Instructions:
Preheat the oven to 425 degree F (220 C).

Adjust the rack to the lower third of the oven. Brush the inside of 8 (8-ounce) ramekins or 1 large souffle dish with melted butter and then lightly but completely dust the inside with sugar.

Whisk together the caramel sauce (see recipe below) and egg yolks in a medium bowl. This mixture is the souffle base.

Using a standing mixer fitted with a whisk attachment or a hand mixer, whip the egg whites for about 30 seconds or until soft foam appears. Add the cream of tartar and continue to whip the whites for 2 minutes. Add the sugar and beat until the egg whites reach the medium-stiff peak stage.

Using a rubber spatula, fold 1/3 of the egg whites into the caramel mixture to lighten the base. Fold in the remaining whites carefully so that the mixture is not deflated. The most efficient way to fold is to rotate the bowl and spatula simultaneously in opposite directions, one clockwise and the other counterclockwise.

Spoon the souffle into the souffle dish or ramekins, filling them to the rim. Flatten the top with a metal spatula. Gently run a paring knife around the inner wall of the souffle dish or ramekins. This creates a small wall of air between the souffle and the souffle dish or the ramekins, which helps the souffle rise up straight. Place the souffles on a baking sheet. Bake for 15 to 20 minutes for individual souffles or 30 to 40 minutes for a large souffle. When finished, the souffle or souffles should be tall, golden brown, dry on the edges and a little creamy in the center. Serve immediately.

Makes 1 large souffle or 8 small souffles.

Creamy Caramel Sauce:
Caramel sauce is perhaps the most versatile incarnation of caramel. Besides being both a hot and cold sauce, it makes a great filling for tarts and other pastries. It is also a major ingredient in some of my other recipes, such as truffles that I make with Caramel Ganache and Caramel Souffle. I always keep a variety of caramel blends refrigerated in my bakeshop. They last for weeks and are ready at a moment's notice to fulfill the inevitable special request.

When I make creamy and clear caramels that have liquid added to them, I take the caramel to a high temperature, because I want a more, intense flavor that won't be diluted when the caramel is stretched. For example, you'll be heating the sugar to 375 degrees F (190 C) in this recipe and you'll want to watch it carefully so it doesn't burn.

Adding any liquid to hot caramel will cause it to bubble up like an eruption of molten lava. Using a pot that is at least twice the volume of the ingredients will prevent boil-over. Heating the liquid first reduces the volatility of this reaction but does not eliminate it, so be prepared. Oven mitts and a long-handled whisk are helpful, and don't stick your head or arms directly over the pot. It is important to remember that the steam rising out of a pot of hot caramel is as hot as the caramel inside, and nothing is as painful as a steam burn.

Creme fraiche adds the perfect balance to this sauce, taming the sweetness with a touch of acidity. If you can't find it, and don't have time to make it, sour cream is a good substitute. I also balance the flavor of this sauce with a second addition of sugar and a little lemon juice at the very end. This adds another subtle dimension of flavor.

Ingredients:
1/4 cup water
1 cup plus 1 tablespoon granulated sugar
2 tablespoons light corn syrup
1/2 cup heavy cream, warmed to 100 degrees F/37 degrees C
1/4 cup creme fraiche
1/2 teaspoon fresh lemon juice
Pinch salt (less than 1/8 teaspoon)

Heat a saucepan of water and place a whisk in it.

Wash and dry your hands thoroughly. Combine the water, 1 cup of sugar, and the corn syrup in a medium saucepan. Stir them together with very clean fingers, making sure no lumps of dry sugar remain. Brush down the insides of the pan with a little water, using your hand to feel for any stray granules of sugar.

Cover the saucepan and place it over medium heat for 4 minutes. After 4 minutes, remove the lid, increase the heat to high, and bring to a boil. Do not stir from this point on. Keep an eye on the pan. It will be very bubbly. When stray sugar crystals appear on the side of the pan, brush them down with a wet pastry brush.

As the sugar cooks, the bubbles will get larger. Insert a candy thermometer, and when the temperature reaches 300 degrees F, lower the heat to medium, which will slow the cooking. Continue to cook the sugar until it reaches 350 degrees F (180 C). It will be dark brown. Remove the pot from the heat and let it sit for 1 minute, or until the bubbles subside.

Add the cream to the caramel. It will bubble up vigorously, so be careful.

Vigorously whisk in the remaining 1 tablespoon sugar, creme fraiche, lemon juice, and salt. This sauce is now ready to be served warm or cooled to room temperature. It will keep stored airtight in the refrigerator for up to 1 month. When cold, it has the consistency of peanut butter.

Makes 1 1/4 cups.

Source: The Secrets of Baking: Simple Techniques for Sophisticated Desserts
by Sherry Yard
Date: March 1, 2005