Diana's Desserts - www.dianasdesserts.com
See more recipes in
Ice Creams and Frozen Desserts
Frozen Strawberry Soufflé
in Diana's Recipe Book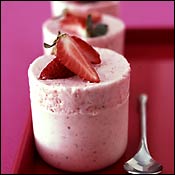 [Be the first to post a review!]
Servings: 6
Ingredients:

Hazelnut Praline:
7 tablespoons granulated sugar
3 ounces whole blanched hazelnuts (almonds can be substituted)
1/2 teaspoon peanut oil

Soufflé:
1 pound strawberries, stemmed and hulled
1 cup plus 3 tablespoons granulated sugar
5 egg whites
1/4 teaspoon orange zest
3 ounces hazelnut praline, crushed coarsely
1 and 1/4 cups heavy cream
2 tablespoons amaretto

Garnish:
Remaining hazelnut praline
6 strawberries
6 sprigs of mint
Instructions:
Hazelnut Praline:
Lightly oil a sheet pan. Melt the sugar in a small saucepan over low heat, increasing the temperature gradually. Continue to cook until the sugar turns golden brown (swirl, but do not stir). Immediately fold in the hazelnuts, and quickly spread the mixture on the sheet pan. (The caramel will start to set very quickly.)

Soufflé:
Cut six 13-by-4-inch strips of parchment or aluminum foil. Form into collars around six 6-ounce ramekins, and tape or tie in place.

Cut a quarter of the strawberries into 1/4-inch chunks, and toss with 3 tablespoons of sugar. Set aside to macerate for 20 minutes.

Purée the remaining strawberries in a blender or food processor, and reserve. Whip the egg whites until soft peaks form. Gradually sift in the remaining sugar, and whip until a stiff, light meringue forms. Fold in the orange zest, crushed praline, drained macerated strawberries, and strawberry purée.

Whip the cream until stiff, and fold into the strawberry meringue along with the amaretto. Ladle the mixture into the prepared ramekins, filling them to 1/2 inch from the top of the collars. Set on a tray, and freeze overnight. (The soufflés will keep in the freezer for a week.)

Remove the parchment, and garnish each soufflé with a fresh strawberry, a piece of praline, and a sprig of mint. Serve immediately.

Makes 6 servings.
Source: New York Metro - The Chef, Gary Robins
Date: March 1, 2005