Diana's Desserts - www.dianasdesserts.com
See more recipes in
Frostings -Toppings - Sauces - Fillings
Orange Curd
in Diana's Recipe Book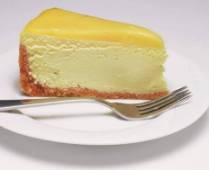 [Be the first to post a review!]
Servings: Makes 2 cups
Comments:
Curd is a soft, thick custard containing sugar, butter, eggs, citrus juice, and citrus zest. It is delicious on scones with a dollop of jam, or it can be used as a filling for cakes and pies. Lemon curd is the most common type of curd you'll find, but the zest and juice of either oranges or limes make for an interesting spread as well.
The trick to curd is both heating it slowly without thickening the eggs too quickly, yet providing enough acidity to help the proteins in the egg to bond. So in the case of orange curd, you need to use a small proportion of lemon juice in the mix.

Ingredients:

6 tablespoons (3/4 stick/3 oz/85g) softened unsalted butter
1 cup granulated sugar
2 large eggs
2 large egg yolks
2 tablespoons lemon juice
1 1/2 navel oranges (or 1/2 cup orange juice)
1 tablespoons orange zest

Instructions:
1. In a large bowl, cream butter and sugar together with an electric mixer until a paste is formed.

2. Add 1 egg at a time while mixing and then add yolks one at a time. Beat for 1 minute.

3. Mix in the lemon and orange juice.

4. In a medium-sized, heavy-based saucepan, cook the mixture over low heat until the white butter/sugar particles dissolve, stirring constantly. There may be traces of white foam sitting on top of mixture, which will eventually dissolve and disappear once thickened.

5. Increase to medium heat and cook for about 10-15 minutes, until the mixture reaches 170°F (76°C) on a candy thermometer or thickens enough to coat the back of a spoon. Do not let mixture boil.

6. Remove curd from heat. Stir in orange zest.

7. Pour curd into a medium-sized bowl and cover the surface of the curd with plastic wrap to prevent a pudding-like skin from forming.

8. Chill curd in refrigerator (it will thicken further as it chills).

Makes 2 cups.
Source: Food TV, Canada
Date: February 20, 2005