Diana's Desserts - www.dianasdesserts.com
See more recipes in
Cheesecakes
Chocolate Bliss Cheesecake
in Diana's Recipe Book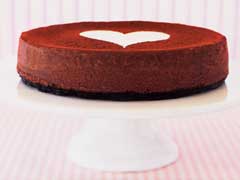 Average Rating:
(total ratings: 14)
[Read reviews]
[Post a review]
Servings: 12
Ingredients:

18 OREO Chocolate Sandwich Cookies, finely crushed (about 1-1/2 cups)
2 tbsp. (1/4 stick/1 oz/28g) butter or margarine, melted
3 packages (8 oz. each) PHILADELPHIA Cream Cheese, softened
3/4 cup granulated sugar
1 tsp. vanilla extract
1 package (8 squares) BAKER'S Semi-Sweet Baking Chocolate, melted, cooled slightly
3 eggs

Instructions:
Preheat oven to 325°F (160°C) if using a silver 9-inch springform pan (or to 300°F/150°C if using a dark nonstick 9-inch springform pan). Mix crushed cookies and butter; press firmly onto bottom of pan.

Beat cream cheese, sugar and vanilla with electric mixer on medium speed until well blended. Add melted chocolate; mix well. Add eggs, 1 at a time, mixing on low speed after each addition just until blended. Pour over crust.

Bake 55 minutes to 1 hour or until center is almost set. Run knife or metal spatula around side of pan to loosen cake; cool before removing side of pan. Refrigerate 4 hours or overnight. Store leftover cheesecake in refrigerator.

Makes 12 servings.

Tip:
Dust entire surface of cooled cheesecake with cocoa powder using a wire mesh strainer. For a festive Valentine's Day garnish, create a heart shaped design by topping dusted cheesecake with heart-shaped stencil and sprinkling with confectioners' sugar.
Source: Kraft Foods
Date: February 19, 2005
Reviews
Reviewer:
Samantha
Rating:
Review:
Its looks fan-tas-tic!!!
Reviewer:
JayMag
Rating:
Review:
I have a question - do i need to remove the cream from the oreo cookies before crushing?
Reviewer:
Canbie
Rating:
Review:
I have the same question as JayMag..Do we need to remove the cream filling from the Oreo cookies before crushing them?
Reviewer:
lyn
Rating:
Review:
we all just love it thank you for a very nice cheesecake well done
Reviewer:
luc
Rating:
Review:
it looks yummy. thanks a bunch for this recipe. i'm going to make it. wow, i love chocolate.
Reviewer:
Tyler
Rating:
Review:
I love it!
Reviewer:
Jami
Rating:
Review:
looks super good since choco cheesecake is my absolute fave
Reviewer:
Jaime
Rating:
Review:
I made this as my first cheesecake and it was delicious! All I was able to find here (in South America) was unsweetened chocolate so I added a bit more sugar. It turned out with a dark chocolate flavor and everyone raved about it! Next time I will try keeping the cream with the cookies for the crust to see what happens and decrease baking time a little. I think my pan is larger than a 9 in. so it was a tad crumbly, but still excellent!
Reviewer:
Mei Lin
Rating:
Review:
Yummy.. I have made this over and over again because it's very easy. Also, I've tried it with other chocolate biscuits and it tastes good but it's definitely best with Oreos! (I can only get Oreos ocassionally in the smaller stores in Denmark).
Reviewer:
Tommie Culpepper
Rating:
Review:
I do believe you should remove the cream between the oreo cookies. However, your better grocery stores will have prepared crumbled oreo cookies. I have used that product with great success!
Reviewer:
Jessica
Rating:
Review:
I first made this cake a year ago. Since then, my husband has requested it for every birthday, anniversary, etc. No other dessert will ever be good enough after this. About the Oreo crust, I have always left the cream in, and have had no problems. In fact, I think it helps keep the crust together. Also, I always make some raspberry sauce to go with this cake (frozen raspberries, sugar, lemon...) and that has been a huge success as well.
Reviewer:
peggy
Rating:
Review:
Do I need to use a water bath?
Reviewer:
John
Rating:
Review:
I did put some water in for steam and it is beautifully textured. I also substituted Girl Scout Thin Mints for the Oreos...WOW!
Reviewer:
Alicia
Rating:
Review:
I made this w/ a graham cracker crust and a crushed oreo topping and it was TO DIE FOR.... My mom, who hates cheesecake thought it was fantastic too! I will be making this for many years to come!!