Diana's Desserts - www.dianasdesserts.com
See more recipes in
Muffins
Supermoist Banana-Nut Muffin Tops
in Diana's Recipe Book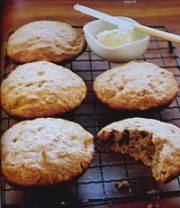 Average Rating:
(total ratings: 10)
[Read reviews]
[Post a review]
Servings: Makes 10 muffin tops
Comments:
What are Muffin Tops and What kind of pan do you bake them in?

With a Muffin Top Pan you can bake your favorite part of the muffin without wasting a single bite! Muffin tops are everyone's favorite, something about the fresh baked, crumbly sugar and tasty, buttery tops. A Muffin top pan is specially designed to bake muffin tops just as they taste on your favorite "whole" muffin from the bakery. A muffin top pan has 6 muffin top cups, and each cup measures about 4-inches across. Most muffin top pans are non-stick and the tops tumble right out and clean up is a snap. Muffin tops are great as a novelty breakfast treat for friends or to enjoy every day with coffee or tea....Diana's Desserts.

*See below for Where to purchase Muffin Top Pans.
Ingredients:

1 3/4 cups all-purpose flour
2 teaspoons baking powder
1/4 teaspoon baking soda
1/2 teaspoon table salt
3 medium very, very ripe bananas (about 14 ounces/397 grams total, including peels), peeled
3/4 cup firmly packed light brown sugar
1/3 cup canola or corn oil
2 large eggs
1 teaspoon pure vanilla extract
2/3 cup coarsely chopped walnuts* (see Variation below)
Instructions:
1. Position an oven rack on the middle shelf of oven. Preheat oven to 375 degrees F (190 C). Lightly grease and flour 10 muffin top cups.

2. In a medium bowl, combine the flour, baking powder, baking soda and salt. Whisk until well blended. In a large bowl, combine the bananas, brown sugar, oil, eggs, and vanilla. Beat with an electric mixer (stand mixer fitted with the paddle attachemnt or handheld mixer) on medium speed until well blended with only small bits of banana visible. Pour in the dry ingredients and gently stir with a rubber spatula just until blended. If using nuts, add them when the flour is almost blended and stir to incorporate.

3. Scoop the batter into the prepared muffin top pan, dividing batter evenly. They will be almost full. Gently tap the pan on the countertop to settle the batter. Bake until the tops are golden brown and a toothpick or a cake tester inserted in the center of 1 muffin top comes out clean, about 11 minutes. Transfer the pan to a wire rack to cool for 5 minutes, and then carefully remove the muffin tops from the pan and set them on the rack to cool. Serve warm or at room temperature.

Makes 10 muffin tops.

Variation:
You may substitute an equal amount of semisweet mini chocolate chips (1/2 cup/3 ounces/85 grams) for the chopped walnuts in this recipe, if desired. The tasty combination of banana and chocolate is wonderful.

Where to Buy Muffin Top Pans:
Muffin Top pans can be purchased at Cooking.com, Amazon.com, at King Arthur Flour's website, and at many other cookware and bakeware stores on the internet.
Source: The Weekend Baker by Abigail Johnson Dodge
Date: January 31, 2005
Reviews
Reviewer:
Becky H
Rating:
Review:
YUMMY! This was the first recipe I made in my muffin top pan. Very easy and, did I say, YUMMY! My 2 year old thought they were cookies and loved them.
Reviewer:
shannon D
Rating:
Review:
This was also my first recipe...I left mine in 2 min..longer, as they did not look done... they were so good! I am very pleased with myself!!
Reviewer:
kelly
Rating:
Review:
without adding any milk, would the muffins be moist or would they be really dry?
Reviewer:
Susan
Rating:
Review:
These have become a family favorite. I especially like that they use oil instead of butter and that I don't have to mash the bananas before putting them in. I make them with the chocolate chips and my teenage sons devour them.
Reviewer:
nayiby Alvarez
Rating:
Review:
Great recipe!
Reviewer:
JEAN
Rating:
Review:
I MADE SOME FOR MY GRAND CHILDREN AS THEY USUALLY ONLY EAT THE TOPS OF MUFFINS. NOT ONLY DID THEY LIKE THEM, BUT ALSO THEIR PARENTS DID. AFTER TEN DAYS I WAS ASKED TO MAKE MORE.
Reviewer:
WindsorTenor
Rating:
Review:
An outstanding recipe! HINT...to make them lower fat, replace the oil with applesauce!
Reviewer:
JEAN CLAPP
Rating:
Review:
THESE ARE GREAT, EXCEPT I MADE SOME FOR MY GRANDCHILDREN AND THEY ALL CALLED ME UP FOR MORE, SO I FINALLY BOUGHT THEM THEIR OWN MUFFIN TOP PAN!
Reviewer:
Clayton
Rating:
Review:
Vary nice. I tried the applesauce sub. for oil, and found they dried out to quickly. Stick to what works that was really good, but if the pans are made for 6 why not adjust the ingredients to 12 instead of 10.
Reviewer:
Dana
Rating:
Review:
My kids liked them a lot. I added chocolate chips plus the walnuts. They were a little cakey for my liking, but it was a quick and easy recipe.