Diana's Desserts - www.dianasdesserts.com
See more recipes in
Quick and Easy
Easy Toffee Candy
in Diana's Recipe Book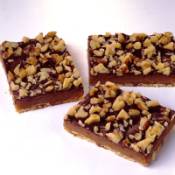 Average Rating:
(total ratings: 17)
[Read reviews]
[Post a review]
Servings: Makes approximately 50 pieces
Comments:
Easy and delicious candy to make that all the family will enjoy!

Ingredients:

1 1/4 cups (2 1/2 sticks/10 oz/280g) butter, divided
35 to 40 soda crackers
1 cup packed dark brown sugar
1 can (14 ounces) sweetened condensed milk
1 1/2 cups (9 ounces) semi-sweet chocolate chips
3/4 cup finely chopped walnuts

Instructions:
Preheat oven to 425°F (220°C). Line a 15 x 10-inch jelly-roll pan with heavy-duty foil.

Melt 1/4 cup (1/2 stick/2 oz/56g) butter in medium saucepan. Pour into prepared jelly-roll pan. Arrange crackers over butter, breaking crackers to fit empty spaces.

Melt remaining butter in same saucepan; add sugar. Bring to a boil over medium heat. Reduce heat to low; cook, stirring occasionally, for 2 minutes. Remove from heat; stir in sweetened condensed milk. Pour over crackers.

Bake for 10 to 12 minutes or until mixture is bubbly and slightly darkened. Remove from oven; cool for 1 minute.

Sprinkle with chocolate chips. Let stand for 5 minutes or until chips are shiny; spread evenly. Sprinkle with nuts; press into chocolate. Cool in pan on wire rack for 30 minutes. Refrigerate for about 30 minutes or until chocolate is set. Remove foil; cut into pieces.

Makes approximately 50 pieces.
Source: Nestle
Date: January 30, 2005
Reviews
Reviewer:
Alexia
Rating:
Review:
Thats a great recipe!
Reviewer:
wessyt
Rating:
Review:
not that good
Reviewer:
Shara
Rating:
Review:
I havnt tryed this yet but my friend and I are planing to make this candy for a cake stall at school so hopefully us blondes wont stuff it up.
Reviewer:
Noel
Rating:
Reviewer:
Missy
Rating:
Review:
So easy and boy who would have thought plain old crackers could taste so good!! My neighbors are gonna love me this Christmas season!!!
Reviewer:
kerryn
Rating:
Review:
lactose intolerant. looking for the toffee recipe that has no butter, lost it and can't find it...anyone have it?
Reviewer:
misty
Rating:
Review:
i cant wait untill i try this
Reviewer:
emma
Rating:
Review:
it was so good you should try it
Reviewer:
b3an
Rating:
Review:
wonderful sweet
Reviewer:
z
Rating:
Review:
this is really yum
Reviewer:
Alicia
Rating:
Review:
I also need a plain toffee recipe. We have to make them for class and I can't find one anywhere. All I need to know is how to make toffee without nuts, chocolate, flavouring etc..Please send me an appropriate recipe. Thanks
Reviewer:
Diana
Rating:
Review:
Hi Alicia and Jessie,
Here is a recipe for Plain Toffee without nuts, chocolate or flavoring.
Toffee
Ingredients
1 lb sugar (preferably Demerara)
1/3 pint water
1 1/4 oz. butter
2 level tablespoons golden syrup
1 teaspoon white vinegar
Instructions:
1. Put all ingredients into a heavy saucepan and stir over a steady heat until the sugar has disolved.
2. Bring mixture to a boil and cook until the mixture reaches the 'hard crack' stage, 290 degrees F (143 degrees C). To test for the hard crack stage drop about 1/2 teaspoon of the mixture into a cup of cold water, if it is hard then it is done, if still soft and chewy cook for a little longer and test again.
3. Pour into oiled or buttered tin and either allow to set as a slab or mark in squares as toffee becomes partially set. Break when completely set.
Variation: Use black treacle instead of golden syrup.
Definitions:
Hard crack stage: A term used in connection with making sweets to determine the temperature of a sugar and water syrup.
To Boil: Cook a liquid at a temperature of at least 100°C (212 F).
To Disolve: To add a solid to a liquid and to stir or heat it until the solid becomes an integral part of the liquid.
Reviewer:
Anna
Rating:
Review:
Hi, I'm a person that loves to cook but I need a PLAIN toffee recipe without anything in it, just toffee, not nuts or anything. If you could send it to me that would be great.
Reviewer:
Diana
Rating:
Review:
Hi Anna, Do you need a recipe for toffee that has no chocolate and no nuts, or do you want a recipe that uses chocolate in it BUT no nuts? Please email me at: diana@dianasdesserts.com and let me know.....Diana
Reviewer:
jessie
Rating:
Review:
i need a plain toffee recipe for a school sports carnival please asap
Reviewer:
Anne
Rating:
Review:
Hi everyone. Diana, I also want a recipe that uses just water, butter and sugar. because I haven't got those ingredients.
Reviewer:
Samantha
Rating:
Review:
I need a recipe to make plain toffee, asap! And I need it to be easy! Lol thank-you x