Diana's Desserts - www.dianasdesserts.com
See more recipes in
Pies and Tarts
Key West Key Lime Pie
in Diana's Recipe Book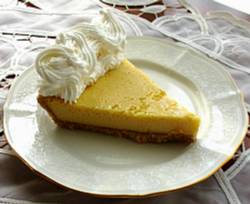 Average Rating:
(total ratings: 8)
[Read reviews]
[Post a review]
Servings: 6-8
Comments:
Limes

This small, lemon-shaped citrus fruit has a thin green skin and a juicy, pale green pulp. Limes grow in tropical and subtropical climates such as Mexico, California, Florida and the Caribbean. Because they're an excellent source of vitamin C, limes were fed to British sailors as a scurvy preventative (the fact that was the springboard for the pejorative nickname "limey"). The two main varieties are the Persian lime (the most widely available in the United States) and the Key lime from Florida. The latter is smaller, rounder and has a color more yellow than green. Outside of Florida, the Key lime is usually found only in specialty produce markets and some supermarkets that carry gourmet produce. Though Persian limes are available year-round, their peak season is from May through August. Look for brightly colored, smooth-skinned limes that are heavy for their size. Small brown areas (scald) on the skin won't affect flavor or succulence but a hard or shriveled skin will. Refrigerate uncut limes in a plastic bag for up to 10 days. Cut limes can be stored in the same way up to 5 days. Sweetened or unsweetened bottled lime juice, as well as frozen lime juice and limeade, are some of the more popular lime products and are available in most supermarkets. The versatile lime has a multitude of uses, from a sprightly addition to mixed drinks (like margaritas), to a marinade for raw fish dishes (such as seviche), to the famous Key Lime Pie. Key Lime Pie ia a custard pie very similar to a lemon meringue pie (sometimes, as in the recipe below, the pie is not topped with meringue but served with flavored whipped cream as garnish).

Source: The New Food Lover's Companion, Second Edition, by Sharon Tyler Herbst

Tip:
To make this pie even easier, you can use a ready-made store-bought graham cracker crust.
Ingredients:

Crust:
3/4 cup graham cracker crumbs
1/4 cup almond flour* (see notes below)
1/2 cup (1 stick/4 oz/113g) butter
1/3 cup granulated sugar

Filling:
1 (14 oz/392 ml) can sweetened condensed milk
3 egg yolks
1/2 cup (125 ml) key lime juice* (see notes below)

Garnish (optional)
Whipped cream flavored with 2 tsp. vanilla extract or 2 tbsp. key lime juice
Sliced limes
Instructions:
For the Crust: (if not using a ready-made store-bought graham cracker crust)

1. Preheat oven to 350 degrees F (180 C).

2. Add graham cracker crumbs, almond flour, sugar and melted butter into the bowl of a stand mixer or mix by hand. In stand mixer, using the paddle attachment, mix until well combined.

3. Pat crust mixture into the bottom and up the sides of a 9-inch pie plate. Bake until just set and slightly golden, about 8 minutes.

4. Reduce oven temperature to 300 degrees F (150 C) after baking crust.

For the Filling:

1. Add the condensed milk, egg yolks, key lime juice to the bowl of a stand mixer. Whip all ingredients at medium speed for 2 minutes. Pour into prepared crust. Bake in preheated 300 degree F (150 C) oven for 25 to 30 minutes until custard is just set. Let cool on wire rack for one hour, then chill in refrigerator. When ready to serve, garnish each slice with flavored whipped cream and lime slices, if desired.

Store pie tightly covered in the refrigerator for up to 5 days or pies can be frozen for up to 2 to 4 weeks.

*Notes:
Almond flour, sometimes called almond meal, can be found in most large supermarkets on the aisle where flours are kept. One brand in particular I have found in many supermarkets, is Bob's Red Mill Almond Meal/Flour in a 16 oz. bag.

Bottled Key lime juice can be purchased at most supermarkets. It can usually be found on the juice aisle or on the baking aisle.

Makes 6-8 servings.

Photograph taken by Diana Baker Woodall© 2005
Date: January 24, 2005
Reviews
Reviewer:
Rob
Rating:
Review:
We've been trying for a long time to find a recipe for Key Lime Pie that was similar to that of the Key West Key Lime Pie Factory (the ultimate pie). This one nailed it! Not too sweet and not too tart.
Reviewer:
Chrissie J
Rating:
Review:
I made this for a caribbean morning. I use home made pastry crust and it was fabulous. So many compliments!! A definite addition to my dessert portfolio.
Reviewer:
Melba Spencer
Rating:
Review:
Hands down, the best key lime pie we have ever eaten was at "Kutcharitaville". We had been hearing about it for many years. Then a couple years ago we finally had the opportunity to travel there. It definitely was "The World's Greatest Key Lime Pie". Just as it was told to us. Anyone who is serious about key lime pie should be sure to include Kutcharitaville in their travel plans. We guarantee it. It's The Best One Ever!!!
Melba
Reviewer:
Johnny Schelton
Rating:
Review:
We tried key lime pie at Kermmit's, we also tried it at the Blonde Garaff, we even went over to Jimmy Buffett's place there on Duvall St....Well all those places were just kind of so, so at best. My cousin recommended that we give Kutcharitaville a try, she told us that their key lime pie is world famous and the best that her family has ever eaten. They live on Key Largo and have tried it just about everywhere. To answer everyone's question about who serves the best key lime pie? Well I'am going to have to agree with my cousin. Kutcharitaville Cafe truly services the best key lime pie. We have traveled there and enjoyed it several times in the last few years. It has to be the best one ever.
Reviewer:
Meg Whitman
Rating:
Review:
Everyone seems to be talking about Kutchie Pelaez and his World Famous Kutcharitaville Cafe', about how great his key lime pies are. All that is very true, Kutchie's pies really rock. What we are not hearing here is about his World's Greatest Goody Goody Cheese Burgers. Now those are true money! I even heard that Jimmy Buffett wrote his cheese burger song about Kutchie's Cheese burgers in paradise. Kutchie's Key West is the answer. Lets get our country back to work.
Reviewer:
Willard Smott
Rating:
Review:
My wife has fallen in love with Kutchie and Anita Pelaez over at the Kutchie and Anita Pelaez's Key West Key Lime Pie Factory. She just insists that they're pies are the best ones anywhere. Sometimes I just don't understand her, it's like I don't know who she is anymore. To go crazy over someones key lime pie like she has, well it's just insane I think. Please tell me, is she crazy or is it me?
Thanks, Willard
Reviewer:
Mr. Jake Carson
Rating:
Review:
It just doesn't get any better than seeing the gorgeous "Mrs. Anita Pelaez" over at her and her husband "Captain Kutchie's" place..Some Folks Also Call Him.."The KutchMan others call him The Kutchmon!"…Most Just Call Him "The Most Interesting Man In The World"….(Anita and Kutchie Pelaez's Key West, Key Lime Pie Factory and Grill)…Just watching the lovely couple baking together all those Yummy Key Lime Pies at their Key Lime Pie Factory and Grill in Asheville. …It's always worth the trip to visit them in they're Historic Key Lime Pie Factory and Grill…It should be on everyone's bucket list for sure..And The World's Best Key Lime Pies!..YUM-YUM-YUM….­­."Talk About World Class" What An Understatement!…….AA­­HHHHH!….The Magic Of The Lovely.."Mrs. Anita Pelaez" And Her Delicious Key Lime Pies Baked With Pure Love…Always……40 Years And They're Still Going Strong….
….May GOD Continue Blessing "Anita And Kutchie Pelaez" and They're World Famous Key Lime Pie Factory And Grill Where The Personalities, Ovens And Smiles Are Always Warm And Inviting. "Kutcharitaville" You're The Best We Love You!….
…Now You Know Who Is The Hottest!…And Baby Let Me Tell You, Mrs. Anita Is No Act…She's The Real Thing Baby!…
….Located Near The Biltmore House And Estate….. ….Who Could Ask For Anything More?…Anita's Key Lime Pie…(Hell Yes!)
Reviewer:
Rtrev
Rating:
Review:
Everytime I make this pie people say it's the best they've had. Thanks Diana for the best graham cracker crust I've ever had.