Diana's Desserts - www.dianasdesserts.com
See more recipes in
Chocolate Sweets
Bittersweet Chocolate Mousse
in Diana's Recipe Book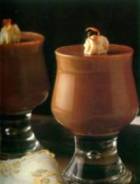 [Be the first to post a review!]
Servings: 8
Comments:
Serve this delightful chocolate mousse with Cocoa Nib Whipped Cream (see instructions #4 and #5 for making Cocoa Nib Whipped Cream), and garnish with cocoa nibs.
Ingredients:

1/2 pound bittersweet chocolate, coarsely chopped
1/2 cup milk
2 tablespoons brandy
4 large eggs, at room temperature
1/4 cup plus 1 tablespoon sugar
1/4 cup water
1 cup heavy cream
2 tablespoons coarsely chopped cocoa nibs (see Notes below), plus more for garnish

Instructions:
1. In a medium stainless steel bowl, combine the chocolate and the milk. Set the bowl in a skillet of barely simmering water and stir until the chocolate is nearly melted. Remove the bowl from the skillet and stir until completely melted. Stir in the brandy. Keep the skillet of water at a bare simmer.

2. In another heatproof bowl, whisk the eggs with 1/4 cup of the sugar and the water until blended. Set the bowl in the skillet and stir gently and thoroughly, scraping the bottom frequently, until an instant-read thermometer inserted in the eggs registers 160°. Remove the bowl from the skillet. Beat the eggs at high speed to the consistency of softly whipped cream, about 4 minutes.

3. Fold one-fourth of the egg mixture into the melted chocolate, then fold the 2 mixtures together until no streaks remain. Pour the mousse into eight 1/2-cup bowls; refrigerate until chilled.

4. Meanwhile, in a small saucepan, boil the cream with 2 tablespoons of the cocoa nibs. Remove from the heat, cover and let stand for 20 minutes. Strain into a bowl and refrigerate until very cold.

5. Add the remaining 1 tablespoon of sugar to the cream and beat to soft peaks. Spoon a dollop of the cream on top of each mousse, garnish with cocoa nibs and serve.

Makes 8 servings.

MAKE AHEAD:
The mousse can be refrigerated overnight.

NOTES
Cocoa nibs are roasted, shelled cocoa beans broken into small bits. They are available at specialty food shops.

Source: Food and Wine
Date: January 19, 2005