Diana's Desserts - www.dianasdesserts.com
See more recipes in
Cheesecakes
Vanilla Bean Cheesecake
in Diana's Recipe Book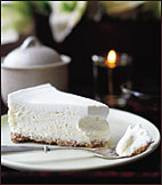 Average Rating:
(total ratings: 12)
[Read reviews]
[Post a review]
Servings: 12-16
Comments:
If you are like me and love the wonderful taste of vanilla, then you'll love this delicious cheesecake using both vanilla extract and vanilla beans in the recipe.
Ingredients:

1 1/2 cups walnut pieces
1 3/4 cups sugar
4 tablespoons (1/2 stick/2 oz/56g) unsalted butter, melted
2 cups sour cream
1 tablespoon pure vanilla extract
2 pounds cream cheese, softened
1 vanilla bean, split lengthwise, seeds scraped
4 large eggs, at room temperature
1/4 teaspoon pure almond extract
1/2 cup heavy cream
Instructions:
1. Preheat oven to 350°F (180°C). Butter a 10-inch springform pan.

2. In a food processor, pulse the walnuts with 1/4 cup of the sugar until finely ground. Add the butter; pulse until the mixture resembles moist sand. Press the crumbs into the bottom of the pan. Bake for 12 minutes, or until browned around the edges.

3. In a small bowl, mix the sour cream with 1/4 cup of the sugar and 1 teaspoon of the vanilla. Place in refrigerator until ready to use later in the recipe.

4. Reduce the oven temperature to 300°F (150°C). In a standing electric mixer fitted with a paddle or using a handheld electric mixer, beat the cream cheese at low speed with the remaining 1 1/4 cups of sugar and the vanilla seeds just until combined. Beat in the eggs, 1 at a time, scraping down the bowl between additions. Add the remaining 2 teaspoons of vanilla and the almond extract. Slowly beat in the cream until smooth. Pour the cheesecake batter into the pan and bake for 65 to 70 minutes, until lightly golden and slightly jiggly in the center.

5. Remove the sour cream topping from the refrigerator and immediately it over the cheesecake and smooth the surface. Return the cheesecake to the oven and bake for 5 minutes longer. Transfer to a rack and let cool to room temperature. Run a sharp, thin-bladed knife around the cake and remove the ring. Refrigerate the cake for 3 hours, then cover loosely with plastic wrap and refrigerate overnight before serving.

Makes one (10-inch) cheesecake, 12-16 servings.
Source: Food and Wine Magazine
Date: January 17, 2005
Reviews
Reviewer:
Candice
Rating:
Review:
My boyfriend LOVES this recipe...he begs me to make this often. It is delicious!
Reviewer:
Thomas
Rating:
Review:
Nice site!
Reviewer:
Thomas
Rating:
Review:
Nice site!
Reviewer:
Susan
Rating:
Review:
I took this to a party. There was not a scrap left.
Reviewer:
Birgitte Ring
Rating:
Reviewer:
Korine
Rating:
Review:
It is a bit time consuming but it is SOOOOOOO worth the effort.
Reviewer:
Red Button
Rating:
Review:
I have been making this cheesecake for the last three years and everyone loves it.
Reviewer:
Drew
Rating:
Review:
Incredible!
Reviewer:
Georgette
Rating:
Review:
This was the first and only cheesecake that I made. I made this on a Friday night and did not even get to taste it, everyone loved it! I have 6 orders for this dessert for Thanksgiving. This cheesecake is absolutely worth it.
Reviewer:
Guilhermina
Rating:
Review:
Thank you, I love this site. Everyone loved this dish and it made me look like a five star Pastry Chef. Where I got the recipe is between you and I ;)
Reviewer:
Crystal
Rating:
Review:
I have not made this, nor tasted it but just looking at it and reading everyone's reviews I am so excited to make it! This will be a total diet killer but Iam a cheesecake fanatic and not even losing 10lbs sounds better than a slice of this cake! 4 thumbs up
Reviewer:
shelby
Rating:
Review:
Has anyone made mini cheesecakes with this recipe? I would like to try this for an order iI received but the order was for mini cheesecakes. Please let me know!! Thank you!