Diana's Desserts - www.dianasdesserts.com
See more recipes in
Christmas
Gingerbread Cake with Crème Anglaise
in Diana's Recipe Book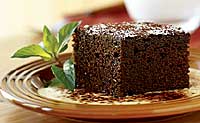 [Be the first to post a review!]
Servings: 9
Comments:
This dark, moist cake is a favorite dessert of my holiday guests, where I cut it into rounds and set on a pool of custard sauce. You can make the cake up to 2 days ahead; cool, cover, and store airtight at room temperature.

Ingredients:

1 cup dark molasses
1 teaspoon baking soda
2 1/2 cups all-purpose flour
1 tablespoon baking powder
1 1/2 teaspoons ground cinnamon
1 teaspoon ground ginger
1/2 teaspoon salt
1/8 teaspoon ground cloves
1/2 cup (1 stick/4 oz/113g) butter, at room temperature
1 cup firmly packed brown sugar
2 large eggs
Crème anglaise (recipe follows)
Unsweetened cocoa and/or confectioners' sugar (optional)
Fresh mint sprigs (optional), rinsed

Instructions:
1. In a 2 to 3-quart pan over high heat, bring 1 cup water to a boil. Remove from heat and stir in molasses and baking soda. After mixture stops foaming, stir in 1/2 cup cold water; let cool to room temperature, stirring often, about 10 minutes.

2. In a small bowl, whisk together flour, baking powder, cinnamon, ginger, salt, and cloves.

3. In a large bowl, with an electric mixer on high speed, beat butter and brown sugar until well blended. Beat in eggs until blended. Reduce speed to medium-low. Add flour and molasses mixtures alternately until incorporated, then beat on high speed until well blended. Pour into a buttered and floured 9-inch square pan.

4. Bake in a 325°F (160 C) regular or convection oven until a toothpick inserted in center of thickest part comes out clean, 45 to 50 minutes. Let cool in pan on a rack at least 1 1/4 hours.

5. Pour about 1/4 cup crème anglaise onto each plate. Cut cake into pieces (see notes) and set them in sauce on plates. If desired, lightly sift cocoa and/or confectioners' sugar over each plate and garnish with a mint sprig. Offer remaining crème anglaise to add to taste.

Makes 9 servings.

Crème Anglaise

Note:
You can make this sauce up to 2 days ahead; cover and chill.

Makes about 3 3/4 cups

1 quart (32 oz/1 liter) milk
2/3 cup granulated sugar
8 large egg yolks, lightly beaten
2 teaspoons vanilla extract

1. In a 3 to 4-quart pan over medium heat, stir milk and sugar often until mixture begins to bubble around edges of pan, 10 to 12 minutes. Remove from heat.

2. Whisk about 1/2 cup of the hot milk mixture into egg yolks, then pour mixture into pan and whisk to blend. Stir with a flexible spatula over medium-low heat until custard coats the spatula in a smooth, velvety layer, 10 to 14 minutes. Remove from heat and pour through a fine strainer set over a bowl. Set bowl in a container of ice water and stir often until cool. Stir in vanilla. Serve cool or cold.
Date: November 22, 2004