Diana's Desserts - www.dianasdesserts.com
See more recipes in
Passover
Passover Italian Almond Cake
in Diana's Recipe Book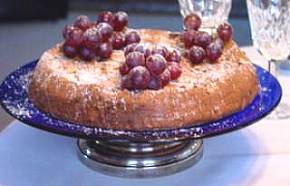 Average Rating:
(total ratings: 11)
[Read reviews]
[Post a review]
Servings: 12
Comments:
A simple cake to make for the Jewish holiday of Passover. Dress it up by dusting the top with confectioners' sugar and topping it with fresh fruit, such as sweet red grapes, or sugared strawberries.
Ingredients:

2 tbsp. matzo meal, plus more for coating cake pan
2 cups whole blanched almonds, or 2 cups packaged finely ground almonds
1/2 cup granulated sugar
6 large eggs, separated
1/4 cup extra virgin olive oil
1/2 cup light brown sugar
1 tsp. vanilla extract
3/4 tsp. almond extract
1 tsp. grated lemon zest
Pinch of salt
1/4 cup sliced almonds

Garnish (optional)
Confectioners' sugar (pareve for passover)
Sugared strawberries, or red grapes

Instructions:
Preheat the oven to 350 degrees F (180 C). Grease a 10-inch springform pan. Line the bottom with parchment or wax paper and grease the paper. Evenly coat the bottom and side with matzah meal, tapping out any excess.

If you are using whole blanched almonds, in a food processor, pulse the whole blanched almonds with 2 tbsp. of matzah meal and 1/4 cup of granulated sugar until very finely ground. If using packaged finely ground almonds, mix by hand, packaged ground almonds with the matzah meal and the 1/4 cup sugar, continue as follows.

In a bowl, beat the egg yolks with the brown sugar and the remaining granulated sugar at high speed until very light and fluffy, about 3 minutes. At low speed, gradually add the ground almond mixture, the extracts, the olive oil, and the lemon zest.

In a medium bowl, using clean beaters, whip the egg whites with the salt until stiff peaks form. Beat 1/4 of the whites into the yolk mixture to lighten it; then quickly fold in the remaining whites.

Scrape the batter into the prepared pan and smooth the surface, sprinkle top with sliced almonds. Bake the cake for about 45 minutes, or until a toothpick inserted in the center comes out clean. Run a small, sharp knife around the side of the cake, transfer it to a rack and let cool completely in the pan. Remove the side of the pan and invert the cake onto a serving plate. Remove the base of the pan, then carefully peel off the paper.

Dust top of cake with confectioners' sugar. If desired, serve with sugared strawberries or sweet red grapes.

Makes 12 servings.

Photograph taken by Diana Baker Woodall©2002
Source: DianasDesserts.com
Date: March 8, 2002
Reviews
Reviewer:
elmoaccessories@aol.com
Rating:
Reviewer:
SC
Rating:
Review:
Fantastic cake! (I did reduce the sugar, just a bit.) Instead of placing fruit on top of the cake (I thought it might get soggy) I served it with berries on the side. Delicious.
Reviewer:
Mark & Ashley
Rating:
Review:
This cake is excellent. Didn't have lemon zest so substituted lemon extract and peel instead. Made another one with orange extract and peel and it turned out even better!
Reviewer:
Jane
Rating:
Review:
I didn't have any matzo meal so used ground almonds and couldn't be bothered separating eggs either so I whipped them with the sugar (I only had White) until very blanched and fluffy then added the rest. DELICIOUS! Will definitely Make it again.
Reviewer:
cathy
Rating:
Review:
I haven't made this yet but I couldn't submit my question without a rating. I was wondering if it freezes well?
Reviewer:
Ilene
Rating:
Review:
This was the first cake I baked for Passover ever. Baked it on Sunday night and we had it on Tuesday for the seder. So moist and delicious. My husband and family agree that it is a "keeper". Several family members asked for the recipe too.
Reviewer:
marcelo
Rating:
Review:
This was a HUGE hit at Passover 2011. Came out perfect as is.
Reviewer:
Cherie
Rating:
Review:
I love this cake! I have been making it just like this every Passover for years! It's also wonderful with melted chocolate ganache poured over it. Be sure to process the nuts finely unless you want a more coarse texture to the cake, which is also a nice option.
Reviewer:
Lauren
Rating:
Review:
I absolutely love this cake. I make it year round because we love almonds and omit the matzo meal, because it doesn't need it. The only modification I make is I add 1/3 cup orange juice to the almond mixture because I find that it needs more liquid.
Reviewer:
JudyM
Rating:
Review:
So I never, ever write reviews .. but this cake was so amazing I just had to rave! I adore marzipan! This recipe was a smash with all my guests. It was moist, full of flavor, and looked so beautiful. I thought my mother's matzo sponge cake was tops .. now this will be my absolute favorite! A few hints: I used the almond meal from Trader Joe's and sprinkled the top with Trader Joe's Honey Roasted Sliced Almonds!!
Reviewer:
Frank Speyerer
Rating:
Review:
My wife baked this wonderful cake for my 73rd birthday yesterday. We served it after Mass to our fellow Catholics. This is truly an ecumenical desert. Just a note about the preparation: we used almond flour from Whole Foods and sliced strawberries on the side. Thank you