Diana's Desserts - www.dianasdesserts.com
See more recipes in
Autumn - Winter
Apple-Almond Browned Butter Cake
in Diana's Recipe Book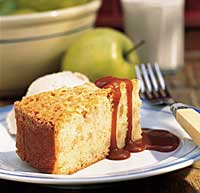 Average Rating:
(total ratings: 2)
[Read reviews]
[Post a review]
Servings: 8-10
Comments:
This is a very moist apple cake, subtly flavored by browned butter, with a warm caramel sauce commonly known as dulce de leche in Latin American countries.
Ingredients:

1-1/2 cups (3 sticks/12 oz/340g) butter or margarine
1-3/4 cups slivered almonds
3 cups confectioners' sugar
1-1/4 cups all-purpose flour
8 large egg whites (1-1/8 cups)
1 tablespoon grated lemon peel
1 tablespoon grated orange peel
1-3/4 cups Golden Delicious apples, peeled, cored and finely chopped
Topping:
Warm caramel sauce or purchased Dulce de Leche (see notes)
Vanilla ice cream
Instructions:
1. In a 12-inch frying pan or 5 to 6-quart pan over high heat, melt 1-1/2 cups butter and stir often until the milk-solid particles turn golden brown, 5 to 7 minutes. Remove at once from heat and let stand until warm, 15 to 20 minutes (or nest pan in cold water and stir often, 5 to 8 minutes).

2. Meanwhile, in a food processor, process 3/4 cup slivered almonds to a fine powder (or finely grate with a nut grater); scrape into a large bowl. Spread remaining 1 cup slivered almonds in a 10 x 15-inch rimmed baking pan.

3. Bake slivered almonds in a 350°F (180 C) oven until almonds are golden brown, 6 to 12 minutes. Let cool slightly, then coarsely chop.

4. Place coarsely ground almonds in a mixing bowl, add toasted almonds, sugar, and 1-1/4 cups flour. Stir to mix well. Scrape melted butter with all browned particles into bowl; mix. Add egg whites, lemon peel, and orange peel. Beat with an electric mixer on medium speed, scraping bowl often, until batter is well blended. Add chopped apples and stir by hand to mix.

5. Butter and flour a 9-inch springform pan. Scrape batter into pan.

6. Bake in a 325°F (160 C) oven (300°F/150°C if baking in a convection oven) until cake is golden brown, firm in the center when lightly pressed, and begins to pull away from pan sides, 1 hour to 1 hour and 10 minutes. Let cake stand in pan on a wire rack at least 20 minutes or until cool, about 1 hour. Slide a thin-bladed knife between warm or cool cake and pan rim; remove springform pan sides. Set cake on a rimmed plate and, if desired, pour about 1/2 cup warm caramel sauce over the top. Cut into wedges; serve with scoops of ice cream and remaining caramel sauce to add to taste.

Makes 8-10 servings.

NOTES:
Purchased dulce de leche may be too thick to pour onto the cake; warm briefly in a microwave oven to soften. If baking cake up to 2 days ahead, let cool, wrap airtight, and store at room temperature. Freeze to store longer; thaw to room temperature to serve.


Cake Nutritional Information
Per serving: 613 cal., 60% (369 cal.) from fat; 9.5 g protein; 41 g fat (19 g sat.); 57 g carbo (2 g fiber); 334 mg sodium; 76 mg chol.

Warm Caramel Sauce
In a 3 to 4-quart pan over high heat, stir 3 tablespoons butter or margarine and 2/3 cup granulated sugar until mixture is caramel-colored, 2 to 4 minutes. Remove from heat and add 2/3 cup whipping cream; stir until blended (mixture foams). Return to high heat and stir until caramel sauce comes to a rolling boil, 1 to 2 minutes. Serve hot. If making up to 1 month ahead, cover and chill.

Makes 1 cup.

Sauce Nutritional Information
Per tablespoon: 81 cal., 58% (47 cal.) from fat; 0.2 g protein; 5.2 g fat (3.3 g sat.); 8.7 g carbo (0 g fiber); 25 mg sodium; 17 mg chol.
Source: Sunset Magazine
Date: November 11, 2004
Reviews
Reviewer:
Pat
Rating:
Reviewer:
Pat
Rating:
Review:
This is delicious! I made it for a group of friends and they loved it.