Diana's Desserts - www.dianasdesserts.com
See more recipes in
Holidays and Celebrations
Pistachio Cream Cake
in Diana's Recipe Book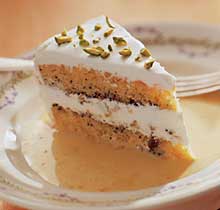 Average Rating:
(total ratings: 1)
[Read reviews]
[Post a review]
Servings: 12-16
Comments:
Make this lovely cake for a special holiday or celebration. The cake is creamy rich, and makes a beautiful presentation. The sesame custard sauce adds a wonderful special flavor.
Ingredients:

About 2 tablespoons butter or margarine
About 1 1/2 cups sifted cake flour
1 1/4 cups sugar
1 teaspoon baking powder
3/4 cup coarsely chopped roasted pistachios (salted or unsalted)
2 tablespoons poppy seeds
1 teaspoon grated lemon peel
1 teaspoon grated orange peel
1/2 teaspoon ground cardamom
1/2 cup milk
1 teaspoon vanilla
3 large eggs
Cream Frosting (recipe follows)
Sesame Custard Sauce (recipe follows)

Instructions:
1. Butter and flour two 9-inch round cake pans. Line bottoms with waxed paper cut to fit; butter paper and dust with flour.

2. In a small bowl, mix 1 1/2 cups cake flour, 1/4 cup sugar, baking powder, 1/2 cup chopped pistachios (wrap remaining airtight), poppy seeds, lemon peel, orange peel, and cardamom.

3. In a glass measure or small microwave-safe bowl, melt 2 tablespoons butter in a microwave oven on full power (100%), 1/2 to 1 minute. Add milk and vanilla.

4. In a deep bowl, with a mixer on high speed, beat eggs with remaining 1 cup sugar until thick enough to hold mounds briefly when you lift the beater, 4 to 5 minutes. Add flour mixture and milk mixture. Stir or mix gently until well blended. Scrape batter equally into prepared pans.

5. Bake cake layers on center rack in a 325°F (160 C) regular or convection oven until edges are browned and begin to pull from pan sides and centers spring back when lightly pressed, 20 to 25 minutes.

6. Cool layers in pans on a rack for about 10 minutes. Invert cakes from pans onto rack and carefully pull off and discard waxed paper.

7. When layers are cool to touch, place one, bottom side up, on a flat plate (10 to 12 in. wide). Mound about 2 cups of the Cream Frosting on cake; with a long, flexible metal spatula, spread frosting level out to cake rim. Place remaining cake layer, bottom side down, on frosting. Scrape remaining frosting on top of cake and, with the spatula, push enough over the sides to frost thickly, then swirl evenly over top of cake. Cover (a large bowl inverted over the cake works best) and chill at least 2 hours or up to 1 day.

8. Uncover cake and sprinkle with remaining 1/4 cup pistachios. On each dessert plate, spoon 3 to 4 tablespoons Sesame Custard Sauce. Cut cake into wedges and set in sauce on plates.

Makes 12-16 servings.

Nutritional Information
Per serving: 304 cal., 50% (153 cal.) from fat; 5.1 g protein; 17 g fat (8.4 g sat.); 33 g carbo (0.4 g fiber); 106 mg sodium; 102 mg chol.

Cream Frosting:
In a chilled large bowl, with a mixer on high speed, beat 1 1/2 cups whipping cream until it holds soft, distinct peaks. Add 1/2 cup sour cream, 1/4 cup sugar, and 1/2 teaspoon each almond extract and vanilla. Beat on high speed until mixture is thick enough to hold soft, distinct peaks. Use to fill and frost Pistachio Cream Cake (preceding).

Sesame Custard Sauce

PREP AND COOK TIME: About 25 minutes, plus at least 15 minutes to chill.

NOTE:
If making up to 2 days ahead, cover and chill.

Makes about 3 cups

5 large egg yolks
1 tablespoon Asian (toasted) sesame oil
3 tablespoons sesame seeds
3/4 cup sugar
1 cup whipping cream
1 3/4 cups milk

1. In a large metal bowl, combine egg yolks and sesame oil; whisk just enough to blend.

2. In a 10- to 12-inch frying pan over medium heat, stir and shake sesame seeds until pale golden brown, about 3 minutes. Pour into a blender with the sugar and whirl until seeds are coarsely ground. Return mixture to frying pan; add whipping cream and milk. Stir over medium-high heat until scalding (bubbles form at pan rim but mixture does not boil), about 5 minutes.

3. Whisk cream mixture into egg yolk mixture, then scrape back into frying pan. Stir over medium-low heat with a flexible (silicone or heat-resistant plastic) spatula, scraping pan bottom and sides, until custard is thick enough to coat a metal spoon with a velvety layer, about 15 minutes. Immediately pour mixture back into metal bowl and nest in ice or ice water; stir often until cool, about 15 minutes. Pour custard through a fine strainer into another bowl, pressing moisture from seeds; discard seeds. Serve custard or cover and chill.

Nutritional Information
Per tablespoon: 44 cal., 59% (26 cal.) from fat; 0.8 g protein; 2.9 g fat (1.4 g sat.); 3.8 g carbo (0.1 g fiber); 6.9 mg sodium; 29 mg chol.

Source: Sunset Magazine
Date: November 6, 2004
Reviews
Reviewer:
inmaculoada
Rating:
Review:
It's wonderful!!