Diana's Desserts - www.dianasdesserts.com
See more recipes in
Holidays and Celebrations
Pan de Muertos (Day of the Dead Bread)
in Diana's Recipe Book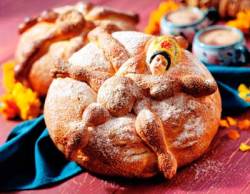 Average Rating:
(total ratings: 16)
[Read reviews]
[Post a review]
Servings: Makes 1 large bread (11 inches) or 3 small breads
Comments:
The Day of the Dead, Día de los Muertos, a festival celebrating the reunion of dead relatives with their families, November 1st and 2nd.

Every year, on November 1st (All Saints Day) and 2nd (All Souls Day), something unique takes place in many areas of Mexico: Day of the Dead festivities. While it's strange for most of us to accept the fact that "death" and "festivities" can go hand-in-hand, for most Mexicans, the two are intricately entwined. This all stems from the ancient indigenous peoples of Mexico (Purepecha, Nahua, Totonac and Otomí) who believed that the souls of the dead return each year to visit with their living relatives - to eat, drink and be merry. Just like they did when they were living.

Tempered somewhat by the arrival of the Spaniards in the 15th century, current practice calls for the deceased children (little angels) to be remembered on the previous day (November 1st, All Saints Day) with toys and colorful balloons adorning their graves. And the next day, All Souls Day, adults who have died are honored with displays of the departed's favorite food and drinks, as well as ornamental and personal belongings. Flowers, particularly the zempasúchil (an Indian word for a special type of marigold) and candles, which are placed on the graves, are supposed to guide the spirits home to their loved ones.

Other symbols include the elaborately-decorated pan de muerto (a rich coffee cake decorated with meringues made to look like bones), skull-shaped candies and sweets, marizpan death figures and papier maché skeletons and skulls. (the Nahua speaking peoples of pre-columbian Mexico saw the skull as a symbol of life - not death.) Today, these macabre symbols and other similar items fill the shops and candy stalls by mid October. During this time, homes are often decorated in the same manner as the graves.

This may all seem morbid and somewhat ghoulish to those who are not part of that culture. But, for Mexicans who believe in the life/death/rebirth continuum, it's all very natural. this is not to say that they treat death lightly. They don't. It's just that they recognize it, mock it, even defy it. Death is part of life and, as such, it's representative of the Mexican spirit and tradition which says: "Don't take anything lying down - even death!"

First the graves and altars are prepared by the entire family, whose members bring the departed's favorite food and drink. Candles are lit, the ancient incense copal is burned, prayers and chants for the dead are intoned and then drinks and food are consumed in a party/picnic-like atmosphere. At 6:00 pm, the bells begin to ring (every 30 seconds), summoning the dead. They ring throughout the night. At sunrise, the ringing stops and those relatives who have kept the night-long vigil, go home.

Source: MEXonline.com: http://www.mexonline.com/daydead.htm

Pan de Muertos - Day of the Dead Bread

In celebration of Mexico's Día de Muertos (Day of the Dead - All Soul's Day or All Saint's Day), this pan de muerto (Bread of the Dead) bread is shaped into skulls or round loaves with strips of dough rolled out and attached on top to resemble bones.

Recipes for this bread vary tremendously depending on the financial situation of the family or the predicaments of the bakers. I have found no better than this one, given to me when I was apprenticed - rather informally - to one of the leading bakeries in Mexico City some years ago. The quantity will make one large one - about 11 inches in diameter, which is impressive - and about three small ones, which are always good as little presents or for hungry Halloweeners.

The oven temperature is given for a large bread, it should be increased to just about 400°F/200°C for the smaller ones.

The starter can be made ahead or the day before. (Any leftover can be frozen but is best used right away.) In fact, the final mixture can be kneaded and then left overnight in the refrigerator - which I do to help it develop a better flavor - and brought up to room temperature before forming an the final rising.

I am giving an exact translation from the metric weight, knowing that with bread dough a little variation here and there does not change the end product significantly........Diana Kennedy
Ingredients:

THE STARTER:
1 pound (4 scant cups) unbleached flour, plus extra for bowl and working surface
1/2 ounce (1 1/4 teaspoons) sea salt
2 ounces (1/3 cup) sugar
Scant 1 ounce (3 scant tablespoons) crumbled cake yeast or 1 1/2 scant tablespoons dry yeast
1/2 cup plus 2 tablespoons water
3 large eggs, lightly beaten

THE FINAL DOUGH:
The Starter torn into small pieces
1/2 pound (1 cup) sugar
7 ounces (14 tablespoons) unsalted butter, softened, plus extra for greasing baking sheets
1 pound unbleached flour, plus extra for board and bowl
8 egg yolks, lightly beaten with 2 tablespoons water
1/4 cup water, approximately
1 teaspoon orange flower water and/or grated rind of 1 orange

THE GLAZE:
4 egg yolks, lightly beaten
1/4 cup melted unsalted butter, approximately
1/3 cup sugar, approximately
Instructions:
THE STARTER:
Put the flour, salt, sugar and yeast into a mixing bowl and gradually beat in the water and eggs. (Mexican bakers do not bother to cream the yeast, knowing that it is fresh - do it if you wish.) Continue beating until the dough forms a cohesive mass around the dough hook; it should be sticky, elastic and shiny - about 5 minutes. Turn out onto a floured board and form into a round cushion shape. Butter and flour a clean bowl. Place the dough in it and cover with greased plastic wrap and a towel and set aside in a warm place - ideally 70°F/21°C - until the dough doubles in volume, about 2 hours.

Liberally grease 4 baking sheets (for both breads while proofing). Put the starter, sugar and butter into a mixing bowl and mix well, gradually beating in the flour and egg yolks alternately. Beat in the water and flavoring - you should have a slightly sticky, smooth, shiny dough that just holds its shape (since eggs, flours and climates differ, you may need to reduce or increase the liquid). Turn the dough out onto a lightly floured surface and form into a round cushion shape.

Wash out mixing bowl, butter and flour it, and replace the dough in it. Cover with greased plastic wrap and a towel and set aside in a warm place - ideally about 70°F/21°C - for about 1 1/2 hours, until it almost doubles in size, or set aside overnight in the bottom of the refrigerator.

Bring the dough up to room temperature before attempting to work with it. Turn out onto a lightly floured board and divide the dough into two equal pieces. Set one aside for forming later. Take three quarters of the dough and roll it into a smooth ball. Press it out to a circle about 8 inches in diameter - it should be about 1-inch thick. Press all around the edge to form a narrow ridge - like the brim of a hat - and transfer to one of the greased baking sheets. Cover loosely with greased plastic wrap and set aside in a warm place (about 70°F/21°C) to rise about half its size - about 1 hour. Taking the remaining one-quarter of the dough, divide it into four equal parts. Roll one of the parts into a smooth ball. Roll the other 3 strips about 8 inches long, forming knobs as you go for the "bones." Transfer the four pieces to another greased tray, cover loosely with greased plastic wrap, and set aside to rise for about 1 hour.

Repeat these steps to form the second bread with the other piece of dough that was set aside. Heat oven to 375°F/190°C.

At the end of the rising period, carefully place the strips of dough forming the "bones" across the main part of the bread, place the round ball in the middle to form the "skull," and press your finger in hard to form the eye sockets. Brush the surface of the dough well with the beaten yolks and bake at the top of the oven until well browned and springy - about 15 to 20 minutes. Turn off the oven, open the door, and let the bread sit there for about 5 minutes more. Remove from the oven, brush with melted butter, and sprinkle well with sugar.

Makes 1 large bread, about 11 inches in diameter, or three small ones

Source: The Art of Mexican Cooking by Diana Kennedy (Bantam Books, 1989)
Date: October 24, 2004-Recipe revised on November 1, 2006
Reviews
Reviewer:
katarina
Rating:
Review:
this bread has a really good taste to is but it is probably one of those foods that you have to have an aquired taste for. i would not recommend this bread to all people, but i thought is was very good.
Reviewer:
courtney
Rating:
Review:
It was pretty good. It just has to be cooked exactally right though.
Reviewer:
Dylan Griffin
Rating:
Reviewer:
Lily
Rating:
Review:
THE BEST I EVER TASTED!
Reviewer:
Robert Wyant
Rating:
Reviewer:
R. G.
Rating:
Review:
The shape of such a bread looks frightening and does not respect the idea of death. The dough can be altered to make another shape.
Reviewer:
Madison
Rating:
Review:
This bread is amazing! I made it for my schools Dia de Muertos party and my whole class loved it!
Reviewer:
Jeny Tanco
Rating:
Review:
I found this recipe to be excellent because I love to cook. However, sometimes I just don't have the time because I take care of my wonderful 3 children. Therefore, if you have a similar situation and would like a pan de muerto, you can also get an alternative solution at mexgrocer.com/10069.html. Thank you for the recipe and feliz dia de muertos!
Reviewer:
katineedi
Rating:
Review:
I made this at school for a project and it tasted lemony. It was like sweet and sour at the same time.
Reviewer:
Jeremy Anderson
Rating:
Review:
I made this for a school project also. It did not rise though. So i had to bake it anyway. It was harder than rock at school and out of all the other students work they said mine was the best only because it had NO taste. SO i bought some from a bakery and those were PERFECT. I love the taste. But homemade is hard. So you need to be lucky enough for the dough to rise for it to be any good...
Reviewer:
Stephanie
Rating:
Review:
i didn't like it at all.....sorry but i'm telling the truth
Reviewer:
Jesus Arias
Rating:
Review:
The bread was delicious and my family loved it too. I started selling it in my Panederia and my public loves it. they tell me to give them the recipe and they say it's really good. i love to bake.
Reviewer:
katie
Rating:
Review:
I made this for a school project and everyone liked it even though the bread took a long time to make it was good.
Reviewer:
Melissa
Rating:
Review:
Why are the directions confusing me so much?
Reviewer:
maya
Rating:
Review:
I thought it was quite nice but it could have been better.
Reviewer:
Payton
Rating: