Diana's Desserts - www.dianasdesserts.com
See more recipes in
Brownies - Bar Desserts
Michael Recchiuti's Brownies
in Diana's Recipe Book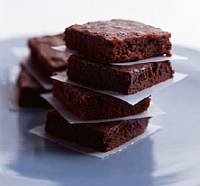 Average Rating:
(total ratings: 1)
[Read reviews]
[Post a review]
Servings: Makes 1 (9 x 9-inch) pan of brownies
Comments:
San Francisco chocolate and confection visionary Michael Recchiuti shows off his art in this sophisticated brownie recipe using E. Guittard vintage chocolates. This recipe works beautifully with L'Harmonie (Harmony), the 64% dark chocolate blend, or with any one of the single bean varietal chocolates: Sur del Lago, Colombian, or Ecuador Nacional.

The recipe calls for a total of 10 ounces of chocolate---half melted and stirred into the batter and half added as chips. Michael advises that this recipe is best made by hand. Bake in a 9" x 9" pan for thinner brownies to serve as a sensational plated dessert. Alternatively, use an 8" x 8" pan if you prefer thicker, hand-held brownies.

Ingredients:

5 ounces (scant 1 cup) E. Guittard chocolate (L'Harmonie, Sur del Lago, Colombian or Ecuador Nacional), chopped
4 ounces (1 stick/1/2 cup/113g) unsalted butter
3 eggs
1 cup superfine sugar
Pinch of salt
1/2 teaspoon pure vanilla
3/4 cup all-purpose flour, with 2 teaspoons of this amount reserved to dust chocolate chips
5 ounces (scant 1 cup) E. Guittard chocolate (L'Harmonie, Sur del Lago, Colombian or Ecuador Nacional), coarsely chopped into chips

Instructions:
1. Preheat the oven to 325 degrees F (160 C). Line an 8 x 8-inch or 9 x 9-inch baking pan with buttered parchment paper.

2. Melt chocolate with butter.

3. Beat eggs, sugar, salt, and vanilla.

4. Add melted chocolate and butter to egg mixture.

5. Incorporate flour slowly. Do not overmix.

6. Dust chocolate chips thoroughly with the 2 teaspoons of flour, then stir chocolate chips into batter.

7. Pour batter into baking pan. Bake 25 - 30 minutes. Brownies are done when the surface develops a thin crust, similar to the feel of a delicate layer of ice crystal forming on water before it turns to a solid form. A very light touch with a fingertip in the center of the pan will still leave a soft impression. Do not overbake! Let cool before cutting.

Tip:
Refrigerate or freeze the cooled brownies before cutting with a sharp knife or cookie cutter, then return to room temperature for serving.

Yield: One 9" x 9" pan (Note, if using an 8" x 8" pan, extend baking time to approximately 30 minutes.)

Serving Suggestions:

L'Harmonie Brownies: Drizzle brownies with Griottine cherries (liquor-soaked cherries available from specialty food purveyors) and serve with whipped cream or vanilla ice cream.

Sur del Lago Brownies: Serve with fresh strawberries and cream, or a shot of espresso and your favorite chocolate sauce.

Colombian Brownies: Serve with vanilla bean ice cream and bananas, or with custard sauce and a glass of port or sherry.

Ecuador Nacional Brownies: Serve with caramel sauce and raspberries, or cinnamon-laced whipped cream.

Note:
E. Guittard chocolates may be purchased online at www.chocosphere.com.
Source: E. Guittard Chocolates
Date: October 12, 2004
Reviews
Reviewer:
Isaiah Derrick Gayles
Rating:
Review:
I made these and I loved them. They were really really fantastico!