Diana's Desserts - www.dianasdesserts.com
See more recipes in
Autumn - Winter
Pumpkin Pie Belgian Waffles
in Diana's Recipe Book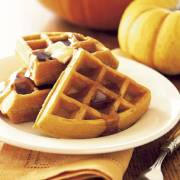 [Be the first to post a review!]
Servings: Makes about 6 (4 1/2 inch) belgian waffles
Comments:
These belgian waffles may never replace pumpkin pie at a traditional Thanksgiving dinner, but they'll give tradition a good race. Like pumpkin pie, they are comforting, custardy and filling. They're made with the same spices used for pumpkin pie along with sour cream for smoothness; the dark rum is there for extra flavor and a little mystery.

Ingredients:

5 tbsp. unsalted butter
1 cup pumpkin puree (you can use canned puree)
1/2 cup firmly packed dark brown sugar
1/4 cup granulated sugar
1 1/4 tsp. ground cinnamon
1 1/4 tsp. grated peeled fresh ginger
1/8 tsp. ground cloves
1/8 tsp. freshly grated nutmeg
Pinch of salt
1 1/3 cups all-purpose flour
1 tbsp. double-acting baking powder
1/2 tsp. baking soda
1 cup milk
1/2 cup sour cream
2 eggs
2 tbsp. dark rum
1 tsp. vanilla extract
Vanilla ice cream and/or maple syrup for serving
Instructions:
Preheat a waffle iron. If you want to hold the finished waffles until serving time, preheat an oven to 200°F (93°C).

Melt the butter; set aside.

In a large bowl, combine the pumpkin, brown and granulated sugars, cinnamon, ginger, cloves, nutmeg and salt. Using a rubber spatula or handheld electric mixer, mix together well. Stir in the flour, baking powder and baking soda. The mixture will be thick and a little lumpy. Don't try to smooth it out; just mix until the ingredients are incorporated.

In another bowl, beat together the milk, sour cream, eggs, rum and vanilla. Add the liquid ingredients to the pumpkin mixture and stir until combined. Fold in the melted butter.

Whether or not your iron's grids are well seasoned or made of a nonstick material, it is best to lightly butter or spray the grids for these waffles because the batter is quite sticky. Brush or spray the grids again only if subsequent waffles stick.

Spoon out 2/3 to 3/4 cup of batter for a Belgian waffle iron (or the amount recommended by the manufacturer's instructions) onto the hot iron. Use a metal spatula or wooden spoon to spread the batter evenly over the grids. Close the lid and bake until golden. If the waffle is hard to remove from the iron, peel it off gently and carefully. Serve immediately or keep the waffles, in a single layer, on a rack in the preheated oven while you make the rest.

Serving: Serve these warm and golden, one to a diner, topped with vanilla ice cream and/or maple syrup. They're great with a cup of hot or cold cider.

Makes about six 4 1/2-inch square Belgian waffles.

Source: Adapted from Waffles from Morning to Midnight, by Dorie Greenspan (Weldon Owen, 2001).

Date: October 9, 2004