Diana's Desserts - www.dianasdesserts.com
See more recipes in
Spoon Desserts - Gelatins - Puddings
Bread and Butter Pudding
in Diana's Recipe Book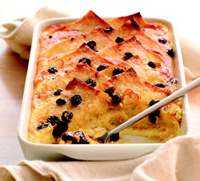 [Be the first to post a review!]
Servings: 4-6
Ingredients:

9 oz. milk
8 oz. heavy cream
1 vanilla bean (Do not substitute vanilla extract).
3 eggs
1/2 cup Plus 1 tablespoon granulated sugar
8 slices white bread
2 tbsp. cold butter
2 tbsp. butter, melted
2 tbsp. golden or dark raisins (soaked in warm water until they plump, about 5 minutes)
2 tbsp. apricot jam
Confectioners' sugar, for garnish

Instructions:
Preheat oven to 300 degrees F (150 C).

Bring the milk, cream and vanilla bean to a boil. In a large bowl, whisk the eggs and sugar together. Remove the vanilla bean from the milk/cream mixture. Use a sharp paring knife to split the bean lengthwise. Use the knife to scrape the inside of the pod, placing what you've scraped from the pods back into the milk/cream mixture. Pour a small amount of the hot milk/cream mixture into the eggs and sugar. Stir to temper the eggs (this will prevent the eggs from scrambling when you add the rest of the hot milk/cream). Add the rest of the of the milk/cream mixture to the eggs and sugar and whisk to blend.

Cut the crusts off the bread slices and cut each slice in half, diagonally. You should now have 16 triangles of crustless white bread. Lightly brush each triangle of bread with the melted butter and arrange the triangles in rows in a buttered, ovenproof dish. Drain the raisins and sprinkle them on the bread. Carefully pour the milk mixture over the bread slices. Dot the pudding with chips of the cold butter.

Place the pudding pan into a water bath which comes about two-thirds of the way up the side of the pan. Place the water bath into preheated 300 degree F (150 C) oven and bake for 35-40 minutes.
Remove from the oven and dot the pudding with dollops of apricot jam. Dust with confectioners' sugar and serve.

Serving Suggestion:
Serve individual portions with a small amount of heavy cream drizzled on the pudding and around the plate.

Makes 4-6 servings.
Date: October 8, 2004