Diana's Desserts - www.dianasdesserts.com
See more recipes in
Pound Cakes
Coconut Pound Cake
in Diana's Recipe Book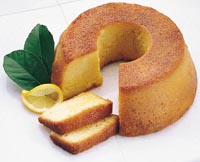 [Be the first to post a review!]
Ingredients:

3 cups cake flour
1/4 teaspoon salt
2 sticks (8 oz/1 cup/226g) unsalted butter
6 oz. cream cheese
2-1/2 cups granulated sugar
5 eggs
1/2 teaspoon lemon extract
1/2 teaspoon vanilla extract
3 tablespoon pure unsweetened coconut milk
3/4 cup unsweetened shredded coconut
1 teaspoon finely grated lemon zest
Glaze (see recipe below)

Instructions:
Have all ingredients at room temperature.

Position oven rack in lower third of oven and preheat to 325°F (160°C). Grease and flour one (10-inch) bundt cake pan or two 8 x 4-inch loaf pans.

To Make Cake:
Over a sheet of waxed paper, sift together flour and salt; set aside. In the bowl of an electric mixer fitted with a flat beater, beat the butter and cream cheese on medium speed until creamy and smooth, 30-45 seconds. Add sugar and continue beating, stopping occasionally to scrape down the sides of the bowl, until light and fluffy, about 5 minutes. Add the eggs, one at a time, beating well after each addition. Add the extracts and reduce speed to low. Add half the flour mixture, then the coconut milk, then the rest of the flour. Beat each addition until just incorporated, stopping mixer occasionally to scrape down sides of bowl. Using a rubber spatula, stir in the shredded coconut and lemon zest. Spoon batter into the prepared pan (s) and spread evenly. Bake until a toothpick inserted near the center comes out clean, about 1-1/4 hours if making in bundt pan or 45-55 minutes if making in loaf pans. Cool, upright in pan, on a wire cooling rack for 10 minutes. Set rack over a sheet of waxed paper and invert cake (s) out of pan (s) onto rack. Brush warm cake (s) with glaze.

Glaze:
1/2 cup water
1 tablespoon fresh lemon juice
2/3 cup granulated sugar
1/3 cup fresh mint leaves (optional)

To Makes the Glaze:
in a small saucepan over low heat, combine all 3 ingredients and stir just until sugar dissolves. Add 1/3 cup fresh mint leaves (optional) and simmer for 3 minutes. (If omitting mint, just simmer sugar mixture) Strain mixture thru a fine sieve and discard leaves. Brush warm cake with glaze. Let cake cool completely before serving.

Makes 1 (10-inch) bundt cake or 2 (8 x 4-inch) loaves.

Date: October 6, 2004