Diana's Desserts - www.dianasdesserts.com
See more recipes in
Cheesecakes
Strawberry Cheesecake with Fresh Strawberry Sauce
in Diana's Recipe Book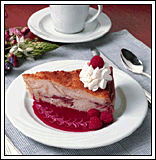 Average Rating:
(total ratings: 6)
[Read reviews]
[Post a review]
Servings: 12-14 servings
Ingredients:

1-1/2 cups graham cracker crumbs
3 tablespoons (1.5 oz/42g) melted butter
2 8oz. packages (1 lb/453 grams) cream cheese
1 cup granulated sugar, divided
2/3 cup all-purpose flour
4 eggs, separated
2 tablespoons grated lemon peel
2 teaspoons vanilla extract
1 cup sour cream
3 pints strawberries, washed, dried and stems removed
4 teaspoons lemon juice
1/4 cup red currant jelly, melted

Instructions:
Preheat oven to 300 degrees F (150 degrees C).

In medium bowl mix graham cracker crumbs and melted butter. Press onto bottom and 2 inches up sides of lightly greased 9-inch (23cm) springform pan; set aside.

To Make Filling:
In mixer bowl beat cream cheese until smooth. Add 3/4 cup of the sugar, the flour, egg yolks, lemon peel and vanilla; mix well. Stir in sour cream to blend thoroughly.

In another bowl, beat egg whites until stiff but not dry; fold into cream cheese mixture. Pour into prepared crust; smooth top. Bake 1 hour. Turn off oven; cool in oven 1 hour with door ajar. Remove from oven; chill thoroughly.

Meanwhile, to make sauce, in blender or food processor puree 2 pints of the strawberries with the remaining 1/4 cup sugar and the lemon juice; strain sauce to remove seeds. Cover and chill.

To complete cake, halve remaining strawberries; arrange on top of cake. Brush strawberries with jelly. cut cake into wedges; serve with sauce.

Makes one 9-inch cheesecake (12-14 servings)

Nutritional Information Per Serving: 244 calories; 8 g protein; 8 g fat; 38 g carbohydrate; 73 mg cholesterol; 203 mg sodium.
Source: California Strawberry Commission
Date: September 30, 2004
Reviews
Reviewer:
Brittany Brewer
Rating:
Reviewer:
shantell
Rating:
Review:
THAT WAS AWSOME
Reviewer:
shaquille
Rating:
Reviewer:
Christine Taylor
Rating:
Review:
Okay, when I first came across this recipe, I knew that it would be perfect for my boyfriend. I ran into a couple of problems, though. I wasn't sure how to beat egg whites to be "stiff, but not dry" and the crust was quite crumbly. The sauce was great, but the recipe made waaay too much. I liked the lemony twist to the cake as well. So, as my rating shows, I give this cheesecake a 3. It was average...but then again, maybe I didn't make it right! :)
Reviewer:
Barbara Decker
Rating:
Review:
I made this for a recent office bake-off contest and won 2nd prize. It is a very light recipe both in taste and calories. I used all low fat ingredients in graham crackers, sour cream and cream cheese. As a first time cc baker I was thrilled. A couple tips for making this work best. Put crumbs in freezer while whipping egg whites, and processing crumbs and cream base. Also, wrap pan in aluminum foil to 1" above edges to even out baking and leave it in oven till cool if not done up to 4-5 hours with door closed. I used no added sugar in egg whites. Sauce was excellent without straining it. Comments included were attractive, very colorful, tasty, and light. My pan size was 9 3/4" so added more crumbs. Shell crumbled some during its travels from home to work site. Cake froze during an overnight refrigeration. Still tasted great. Thanks
Reviewer:
Issa
Rating:
Review:
I love strawberry cheesecake and this is the best I've ever tasted!