Diana's Desserts - www.dianasdesserts.com
See more recipes in
Passover
Passover Chocolate Cake with Almonds
in Diana's Recipe Book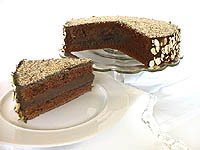 [Be the first to post a review!]
Servings: 8-10
Ingredients:

For The Cake:
8 large eggs, separated
1 cup (2 sticks) unsalted butter, at room temperature, cut into pieces
1 cup granulated sugar
1/2 cup unsweetened cocoa powder
Dash of salt
1 1/4 cups finely ground almonds
1/2 cup matzo meal

For Filling and Frosting:
1/2 cup (1 stick) unsalted butter, softened
1 1/2 cups Kosher for Passover confectioners' sugar
1/4 cup unsweetened cocoa powder
2 tablespoons Kosher for Passover liqueur
2 teaspoons kosher for Passover vanilla extract
1/2 cup coarsely ground almonds
1/2 cup sliced almonds

Instructions:
Preheat oven to 375 degrees F. Line 9 x 13-inch baking dish or 2 (8-inch) round cake pans with aluminum foil, greasing bottom and sides.

To Prepare Cake:
Process egg yolks, butter, granulated sugar, cocoa powder and salt in food processor until smooth. Add almonds and matzo meal and pulse just to combine.

In bowl of electric mixer fitted with whisk, beat egg whites until stiff peaks form. Fold into chocolate mixture. Pour batter into prepared pan and spread evenly with spatula.

Bake at 375 degrees F (190 C) for 25 minutes or until tester inserted in center comes out clean. Cool cake about 15 minutes in pan; then carefully remove from pan and peel off foil.

To Prepare Filling and Frosting:
Blend butter, confectioners' sugar, cocoa powder, liqueur and vanilla in food processor until smooth.

For a 9 x 13-inch cake, using sharp knife, cut cake crosswise into 3 equal layers and place 1 layer on plate. With spatula, spread 1/3 of chocolate cream on top and sides of first layer. Cover with second layer. Spread chocolate cream on top again, then add third layer. Cover top and sides with remaining chocolate cream. Sprinkle coarsely ground almonds over top of cake and press sliced almonds on sides of cakes.

For round cake, use each round as a layer, frosting between them as well over top and sides. Sprinkle coarsely ground almonds on top of cake, and press sliced almonds on sides of cake.

Makes 8-10 servings.

Source: DianasDesserts.com
Date: March 7, 2002