Diana's Desserts - www.dianasdesserts.com
See more recipes in
Cheesecakes
Creamy Yogurt Cheesecake
in Diana's Recipe Book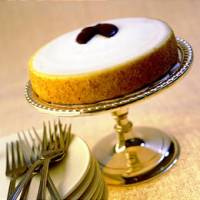 Average Rating:
(total ratings: 7)
[Read reviews]
[Post a review]
Servings: 12
Comments:
The slightly tart flavor of this cheesecake makes it a natural topped with fresh berries.

Ingredients:

Graham Cracker Crust:
2 cups crushed graham crackers
1/4 cup (1/2 stick/2 oz/56g) butter, melted
2 tablespoons honey
1/2 teaspoon ground cinnamon
Dash of nutmeg

Filling:
16 ounces plain chevre cheese (fresh soft goat's cheese - *see note below)
1 cup plain or vanilla yogurt
3 eggs
1/4 cup milk
3 tablespoons (1 1/2 oz/43g) butter, melted
3 tablespoons honey or 5 tablespoons sugar
1 teaspoon vanilla extract
Grated rind of one lemon

Instructions:
Crust:
Combine ingredients well and press mixture firmly onto sides and bottom of an 8-inch pie pan or cheese cake pan. Bake for ten minutes at 350° F (180°C). Cool before adding the filling.

Filling:
Combine and beat eggs, chevre and yogurt. Beat until smooth. Add remaining ingredients, beating until well blended. Pour into cooled crust and bake at 450°F (230°C) for 10 minutes. Turn oven down to 350°F (180°C) and bake an additional 35 to 45 minutes (until toothpick comes out clean). Cool.

Tip:
If desired, mix 3/4 cup sour cream or creme fraiche, 1 tablespoon honey, 1/2 tablespoon vanilla and pour over cake. Bake 5 minutes at 425°F (220°C). Let cake cool and chill well before serving.

Note:
If chevre cheese is not available to you, you may substitute it with fromage blanc or cream cheese.

Makes 12 servings.

Source: Recipe adapted from:
Redwood Hill Farm
Grade A Goat Dairy
Sebastopol, California
Date: August 24, 2004
Reviews
Reviewer:
Anna Nymous
Rating:
Review:
The specified cheeses are way too snobby. Philly cream cheese is the best way to go!
Reviewer:
Selma Cengic
Rating:
Review:
Interesting crust, very tasty.
Reviewer:
Chef Rob
Rating:
Review:
To Anna Nymous...
You have obviously never tried a cheesecake made from chevre. Keep your novice opinions to yourself.
Reviewer:
Tom
Rating:
Review:
You can't call us novices simply for not having access to these posh, expensive ingredients. This recipe works better with hobnobs and philly everyone.
Reviewer:
Lillian marie
Rating:
Review:
I say whatever works for you, if you have to make cuts, then subsitute, change the reipe up and be creative. But for this specific recipe if you can get the ingrediants called for then do it, the flavors work well together. For others thats unrealistic and philly is amazing as well.
Reviewer:
shar
Rating:
Review:
The comment from chef rob was rude and uncalled for. I agree whatever works.
Reviewer:
sara
Rating:
Review:
The chef didn't have to be rude but she was rude too, and if she cant afford the cheese make another cheesecake. Chevre cheese is absolutely yummy and the chef has every right to choose whatever cheese he wants. P.S. Chevre is not really expensive.