Diana's Desserts - www.dianasdesserts.com
See more recipes in
Miscellaneous Desserts, Etc.
Cherries in the Snow
in Diana's Recipe Book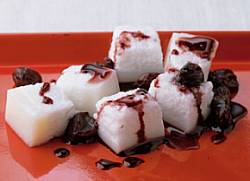 [Be the first to post a review!]
Servings: 6
Comments:
This is a poetic version of the traditional Chinese almond milk gelatin dessert. Whipping the milk gives the top layer of this dessert the appearance of snow. Fat-free (skim) milk will create the most foam.

Ingredients:

For Almond Snow Gelatin:
Vegetable oil for greasing baking dish
2 1/4 teaspoons unflavored gelatin (from a 1/4-oz envelope)
1/2 cup cold water
1 cup 1% or skim milk
1/3 cup granulated sugar
1/4 teaspoon almond extract

For Cherries in Port:
1/3 cup dried cherries (2 ounces)
1 tablespoon granulated sugar
1 cup Ruby Port

Instructions:
To Make Almond Snow Gelatin:
Lightly oil an 8-inch square glass baking dish with vegetable oil, wiping out any excess with a paper towel.

Sprinkle gelatin over water in a large heatproof bowl to soften 1 minute.

Bring milk and sugar to a boil in a 1-quart saucepan, stirring until sugar is dissolved, then remove from heat and whisk into gelatin mixture. Add almond extract and whisk briskly until milk is foamy, about 5 minutes.

Pour into baking dish and freeze 15 minutes (to set foam), then chill, uncovered, in refrigerator until firm, at least 45 minutes.

To Make Cherries in Port:
Simmer cherries, sugar, and Port in cleaned 1-quart heavy saucepan, uncovered, until reduced to about 1/2 cup, about 10 minutes. Set pan in a bowl of ice and cold water and chill in refrigerator until syrupy, about 15 minutes.

Assembling the Desserts:
Using a knife dipped in hot water, cut gelatin into 1-inch squares. Remove squares from dish with a spatula and divide, frothy sides up, among 6 chilled plates. Spoon cherries in Port over squares.

Notes:
Gelatin can be chilled up to 2 days ahead (cover after 45 minutes).

Cherries in Port can be chilled (without bowl of ice water), covered, up to 1 week.

Makes 6 servings.

Source: Gourmet Magazine February 2004
Date: August 13, 2004