Diana's Desserts - www.dianasdesserts.com
See more recipes in
Summertime Treats and Beverages
Fresh Sweet Cherry Cobbler
in Diana's Recipe Book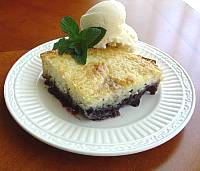 Average Rating:
(total ratings: 7)
[Read reviews]
[Post a review]
Servings: 9-12
Comments:
Since dark sweet cherries are not in season very long during the summer, I would definitely make this wonderful fresh cherry cobbler while they are still available. If needed, you can freeze the cherries and use them in pies, cobblers or cakes during the fall, winter and springtime. Good choices for dark sweet fresh cherries are Lapins, Bing, Stella or Lambert.
Ingredients:

Cherry Filling:
6 to 8 cups fresh sweet dark cherries, pitted
1 cup granulated sugar
2 tbsp. cornstarch
1/2 tsp. grated lemon zest
1/4 tsp. almond extract
1/8 tsp. salt
1/2 tsp. ground cinnamon (optional)

Batter:
1/2 cup unsalted butter
1 1/4 cups all-purpose flour
2 tablespoons baking powder
1/2 teaspoon salt
1/2 cup granulated sugar
1 cup milk

Garnish (optional)
Mint sprigs
Vanilla Ice Cream, Whipped Cream or Non-dairy whipped topping
Instructions:
In a large bowl, combine the pitted cherries, sugar, cornstarch, grated lemon zest, almond extract, salt and ground cinnamon (if using). Toss mixture gently and let stand at room temperature for 30 minutes so the flavors can combine well.

Preheat oven to 350°F (180°C).

Place the butter in a 9 x 13-inch rectangular glass or ceramic baking dish and put the baking dish in the oven while the oven preheats.

While the butter is melting in the baking dish in the oven, mix the batter in a large bowl by combining the flour, baking powder, salt, sugar and milk.

When the butter is completely melted, remove the pan from oven and pour the batter into the melted butter. The batter will immediately begin to cook, which is what you want.

Carefully spoon the cherry mixture evenly over the batter.

Return dish to oven and bake cobbler for approximately 25-30 minutes, or until batter sets and is browned (as the cobbler cooks, the batter will begin to rise up around the cherry mixture). Remove cobbler from oven and place on cooling rack.

Serve cobbler warm or at room temperature. If desired, serve with vanilla ice cream, whipped cream or non-dairy whipped topping and decorate each serving with a fresh mint sprig.

Makes 9-12 servings.

Photograph taken by Diana Baker Woodall© 2004
Source: DianasDesserts.com
Date: July 31, 2004
Reviews
Reviewer:
claire t
Rating:
Review:
I had never made a cobbler before, and this was easier than pie and an absolute treat. I had company and they all LOVED it. Great recipe, will permanently go in my rotation!
Reviewer:
Linda
Rating:
Review:
My mother made this recipe last week with bing cherries, and loved it so much she tried it again with rhubarb. I enjoyed it so much I made it myself today ... the family loves it. I think this will become our new "staple" dessert for dinner parties!
Reviewer:
Katie
Rating:
Review:
The batter never rose up around the cherries and the middle of the cobbler was still a little wet. I even baked it for more than the suggested thirty minutes. I would suggest using less butter and perhaps putting the cherry mixture on the bottom if you are attached to the traditional cobbler structure. It tastes good - but how can you go wrong with sweet cherries and a stick of butter?
Reviewer:
Rachel in Utah
Rating:
Review:
I agree with one of the previous reviewers. My cobbler took about twice as long to cook as the directions stated. I can see how the previous reviewer would end up with a very undercooked, runny, and unleavened cobbler if it was only cooked for 25 minutes. I looked at several other cobbler recipes after making this one and saw that there wasn't a recipe that called for less than 40 minutes of baking time. The resulting cobbler was delicious but the timing is obviously flawed. My family was happy that the cobbler wasn't overly sweet like some can be. I guess if you plan on the timing issue, the result is good.
Reviewer:
Rita
Rating:
Review:
Wow! Everything went as written except for the cooking time. I baked for about 45 minutes checking it periodically. Thanks to previous reviewers. It looks amazing. Can't wait to taste it!
Reviewer:
Anna
Rating:
Review:
Perplexed at ratings received thus far. Had no problems with the baking time. Did 30 min, came out brown at edges and set through out. Flavor-wise though.... won't be making it again. It's sort of spongy and odd. Only good thing were the cherries, however the almond flavor is a bit over-powering.
Reviewer:
Nancy
Rating:
Review:
Had a surplus of ripe Bings and Googled several recipes. Thought I'd try this since it looked easy. I had some misgivings going in because of the large amount of butter, sugar and baking powder. Nonetheless I thought I'd go for it. Wrong, way too sweet and buttery. The excessive baking powder left a bitter aftertaste. If I were to make it again I'd do so with some modifications. I'd use eggs to replace some of the baking powder and much less sugar and butter (depending on the sweetness of the fruit. I'd probably put some whole wheat flour in it too.)