Diana's Desserts - www.dianasdesserts.com
See more recipes in
Brownies - Bar Desserts
Buttermilk Brownies with Rich Chocolate Frosting
in Diana's Recipe Book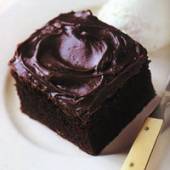 Average Rating:
(total ratings: 18)
[Read reviews]
[Post a review]
Servings: Approximately 2 dozen 3-inch brownies
Ingredients:

For The Brownies:
1 cup water
1/3 cup vegetable oil
2 cups all-purpose flour
2 cups granulated sugar
1/4 cup unsweetened cocoa
1/2 cup buttermilk
1 teaspoon baking soda
2 large eggs

For the Rich Chocolate Frosting:
6 tablespoons unsalted butter or margarine
1/3 cup buttermilk
1/4 cup unsweetened cocoa
1 16-ounce box confectioners' sugar
1/2 teaspoon vanilla extract
1/3 cup chopped nuts, optional
Instructions:
Preheat oven to 400 degrees F.

To Make The Brownies:
Combine water and oil in small saucepan; bring to a boil. Combine flour, sugar and cocoa in a mixing bowl. Add hot water mixture and stir well. Combine buttermilk and baking soda; stir until soda dissolves. Add buttermilk mixture and eggs to batter; mix well. Stir in chopped nuts if using.

Spoon into a greased 15x10x1-inch jelly-roll pan coated with nonstick cooking spray. Bake for 15 minutes.

Frost brownies with Chocolate Buttermilk Frosting while warm. Cool and cut into 24 squares.

To Make The Frosting: Combine butter (or margarine), buttermilk, and cocoa in a medium saucepan; bring to a boil. Add confectioners' sugar and vanilla, blend until smooth.

Makes 2 dozen, three inch size brownies.
Source: DianasDesserts.com
Date: September 11 2002
Reviews
Reviewer:
larren
Rating:
Review:
excellent tried them and they were like good like delicious i even made more of them i couldnt get enough of it i think they are good i even started selling some in my neighborhod there a big hit i sold about like 120 dollars. There so good!!!!!!!!!!!!
Reviewer:
Spencer
Rating:
Review:
Oh my gosh they were excellent. I sold a few in my neighborhood also. They were a hit, i'v made over 200$$!!!!!!!!
Reviewer:
salma trad
Rating:
Review:
there amazing!!! If you take one bite of them than you will never eat enything else until you get more. they're really sweet, you will love them!
Reviewer:
Elizabeth
Rating:
Review:
These brownies were easy to make, however, they were not chocolatey enough. They were extremely spongy and light. The chocolate icing on the top just seemed to clash with the non-chocolate flavor of the brownie.
Reviewer:
remuel
Rating:
Review:
it's so very delicious and i love your brownies.
Reviewer:
Stephanie
Rating:
Review:
they're so delicous I can't stop eating them
Reviewer:
Miriam
Rating:
Review:
I love the sweet chocolate taste of your brownies.
Reviewer:
beth
Rating:
Review:
they were soooooooo yummy!! i made them for my GCSE food tech coursework, they were a really big hit and i am going to be making them for 5 weeks every tuesday!! looking forward to changing the flavour! i will email you and let you no how they turn out!
Reviewer:
hazel in trinidad
Rating:
Review:
i made these yesterday for a sale we had at work. they came out a bit dry, i guess i left it in the oven too long, thank God i put some nuts in the mix so it was saved. my grocery didn't have buttermilk so i used normal milk and mixed it thicker than usual. what is the best substitute for buttermilk?
Reviewer:
Gina
Rating:
Review:
I've never had brownies this good
Reviewer:
karen
Rating:
Review:
it was very interesting
Reviewer:
holly
Rating:
Review:
hi there im a qualified chef too and have 3 nvqs and 2 degrees in catering and hospitality and i have to say that i was interested in what they would turn out like and i quite enjoyed them they were very rich and had a nice smooth texture and will be trying them again!!!!!! :-)
Reviewer:
Bette Ellis
Rating:
Review:
These are the best brownies EVER. My husband doesn't like chocolate but he loved these. He liked the texture and that they were not overly chocolaty.
Reviewer:
Wendy
Rating:
Review:
I made these since I had buttermilk and wanted to use it. The brownies have the same nice, moist texture as Hershey syrup brownies but not the chocolate taste. I'm sure these would be good with chocolate frosting to kick up the flavor but my husband doesn't like frosting so I used powdered sugar. They don't have much flavor that way.
Reviewer:
Lindsay
Rating:
Review:
Going by the reviews I will try it for a New Orleans project I am doing!
Reviewer:
trisha
Rating:
Review:
I will try to cook the Buttermilk Brownies With Rich Chocolate Frosting.
Reviewer:
Princess
Rating:
Review:
It was very delicious when i tried one. It is very delicious.
Reviewer:
kloe
Rating:
Review:
WOW!