Diana's Desserts - www.dianasdesserts.com
See more recipes in
Summertime Treats and Beverages
Plum Tart
in Diana's Recipe Book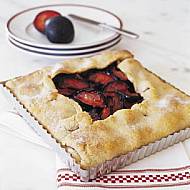 [Be the first to post a review!]
Servings: 8
Comments:
When baking a tart with a juicy filling, such as the plums in this recipe, place the pan on an upside-down baking sheet in the oven. This helps prevent the bottom crust from becoming soggy so it will emerge golden and flaky. A pizza stone can be used in place of a baking sheet.

Ingredients:

For the Pastry:
1 1/2 cups all-purpose flour
1/2 tsp. salt
4 tbsp. (1/2 stick) chilled unsalted butter
1/4 cup vegetable shortening
3 to 4 tbsp. cold water

For the Filling:
2 lb. plums, pitted and cut into 1/2-inch wedges
1 tsp. fresh lemon juice
1/4 cup plus 2 tsp. sugar
3 tbsp. all-purpose flour
1/2 tsp. ground cinnamon
1 tbsp. heavy cream
1/4 cup apricot jam, warmed and strained

Instructions:
To Make the Pastry:
In a mixing bowl, stir together the flour and salt. Add the butter and shortening and, using a pastry blender or 2 knives, cut them in until the mixture resembles coarse bread crumbs. Sprinkle in the water 1 tbsp. at a time, stirring gently with a fork after each addition and adding only enough water to form a rough mass.

Using floured hands, pat the dough into a smooth, flattened disk. Use immediately, or wrap in plastic wrap and refrigerate for up to 2 days.

Place a baking sheet upside down on the middle rack in an oven and preheat to 400°F (200°C).

On a lightly floured surface, roll out the dough to 1/4-inch thickness. Transfer to a 9-inch square tart pan, pressing the dough up the sides of the pan and leaving a 2-inch overhang.

To Make the Filling:
In a large bowl, stir together the plums, lemon juice, the 1/4 cup sugar, the flour and cinnamon. Transfer to the tart shell and arrange the plums in an even layer. Fold the overhanging dough on top of the plums. Brush the dough with the cream and sprinkle with the 2 tsp. sugar.

Place the pan on the baking sheet in the oven. Bake until the crust is golden brown and the filling is bubbling, about 45 minutes. Transfer the pan to a wire rack and let cool for 1 hour. Brush the filling with the apricot jam.

Makes 8 servings.

Date: July 18, 2004