Diana's Desserts - www.dianasdesserts.com
See more recipes in
Summertime Treats and Beverages
Creamy Piña Colada Punch
in Diana's Recipe Book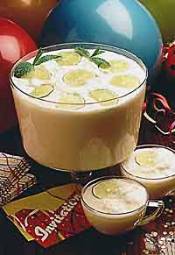 [Be the first to post a review!]
Servings: 8
Comments:
This potent punch is a summer favorite. Quick and easy to prepare, it makes a nice change from typical summer punches, and is definitely easier than whipping up individual Piña Coladas all night long. The pineapple juice cubes keep the drink cold without diluting the flavor, but if you are pressed for time, just use all ice cubes.

Ingredients:

3 1/2 cups chilled unsweetened pineapple juice, divided
8 ounces chilled cream of coconut
1 1/2 cups light or dark rum, chilled* (see note below for an alcohol-free substitution)
1 cup ice cubes

Garnish (optional)
Mint leaves
Lemon or lime slices

Instructions:
Freeze one cup of the pineapple juice in an ice cube tray at least a day before making the punch. In a large blender combine 1 1/4 cups juice, 4 ounces cream of coconut, 3/4 cup rum, 1/2 cup pineapple ice cubes, and 1/2 cup ice cubes and puree until smooth and frothy. Pour the mixture into a large pitcher or small punch bowl. Place the remaining pineapple juice, cream of coconut, and rum into the blender and mix until smooth. Add to the pitcher or punch bowl along with the remaining pineapple juice cubes and ice cubes. Mix well and serve cold and if desired, garnish with mint leaves and lemon or lime slices.

Makes 8 servings.

*Note: Alcohol-Free Piña Colada Punch
If you would rather serve this punch as an alcohol-free beverage, you can leave out the rum completely, or substitute the rum with Club Soda, 7-up, Sprite, or Ginger Ale. If you decide to make it this way, make sure to stir in the soda or other soft-drink into the pitcher or punch bowl after you have blended the other ingredients together, otherwise if you combine it with the other ingredients in the blender, you will have a very "bubbly" mess on your hands because of the carbonation from the club soda or other soft drink.
Date: June 30, 2004