Diana's Desserts - www.dianasdesserts.com
See more recipes in
Chocolate Sweets
Double Chocolate Pudding
in Diana's Recipe Book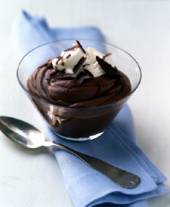 Average Rating:
(total ratings: 3)
[Read reviews]
[Post a review]
Servings: 4-6
Comments:
For the silkiest texture and richest chocolate flavor, sift the dry ingredients together before you start, and use a combination of bittersweet chocolate and cocoa powder.

The challenge: On a map of desserts, chocolate pudding can be located as the chocolate version of a classic cornstarch custard. Typically, a cornstarch custard is made by cooking a mixture of sugar, cornstarch, eggs (or egg yolks), a bit of salt, and a dairy liquid in a saucepan on the stovetop until thickened. At Cook's we thought that the choicest chocolate pudding should taste deeply of chocolate and dairy ingredients, be thickened to a soft suppleness, and sweetened just enough to support the chocolate bouquet. It should be rich but not cloying and exceptionally smooth on the tongue. With voluptuous as our key word, we set out to create a pudding that would bring together all of these factors.

The solution: Before making batch after batch of pudding, we reviewed some testing we had already done on cream pie fillings. (Puddings are essentially pie fillings without the accompanying pie crust.) This testing required us to work out that delicate balance of starch thickener to liquid and to correct some unnerving problems concerning the combining, stirring, and cooking of ingredients. We also discovered a pie filling, or a pudding mixture, requires the observation of certain watch points. It needs some pampering right at the start in the form of sifting the dry ingredients before combining them with the liquids; this makes the liquid-thickener amalgamation as smooth as possible right from the start. We also learned that a silken texture depends on careful monitoring of the heat beneath the saucepan and a fairly slow stirring as the pudding approaches the thickening point. More vigorous beating can break down the starch granules built up during the thickening process. We also found texture could be improved by putting the finished pudding through a fine-meshed sieve.
Our new tests on our pudding began with dairy. A ratio of 2 to 1 for milk and cream proved best: rich, but not overwhelmingly so. To experiment with the kind and amount of chocolate we'd want, we began with a small amount (three ounces) of plain unsweetened chocolate. We soon realized that we would not only need more chocolate but that we would need an additional kind of chocolate. To get a deep chocolate flavor we added both cocoa powder and bittersweet chocolate to the mix. Now there remained just one nagging problem: the pudding had a certain chalkiness on the tongue. We suspected the cause might be the unsweetened chocolate, and tested it by replacing all of the unsweetened chocolate in the recipe with bittersweet. This gave us the smooth texture we wanted. The reasons? First, unsweetened chocolate has a lower percentage of cocoa butter than bittersweet. Second, bittersweet contains some milk solids and lecithin (an emulsifier), both of which create a smoother, creamier texture and mouthfeel.

Ingredients:

2 tablespoons Dutch-processed cocoa powder
2 tablespoons cornstarch
2/3 cup sugar
1/8 teaspoon salt
1 cup light cream
3 large egg yolks
2 cups whole milk
6 ounces bittersweet chocolate, melted* (see note below) and cooled slightly
1 tablespoon unsalted butter, softened
2 teaspoons vanilla extract

Instructions:
*Note:
To melt the chocolate, chop and place it in a heatproof bowl set over a pan of almost simmering water, stirring once or twice until smooth. You can also melt the chocolate in a microwave at 50 percent power for 3 1/2 minutes, stopping to stir after 2 minutes. If the chocolate is not yet completely melted, heat up to 30 seconds more at 50 percent power.

1. Sift cocoa powder, cornstarch, sugar, and salt into large heavy-bottomed saucepan. Slowly whisk in light cream, followed by yolks, then milk. Stir in chocolate. (Chocolate will form clumps that smooth with cooking.)

2. Bring mixture to boil over medium-high heat, stirring constantly with whisk, scraping bottom and sides of pot. Pudding will gradually darken and thicken. Reduce heat to medium and cook, stirring gently but constantly with wooden spoon until pudding very thickly coats spoon or instant-read thermometer registers about 200 degrees, 1 1/2 to 2 minutes.

3. Pass pudding through fine-mesh strainer into medium bowl, pressing with rubber spatula. Leave residue in strainer. Stir butter and vanilla into pudding. Serve warm or directly cover surface of pudding with plastic wrap, cool 30 minutes, and refrigerate.

Serve with whipped cream, if desired.

Makes 4-6 servings.
Source: Cook's Illustrated
Date: June 10, 2004
Reviews
Reviewer:
Marsha
Rating:
Review:
This was a very worthwile product, the whipped cream finishes the product, was very impressed with this recipe.
Reviewer:
Darla
Rating:
Review:
This was the best dessert i have tasted in a long time. Not only did i enjoy making it but i found it very enjoyable to eat. I wouldnt eat it often but as a treat with whipped cream and hot chocolate sauce its delicious (yes i experimented with toppings).
Reviewer:
Sandi
Rating:
Review:
This chocolate pudding is to die for! It should be renamed Chocolate Decadence.