Diana's Desserts - www.dianasdesserts.com
See more recipes in
Holidays and Celebrations
Rich Chocolate Bundt Cake
in Diana's Recipe Book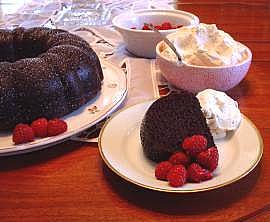 Average Rating:
(total ratings: 24)
[Read reviews]
[Post a review]
Servings: 10-12
Comments:
You may say to yourself, why is a basic chocolate bundt cake in the Holiday and Celebrations recipe category? Well, this very rich dark chocolate cake is one that is definitely suited for a special get together and is always loved (especially by those die-hard chocolate fans) at a holiday celebration. It is moist, sweet and "oh so chocolatey" and tender. This is a cake that you can be sure will be eaten up before you know it. If desired, serve with Tangy Whipped Cream and Lightly Sweetened Raspberries (see below for recipes and instructions).
Ingredients:

Dry Ingredients:
2 cups granulated sugar
1 3/4 cups all-purpose flour
3/4 cup unsweetened cocoa powder
1 1/2 tsp. baking powder
1 1/2 tsp. baking soda
1 tsp. salt

Liquid Ingredients:
2 large eggs
1 cup whole milk
1/2 cup vegetable oil
2 tsp. vanilla extract
1 cup. boiling water

Garnish: (optional)
Confectioners' sugar
Whipped Cream or Tangy Whipped Cream
Lightly Sweetened Raspberries
(See recipes below for Tangy Whipped Cream and Lightly Sweetened Raspberries)
Instructions:
Preheat oven to 350 degrees F (180 C). Grease and flour a 10-inch bundt or tube pan.

Combine all dry ingredients in a large bowl of an electric mixer. Add the liquid ingredients (except for the boiling water), and beat on medium speed for 2 minutes.

Stir in boiling water. Pour batter into prepared pan and bake in preheated oven for 50-55 minutes or until a cake tester inserted in cake comes out clean. Remove cake from oven and let cool in pan for 10 minutes, then invert cake onto wire rack and let cool completely.

Serve with a light dusting of confectioner's sugar and/or with lightly sweetened whipped cream or serve with Tangy Whipped Cream and Lightly Sweetened Raspberries (see instructions below).

Makes 10-12 servings.

Tangy Whipped Cream

Ingredients:
1 cup cold heavy cream
1/4 cup sour cream
1/4 cup light brown sugar, firmly packed
1/8 teaspoon vanilla extract

With electric mixer, beat all ingredients, gradually increasing speed from low to high, until cream forms soft peaks, 1 1/2 to 2 minutes.

Lightly Sweetened Raspberries

Ingredients:
3 cups fresh raspberries, gently rinsed and dried
1-2 tablespoons granulated sugar

Gently toss raspberries with sugar, then let stand until berries have released some juice and sugar has dissolved, about 15 minutes.

Photograph taken by Diana Baker Woodall© 2004


Source: DianasDesserts.com
Date: May 31, 2004
Reviews
Reviewer:
KatieO
Rating:
Review:
I wasn't sure how this was going to work out. The batter was a bit thin, but after it was cooked and cooled it is definitely moist. Maybe to add a bit more chocolate, I'll add a ganache drizzled icing, yum!
Reviewer:
Mandy
Rating:
Review:
This is the most moist chocolate cake I've ever ate! Bundt cakes sometimes come out dry for me, but not this one. I just sprinkled it with powdered sugar and it was delicious. Thanks!
Reviewer:
Monica
Rating:
Review:
Very moist! This cake was delicious. For an added sweetness I added one cup of chocolate morsels and a peanut butter drizzle on top of the bundt cake. Great recipe!
Reviewer:
Lorna_b
Rating:
Review:
My mother loved this cake, However I did alter the recipe a bit, I used coconut milk (full fat) in place of milk, since I'm on a dairy (milk) free diet.
Reviewer:
MCL
Rating:
Review:
Best moist chocolate cake... easy and no fail recipe
Reviewer:
Marla H.
Rating:
Reviewer:
Megan N.
Rating:
Review:
This cake was extremely delicious. it was very moist. The only thing i might suggest is to drizzle some black and white frosting on the top. whoever created this recipe, KUDOS TO YOU!!!!!!!!!
Reviewer:
jo
Rating:
Review:
This is likely the most delicious, moist, chocolaty cake i've ever tasted. Very easy to make. Batter looks thin but follow the recipe, it is perfect. I made the mistake of adding chocolate chips, which fell through the thin batter so the cake wasn't a perfect bundt shape, but the recipe, as it is, is wonderful!
Reviewer:
Julia
Rating:
Review:
It was a great cake. I put a vanilla glaze on it, which gave the outside a crispy sweetness that contrasted with the cake's texture. The only problem was that for some reason there was too much batter for my bundt pan, and when the cake started to rise, some half-cooked cake fell through the whole in the center of the bundt pan and started burning on the bottom of the oven. But since no one else said they had that problem, maybe the bundt pan I was using was just unusually small.
Reviewer:
Tara Nielsen
Rating:
Review:
Our family loved this! We made the cake then made three glazes (vanilla, chocolate & peanut butter) and drizzled them over the cake. It was beautiful and truly amazing!
Reviewer:
Jessica
Rating:
Review:
This comes out perfect every time. I bake it a few minutes less in my oven and then make a chocolate glaze to go over the top with semi sweet chocolate chips, a pad of butter, and a couple drops of coffee. Everyone loves this cake, you can't go wrong.
Reviewer:
darin
Rating:
Review:
it tastes exactly like a box mix!(which is a good thing, moist and fluffy) but a bit too fluffy for a bundt cake recipe, I was expecting something a teeny bit more dense for the classic bundt texture.
Reviewer:
Grammy Blick
Rating:
Review:
This lived up to expectations! We have a group of 16 that meets for dinner and dominoes each Thursday and I was tasked with dessert last week. I didn't do the whipped cream/raspberries -- opted instead just to sprinkle a bit of powdered sugar through stencils. It garnered rave reviews as to flavor and moistness. Definiately recommended. An excellent dessert.
Reviewer:
barcookie
Rating:
Review:
Great cake with fantastic texture. I've added 2 tsp of instant coffee to the boiling water for extra flavour. Also, covered the cake with chocolate ganache and almond pieces. AMAZING!!
Reviewer:
sharon murphy
Rating:
Review:
This is a very moist, good texture Bundt cake, I use a better oil,& go a little lighter on the sugar, the raspberry topping is very elegant, also I`ve made a cherry topping inside the cake so you get it with every slice. Great receipe perfect every time!
Reviewer:
Pam
Rating:
Review:
Moist .. Wonderful cake .. I just added some walnuts to it ... Came out great .. Enjoying some right now .. YUM..
Reviewer:
Deb Nicoll
Rating:
Review:
This cake comes out every time! Delicious, lite and very moist. Is really good on its own. I was wondering if anyone tried to convert this recipe to a vanilla cake? Any suggestions?
Reviewer:
NAOMI
Rating:
Review:
Best cake i've ever made!
Reviewer:
Aurora in Alberta
Rating:
Review:
I too am surprised at how thin the batter is. I made some ingriedient swaps. Olive oil for veg oil, melted chocolate chips in the olive oil omit the cocoa powder, lightly packed brown sugar instead of white sugar, coffee in stead of water, 2%milk in stead of whole milk. I thought as I was putting it in the oven that I would regret using extra virgin olive oil. Of course I baked the bundt with a cookie sheet underneath to catch any run over. Will post again if the results aren't too shameful to admit.
Reviewer:
Aurora in Alberta
Rating:
Review:
I am very pleased with the way this recipe worked out. The cake is so moist, it removed from the bundt perfectly. My pan does have some sharp edges on it, and I did find that the edges were significantly crispier than the rest of the cake. cutting it was a little challenging. I would use this recipe for cake, cupcakes, and bundt!
Reviewer:
Caroline
Rating:
Review:
Amazing! Was also worried about the watery batter but have never had a cake so moist! My new go-to chocolate cake :)
Reviewer:
ayesha
Rating:
Review:
loved it:)
Reviewer:
ayesha
Rating:
Review:
I tried making the cake but it did not turn as dark as that shown in the picture.. it's light brown in color.. Could someone suggest the reason and what should I do to make it dark black next time?
Reviewer:
Alan
Rating:
Review:
I found that the batter was really thin and I was not sure about it. The cake was perfect although for me it's missing something. The ideas that some people have on here are really good. I'm going to try a few of the suggestions