Diana's Desserts - www.dianasdesserts.com
See more recipes in
Muffins
Chocolate Chip Muffins with Variations
in Diana's Recipe Book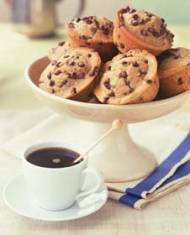 Average Rating:
(total ratings: 21)
[Read reviews]
[Post a review]
Servings: 12
Comments:
Here's a great recipe for Chocolate Chip muffins that includes several delicious variations, such as apple, blueberry and lemon. Choose a different variation to make for your family every week. They will love this new tradition you've started and will look forward to your next new muffin variety.
Ingredients:

2 cups all-purpose flour
1/2 cup granulated sugar
3 teaspoons baking powder
1/2 teaspoon salt
3/4 cup semisweet miniature chocolate chips, or 3/4 cup regular size semisweet chocolate chips
3/4 cup milk
1/3 cup vegetable oil
1 egg, beaten

Instructions:
1. Heat oven to 400°F (200°C). Grease bottoms only of 12 muffin cups or line with paper baking cups.

2. In medium bowl, combine flour, sugar, baking powder and salt; stir in chocolate chips, mix well.

2. In small bowl, combine milk, oil and egg; beat well. Add to flour mixture all at once; stir just until dry ingredients are moistened. (Batter will be lumpy.) Divide batter evenly into greased muffin cups.

3. Bake in preheated 400°F (200°C) for 20 to 25 minutes or until toothpick inserted in center comes out clean. Cool 1 minute; remove from pan. Serve warm or at room temperature.

Makes 12 muffins.

Variations:
APPLE MUFFINS
Decrease sugar to 1/4 cup; add 1 teaspoon cinnamon to flour. Stir 1 cup finely chopped, peeled apple into dry ingredients. Substitute apple juice for milk. Bake at 400°F (200°C) for 18 to 22 minutes.

BLUEBERRY MUFFINS
Stir 1 cup fresh or frozen blueberries (do not thaw) and 1 teaspoon grated lemon or orange peel into dry ingredients.

CHOCOLATE CHIP AND BROWN SUGAR MUFFINS
Before baking, sprinkle batter in cups with a combination of 3 tablespoons sugar and 2 tablespoons brown sugar.

JAM MUFFINS
Place 1/2 teaspoon any flavor jam on each muffin before baking; press into batter. If desired, sprinkle with finely chopped nuts.

LEMON MUFFINS
Add 1 tablespoon grated lemon peel with flour.

ORANGE MUFFINS
Add 1 tablespoon grated orange peel with flour; substitute orange juice for milk.

STREUSEL-TOPPED MUFFINS
In a small bowl, combine 1/4 cup firmly packed brown sugar, 1 tablespoon softened margarine or butter, 1/2 teaspoon cinnamon and 1/4 cup chopped nuts or flaked coconut; stir with fork until crumbly. Sprinkle evenly over batter in cups before baking.

SUGAR-COATED MUFFINS
After baking, brush tops of hot muffins with 2 tablespoons melted margarine or butter; dip in mixture of 1/4 cup sugar and 1/2 teaspoon cinnamon.

WHOLE WHEAT MUFFINS
Use 1 cup all-purpose or unbleached flour and 1 cup whole wheat flour.
Date: May 20, 2004
Reviews
Reviewer:
Liz
Rating:
Review:
WAY TOO much baking powder. It should be 2 tsp. at most.
Reviewer:
Janie
Rating:
Reviewer:
anthony chapman
Rating:
Reviewer:
amber
Rating:
Review:
brilliant recipe!
Reviewer:
Scott
Rating:
Review:
I really wish I had read the reviews of this recipe before I set out to bake these muffins. This is simply a poorly executed recipe. Far too much baking soda and flour, ingredients which make up the majority of the flavor and leave the muffin extremely dry. You would be far better off with a bagged mix.
Reviewer:
mari
Rating:
Review:
these muffins had very little taste, bland
Reviewer:
Laura
Rating:
Review:
Delecious thank-you for your wonderful recipe! i have added your recipe 2 my very special book of recipes!!!!!!! thanks
Reviewer:
Jen
Rating:
Review:
Very very good. I put a bit of vanilla in them and sprinkled some cinnamon on top so I would totally suggest that.
Reviewer:
trameather
Rating:
Review:
No flavour, but when you could taste the flavour it was pure flour and baking poweder. they are not recomended
Reviewer:
Susan
Rating:
Review:
very good
Reviewer:
Miranda
Rating:
Review:
TOO MUCH BAKING POWDER!!!!!!!!
Reviewer:
lozza
Rating:
Reviewer:
clairestone
Rating:
Review:
good
Reviewer:
sammy
Rating:
Review:
I've made the most delicious muffins EVER !! They were GREAT!! Thank you, thank you.
Reviewer:
Sammy THE COOK
Rating:
Review:
Great, but I have better....
Reviewer:
Amrita Jhingran
Rating:
Review:
It turned out little dry...
Reviewer:
Shanzii
Rating:
Reviewer:
Shiela
Rating:
Review:
Thank you so much for this perfect recipe! So good and easy to make, yummy!
Reviewer:
Keisan
Rating:
Review:
The muffins were great. I found that I needed to add a tablespoon more milk as the batter was too stiff. But that's all it needed.
Reviewer:
Guiselle
Rating:
Reviewer:
shantell
Rating:
Review:
it turned out as a disaster. had no flavour, i realy should have read the comments.