Diana's Desserts - www.dianasdesserts.com
See more recipes in
Passover
Strawberry Rhubarb Compote
in Diana's Recipe Book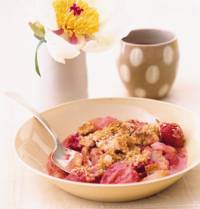 [Be the first to post a review!]
Servings: 8
Ingredients:

1 1/4 cups granulated sugar
3 tablespoons potato starch
2 pounds strawberries (4 pints), trimmed and halved (6 cups)
1 1/2 pounds rhubarb stalks, cut crosswise into 1/2-inch slices (4 cups)
2 teaspoons fresh lemon juice
1 teaspoon finely grated fresh lemon zest

For Streusel Topping
1 1/4 cups matzo cake meal
2/3 cup packed light brown sugar
1/4 cup potato starch
1/2 teaspoon ground cinnamon
1/4 teaspoon salt
1 1/4 sticks (5 oz/141 g) unsalted butter or margarine, cut into pieces and softened

Instructions:
Put oven rack in middle position and preheat oven to 425°F (220°C).

Prepare Compote:
Stir together sugar and potato starch, then gently toss with strawberries, rhubarb, lemon juice, and zest. Transfer mixture to an ungreased shallow 3-quart (13 x 9 x 2-inch) baking dish.

Make Topping and to Bake:
Whisk together matzo cake meal, brown sugar, potato starch, cinnamon, and salt in a bowl. Blend in butter with your fingertips until mixture forms small clumps. Crumble streusel evenly over top of compote and bake until fruit is bubbling and topping is golden, 40 to 45 minutes. Cool to warm on a rack before serving.

Makes 8 servings.
Date: May 13, 2004