Diana's Desserts - www.dianasdesserts.com
See more recipes in
Cheesecakes
Neapolitan Cheesecake
in Diana's Recipe Book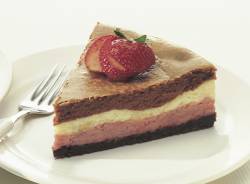 Average Rating:
(total ratings: 5)
[Read reviews]
[Post a review]
Servings: 10-12
Ingredients:

Chocolate Crumb Crust (recipe follows)
1 package (10 oz.) frozen strawberries, thawed and drained thoroughly
1/2 cup Semi-Sweet Chocolate Chips
3 packages (8 oz. each) cream cheese, softened
1-1/2 cups sugar
3 eggs
1/3 cup dairy sour cream
3 tablespoons plus 1 teaspoon all-purpose flour, divided
1/2 teaspoon vanilla extract
1/4 teaspoon salt
1/4 teaspoon red food color (optional)
Instructions:
1. Prepare CHOCOLATE CRUMB CRUST. Heat oven to 400°F (200°C). In blender container or food processor, puree strawberries to yield 1/2 cup; set aside.

2. In small microwave-safe bowl, place chocolate chips. Microwave at HIGH (100%) 1 minute; stir. If necessary, microwave at HIGH anadditional 15 seconds at a time, stirring after each heating, just until chips are melted when stirred; set aside.

3. In large bowl, beat cream cheese with sugar until smooth and creamy. Add eggs, sour cream, 3 tablespoons flour, vanilla and salt; beat until smooth. In separate bowl, stir together 1-1/3 cups cheese mixture, strawberries, remaining 1 teaspoon flour and food color, if desired. Pour strawberry batter over prepared crust. Carefully spoon 2 cups vanilla batter over strawberry batter; smooth surface. Stir melted chips into remaining batter; carefully spoon over vanilla batter, smoothing surface.

4. Bake 10 minutes. Reduce oven temperature to 350°F; continue baking 55 to 60 minutes or until center of cheesecake is almost set. Remove from oven to wire rack. Cool 30 minutes. With knife, loosen cake from side of pan. Cool completely; remove side of pan. Refrigerate several hours before serving. Cover; refrigerate leftover cheesecake.

Makes 10 to 12 servings.

Chocolate Crumb Crust
Heat oven to 350°F (180°C). In small bowl, stir together 1-1/2 cups vanilla wafer crumbs (about 45 wafers), 1/2 cup confectioners' sugar and 1/4 cup cocoa; stir in 1/3 cup melted butter or margarine. Press mixture firmly onto bottom of 9-inch springform pan. Bake 8 minutes; cool slightly.
Source: Hershey Chocolates
Date: May 5, 2004
Reviews
Reviewer:
Lisa
Rating:
Review:
The recipe was good, however it could have been written with the instructions broken down a little more, so you don't lose your place as much.
Reviewer:
olga tamez
Rating:
Reviewer:
THUNDERBIRDS
Rating:
Review:
AM IN THE PROCESS OF MAKING THIS WORK AND I GET LOST WITH THE DIRECTIONS. WHEN COOKING IT, READ THE DIRECTIONS VERY CAREFULLY!!!!
Reviewer:
candice
Rating:
Review:
i love this. i made it for my husband and he begs for it all the time. you do have to be careful, as i forgot about turning the oven down one time. trust me, not good, and i do 1 cup of chocolate because he loves chocolate. i was nervous but it comes out really good. THANKS!!
Reviewer:
Debbie
Rating:
Review:
I have a question actually. I haven't made this as yet but want to. Did you ladies mash/puree the strawberries? And how did you keep the layers from blending in to each other? Thanks so much,...I look forward to your replies.