Diana's Desserts - www.dianasdesserts.com
See more recipes in
Treats For Kids
Honey Cream Filled Cookies
in Diana's Recipe Book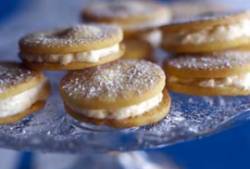 [Be the first to post a review!]
Servings: Approximately 18 filled cookies
Ingredients:

1 2/3 cups all-purpose flour
1 3/4 sticks (7 oz./200 gm) cold butter, cut into cubes
1/2 cup confectioners' sugar
1 large egg yolk, lightly beaten
1 cup heavy cream
2 tbsp. honey
Confectioners' sugar for dusting

Instructions:
Prehat oven to 350 degrees F (180 C). Lightly grease a large cookie sheet.

Place the flour, butter and confectioners' sugar in a food processor and process until it resembles breadcrumbs. Transfer to a work surface, make a well in the center, add the slightly beaten egg yolk and knead until you have a firm dough.

Divide the mixture in half, place each half on a piece of parchment paper and roll into a log shape about 2-inches wide. Twist the parchment paper at each end to hold it together and refrigerate for one hour.

Carefully slice the dough into 1/3-inch (approximately 5mm) rounds. Place rounds on prepared cookie or baking sheets and bake in preheated oven for 8-12 minutes, or until golden. Cool on a wire rack.

Beat the heavy cream until soft peaks form. Stir through the honey to make a ripple effect.

Just before serving, sandwich the cookies together with the honey-cream mixture and dust tops with confectioners' sugar.

Makes about 18 filled cookies.

Date: April 28, 2004